Few things are more delightful than a quick dip in a luxurious pool while on vacation. The quality and uniqueness of a hotel's pool can often be a determining factor when choosing where to stay. Here, we present the 14 best hotel pools in the United States that offer a refreshing respite and deliver memorable experiences.
The Biltmore Hotel, Coral Gables, Florida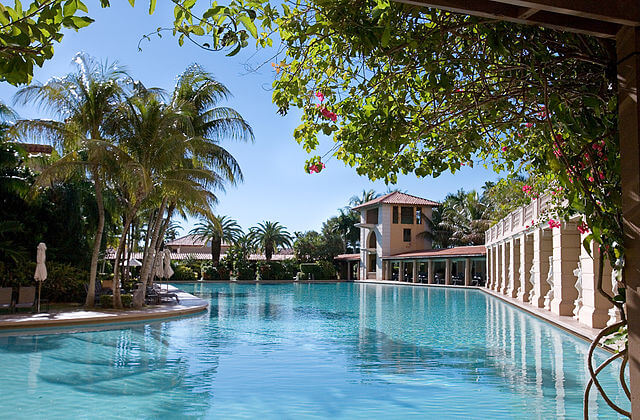 Featuring an opulent 23,000-square-foot pool, the Biltmore transports guests to a realm of extravagance. Once the largest pool in the world, it is still a grand spectacle, framed by private cabanas and shaded under palm trees. The pool's Mediterranean architectural features, cascading waterfalls, and beautiful island in the center are nostalgic reminders of the Gilded Age. Furthermore, visit this pool for a lavish day of relaxation and occasional celebrity sightings.
Golden Nugget, Las Vegas, Nevada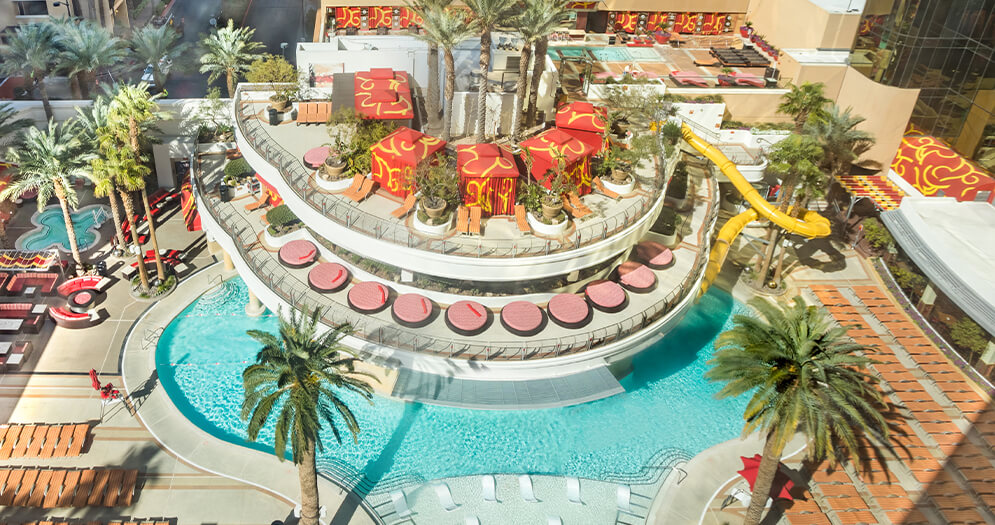 Embodying the spirit of Las Vegas, The Tank at Golden Nugget is an audacious blend of a swimming pool, waterslide, and shark tank. The three-story complex houses exotic marine life in a 200,000-gallon aquarium. The thrilling enclosed slide whisks swimmers through the tank, offering an up-close view of the sharks. For those preferring to stay dry, the tank also includes a viewing area, allowing all to enjoy this unique spectacle.
The Standard, Los Angeles, California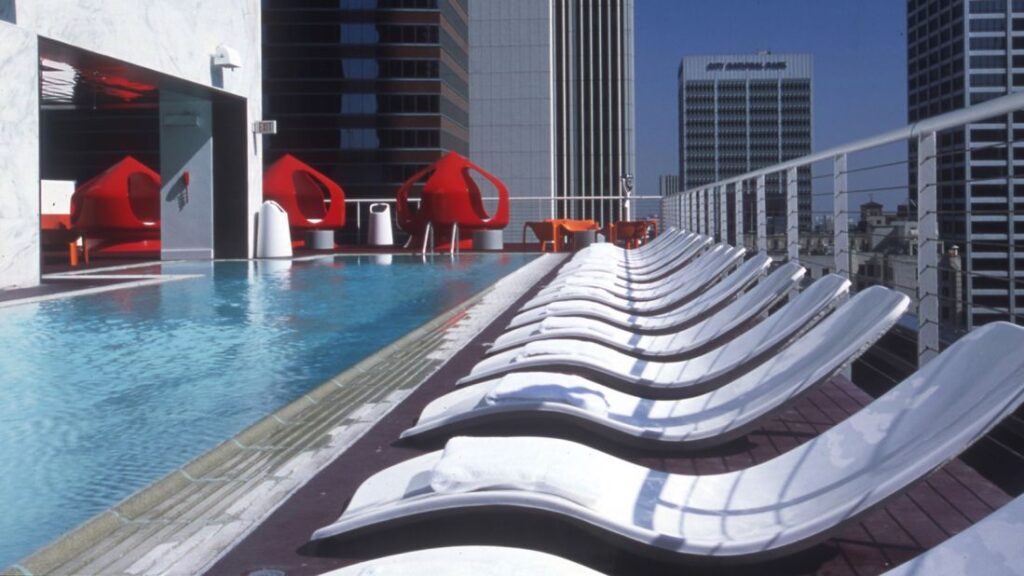 The Standard's heated rooftop pool is a modern oasis set against the backdrop of the vibrant downtown Los Angeles skyline. Along with panoramic city views, the pool area offers vibrant waterbed pods and a bar serving creative cocktails. Also, the rooftop transforms into a lively scene at night, with DJ sets creating a vibrant atmosphere, making this hotel an enticing choice for those seeking a blend of relaxation and entertainment.
Amangiri, Canyon Point, Utah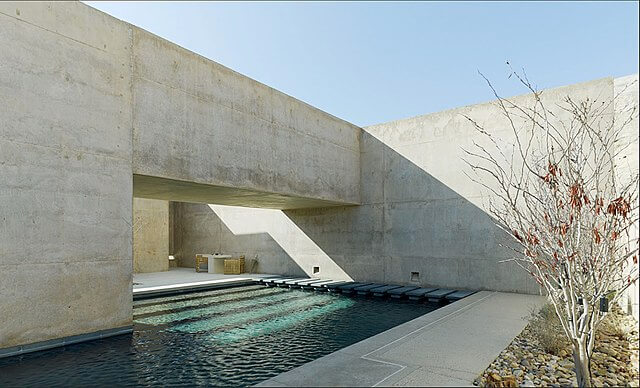 Immersed in the rugged landscape of Utah's canyon country, Amangiri's pool is an architectural masterpiece. The water embraces a large natural sandstone formation, blending man-made luxury with raw geological beauty. The pool's design and heated temperature mirror the sky above, creating a seamless transition between the resort and its surrounding landscape. For those seeking tranquility and a connection with nature, Amangiri offers a unique, serene pool experience.
The Setai, Miami Beach, Florida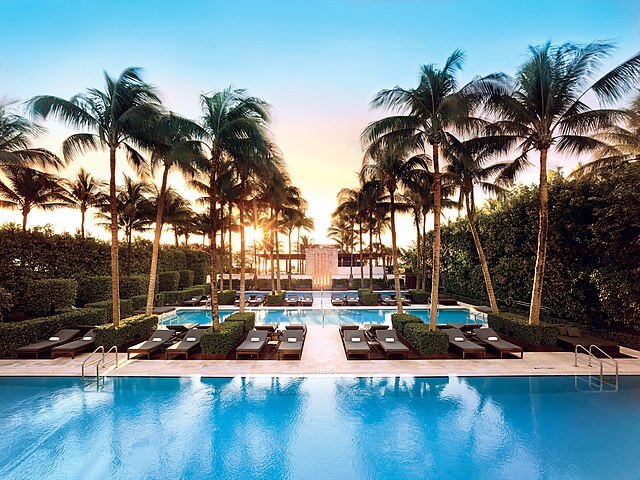 Nestled between the Atlantic Ocean and Miami's Collins Avenue, The Setai offers three distinct pools, each set to a different temperature and each a different length. Each pool merges with the ocean's horizon, offering an illusion of endless water. The art deco-inspired design and oceanfront cabanas certainly amplify the luxury of this location. Coupled with the hotel's exceptional service, it becomes a premier destination for a calming tropical retreat.
Four Seasons Resort Hualalai, Hawaii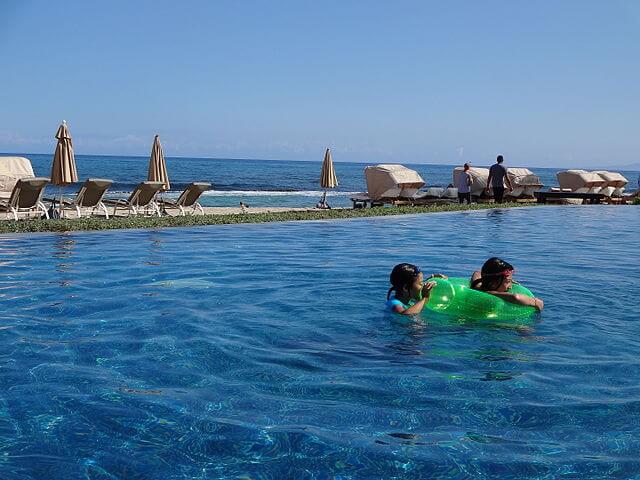 The 'King's Pond' at the Four Seasons Hualalai is a magical natural-style pool. Carved out of lava rock and filled with seawater, this massive 1.8-million-gallon pool houses over 4,000 tropical fish from more than 98 species. This allows guests to snorkel and experience Hawaiian marine life without leaving the resort. Surrounded by a sandy beach and offering poolside service, this aquatic playground promises a memorable Hawaiian adventure.
Colony Palms Hotel, Palm Springs, California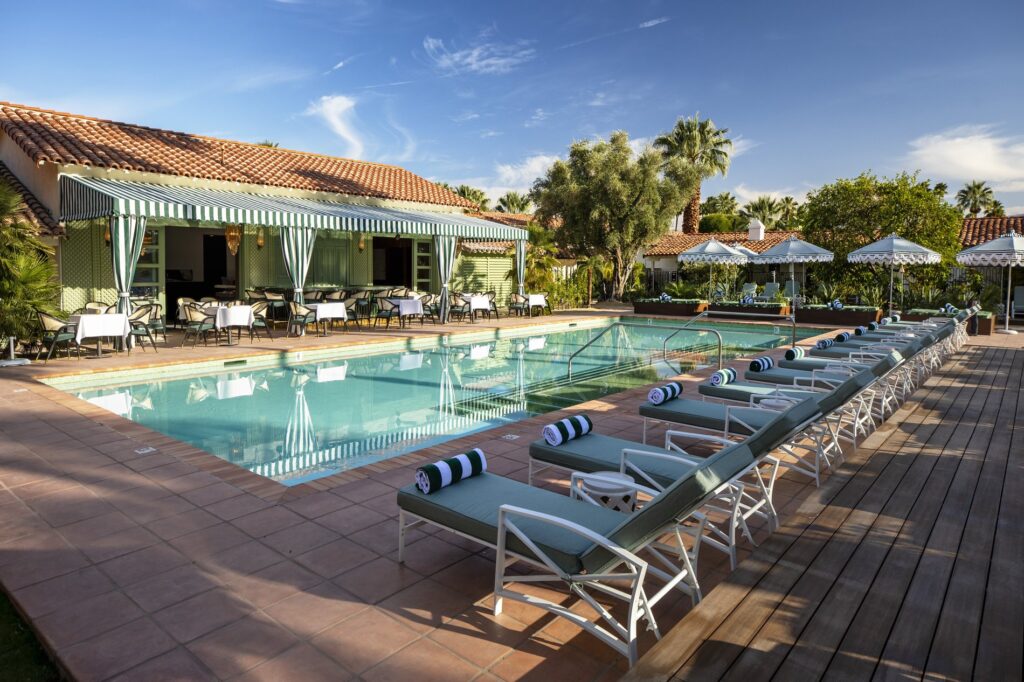 Colony Palms' pool area feels like a secluded paradise. The Spanish colonial-style pool is enveloped by magenta bougainvillea and citrus trees, contributing to an idyllic setting. This tranquil ambiance is further enhanced by the picturesque backdrop of the San Jacinto mountains. With a Moroccan-inspired design, plush loungers, and private cabanas, this desert oasis invites relaxation. The pool's tranquil ambiance is amplified during the night under a blanket of stars, making it perfect for a romantic getaway.
Sanctuary on Camelback Mountain Resort and Spa, Scottsdale, Arizona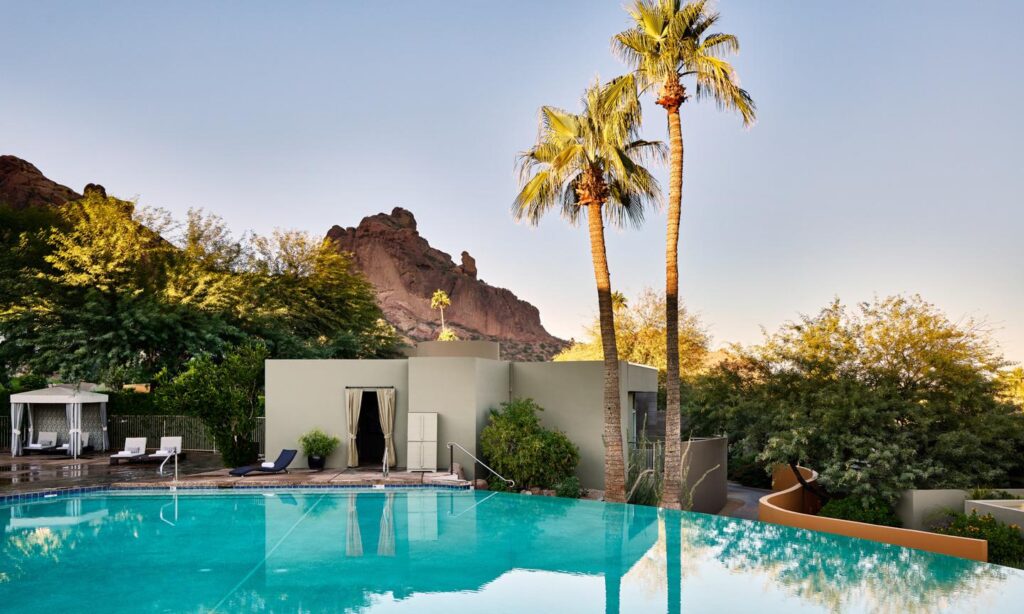 The Sanctuary's infinity pool provides an immersive sensory experience. The pool gives an illusion of cascading into the desert landscape below. This, in turn, offers a stunning view of the Paradise Valley set against the backdrop of Camelback Mountain. The pool area has luxury cabanas, daybeds, and a poolside bar. Whether you want to soak in the Arizona sun or watch a mesmerizing sunset, this infinity pool offers a world-class luxury escape.
The William Vale, Brooklyn, New York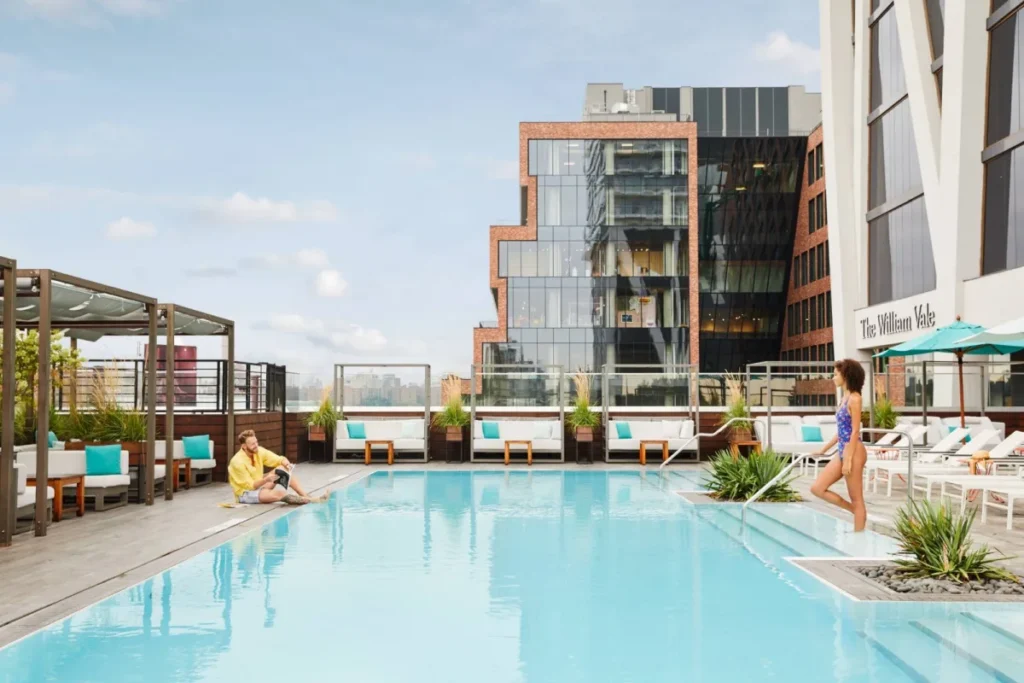 Boasting the longest pool in Brooklyn and NYC, The William Vale offers a unique rooftop swimming experience. The 60-foot pool provides a spectacular vantage point to take in the Manhattan skyline, the East River, and beyond. This urban oasis offers a cool sanctuary from the city's intense summer heat. After all, it's the perfect spot for a summer retreat, equipped with a spacious sundeck, private cabanas, and a poolside bar serving refreshing bites and cocktails.
The Joule, Dallas, Texas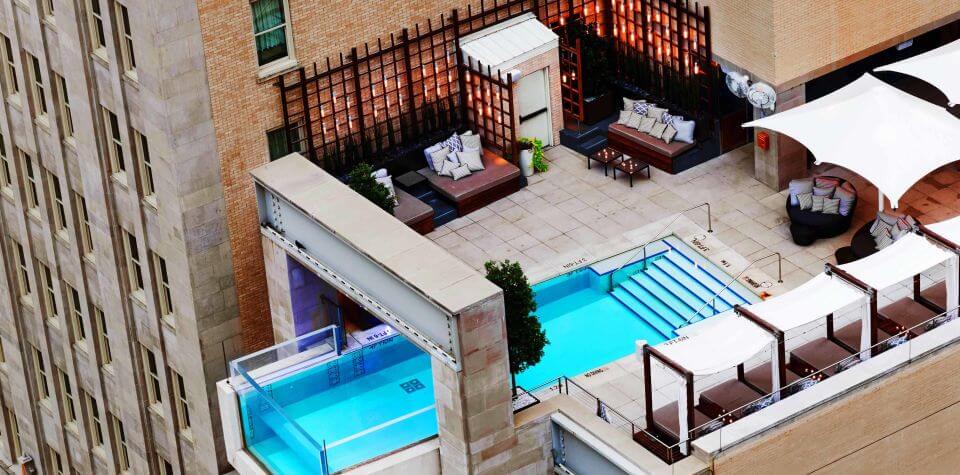 The Joule's cantilevered pool offers a remarkable swimming experience atop this chic hotel. Projecting eight feet beyond the building's edge gives a sensation of floating above the bustling city. The pool area features tasteful loungers, a rooftop bar, and an atmosphere that blends relaxation and glamour. Whether you're seeking a refreshing swim or a poolside cocktail while watching the sunset over Dallas, this pool does not disappoint.
Omni Grove Park Inn, Asheville, North Carolina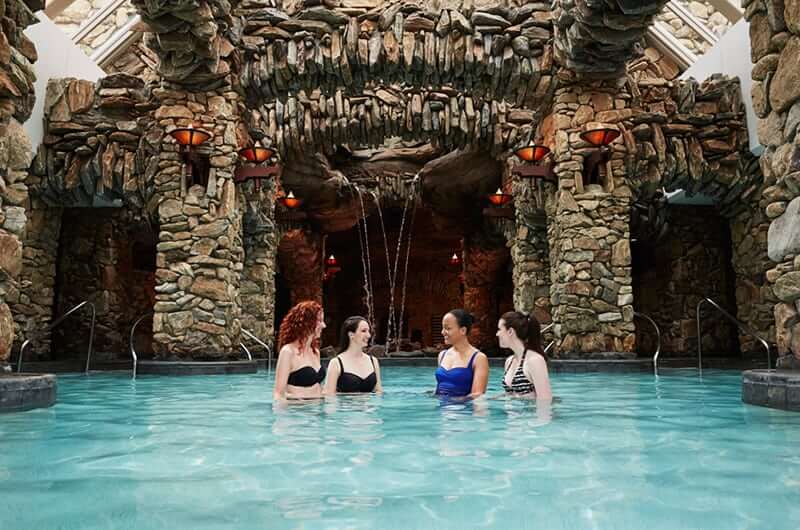 The Omni Grove Park Inn's hotel pool is part of an award-winning 43,000-square-foot subterranean spa. The mineral pools, with soothing underwater music and lighting, are designed to create a grotto-like environment. Waterfalls add to the ambiance, providing natural hydrotherapy, while the heated outdoor pool offers majestic mountain views. This spa experience is a harmonious blend of nature, relaxation, and luxury.
The Cloister, Sea Island, Georgia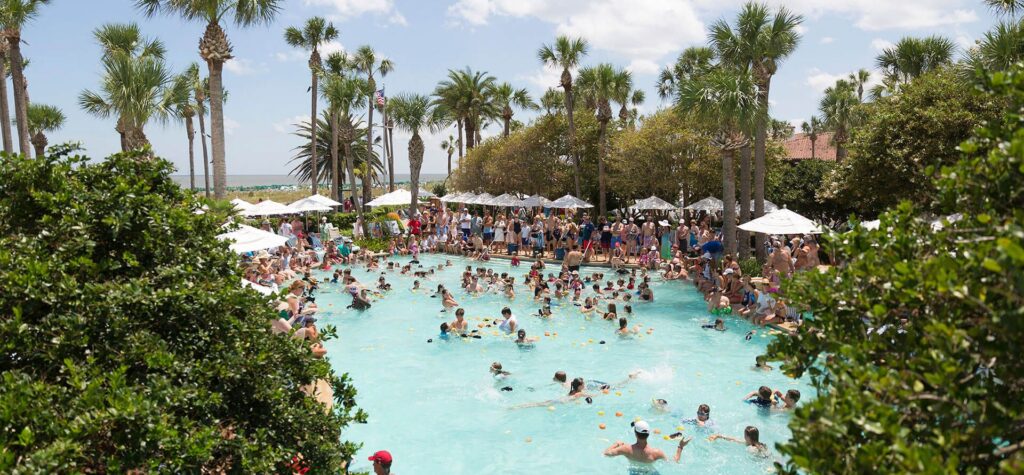 The Beach Club at The Cloister offers a distinct pool experience to suit everyone. The family pool has a waterslide and interactive fountains, the adults-only pool offers a peaceful retreat, and the heated pool can be enjoyed year-round. All three pools have ocean views, private cabanas, and poolside dining options, providing a well-rounded, luxurious beachfront experience for all ages.
Mondrian South Beach, Miami Beach, Florida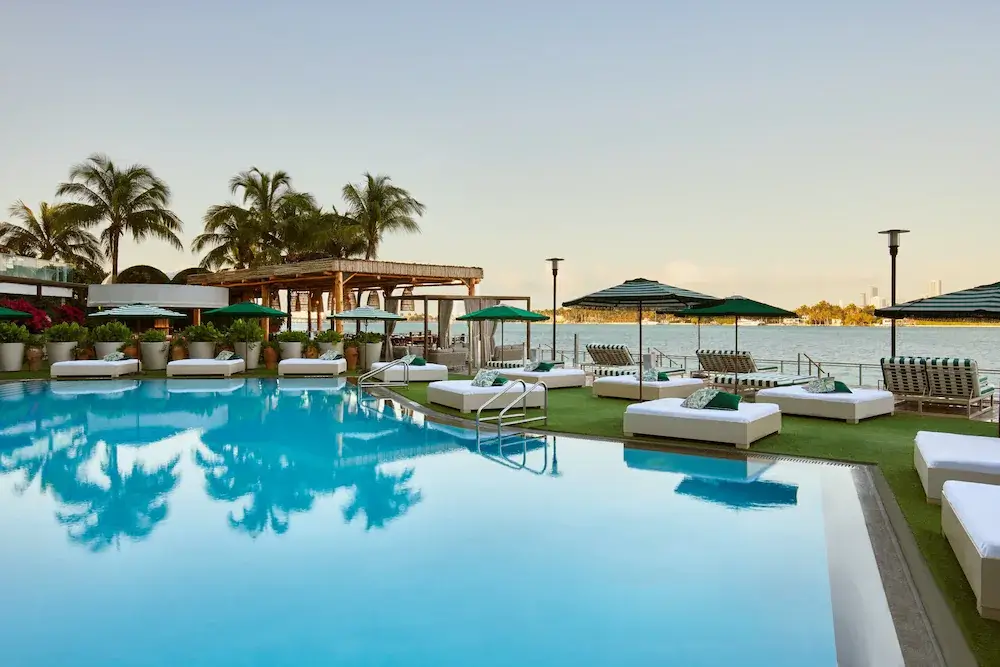 Overlooking Biscayne Bay, Mondrian South Beach's infinity pool provides mesmerizing views, especially at sunset. The pool area, characterized by its lush landscaping and stylish cabanas, has a whimsical, modern fairy-tale feel, accentuated by Marcel Wanders' design. The pool bar serves innovative cocktails and delicious bites, adding to the luxurious and relaxing poolside experience.
Post Ranch Inn, Big Sur, California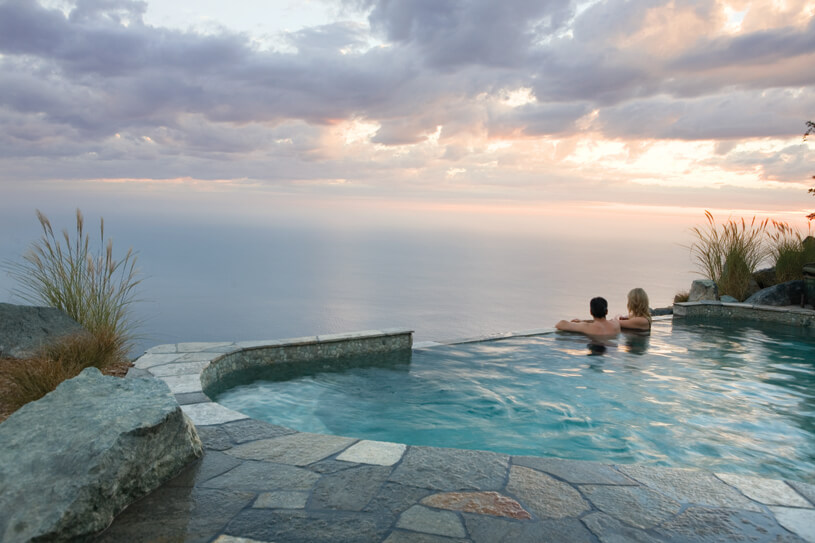 Post Ranch Inn offers two cliff-top infinity pools heated to a perfect 104 degrees, providing a relaxing soak with an unbeatable view. The pools offer a sense of floating above the Pacific Ocean as the sapphire water of the pool merges with the sea and sky at the horizon. Nestled amidst the natural beauty of Big Sur, these pools provide a serene sanctuary for relaxation and rejuvenation. This tranquil space allows guests to unwind while marveling at the breathtaking surrounding scenery.
These remarkable pools, each unique in their design, location, and the experience it offers are more than just a place to cool off. They promise unforgettable experiences, merging luxury, comfort, and the sheer joy of floating in stunning settings. If you're planning your next vacation and a high-quality pool is high on your list, consider one of these outstanding US hotels.