Welcome to the realm of extraordinary travel experiences. In this blog, we delve into a world where accommodations are not just places to stay, but destinations in themselves. Join us as we embark on a journey to discover the most luxurious, unique, and downright mind-blowing Airbnb rentals across the globe.
Prepare to be captivated by architectural marvels, from treehouses suspended in treetops to futuristic domes that transport you to another dimension. We'll unveil hidden gems nestled in breathtaking landscapes, where you can immerse yourself in nature's embrace. Indulge in the opulence of mansions that redefine luxury, or surrender to the charm of cozy cottages that transport you to storybook realms.
Whether you seek adventure, relaxation, or a touch of whimsy, our curated collection of extraordinary accommodations will leave you inspired and eager to embark on your own unforgettable journey. Let your imagination soar as we unveil the best, most luxurious, and craziest Airbnb rentals that exist. Get ready to redefine your travel experience and create memories that will last a lifetime.
1. Paradise Palms, $11,719 (for 3-night minimum)
Nestled on the Isle of Palms in South Carolina, this inviting Airbnb offers a seaside retreat. The balcony's rope swing invites you to sip morning tea while gazing at the ocean view.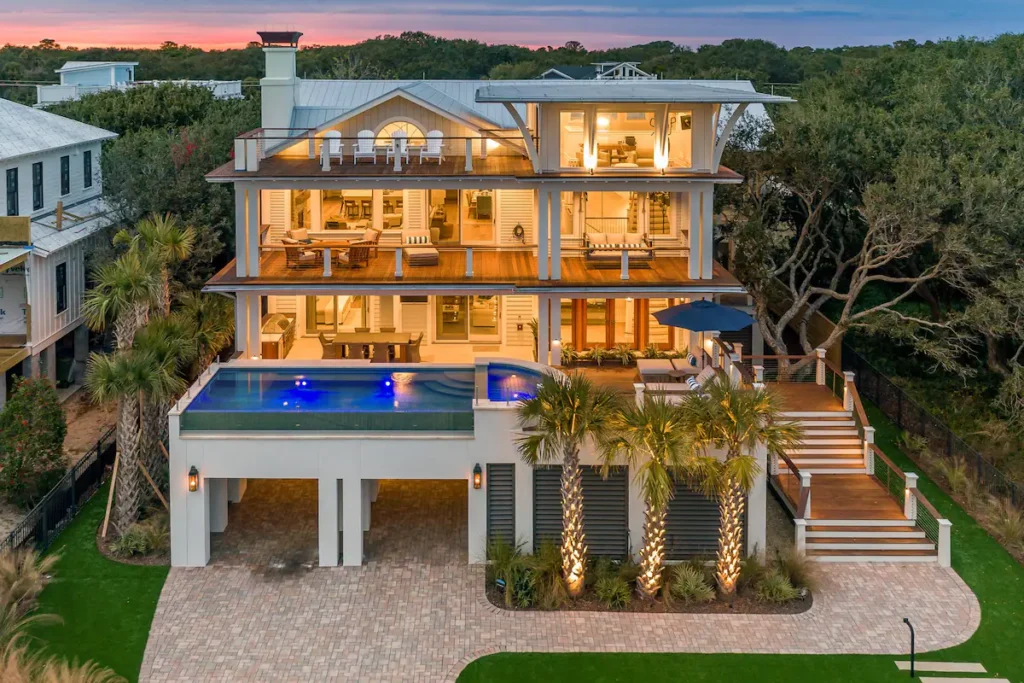 A quick stroll down the path leads to the Atlantic for a refreshing swim. Relax by the pool or in the hot tub. For dinner, explore Charleston's seafood offerings. The first floor features three bedrooms with king or queen beds, ensuite bathrooms, and terraces. Upstairs, two more bedrooms await. Enjoy amenities like an ice maker and wine cooler. With a garage and elevator, this coastal getaway promises an unforgettable stay.
2. Villa Aurora, $29,529 (for 7-night minimum)
Perched in the prestigious neighborhood of Cabo San Lucas, Baja California Sur, Villa Aurora is an exquisite Airbnb that caters to large groups and family reunions.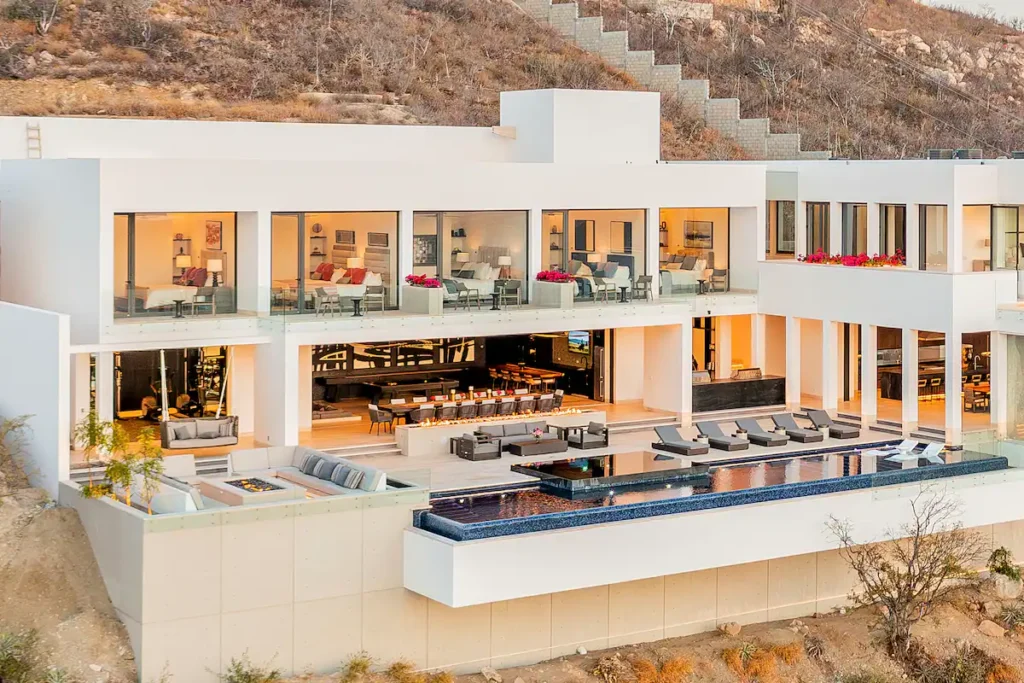 With space for 16 adults and 6 children, this stunning hilltop villa offers sweeping ocean and marina views, making it an ideal retreat. Embrace serene mornings on the beach, soak up the sun by the pool during leisurely afternoons, and immerse yourself in Cabo's legendary nightlife. The villa features seven luxuriously appointed bedrooms, each boasting ensuite bathrooms, terraces, and ocean views. Villa Aurora in Cabo San Lucas is the epitome of a lavish getaway, providing unmatched comfort and a prime location for an unforgettable experience.
3. Sunset Ridge, $95,396 (for 7-night minimum)
Nestled in the captivating landscapes of Telluride, Colorado, Sunset Ridge is a breathtaking Airbnb that embodies mid-century design and offers unparalleled mountain views.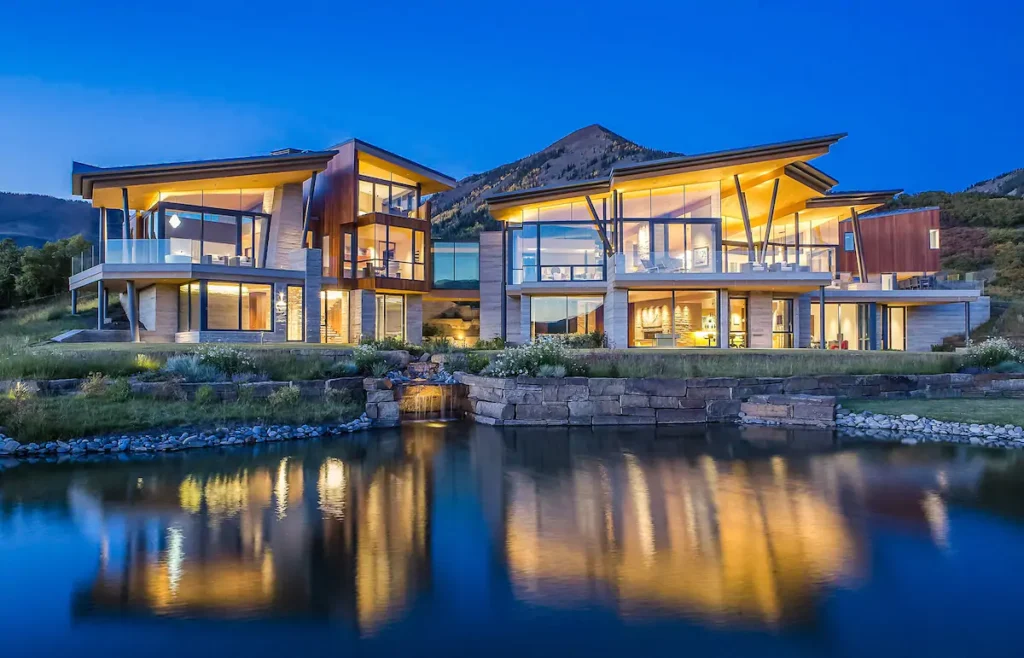 This designer mountain estate boasts a tranquil pond, fed by a gentle stream, creating a serene setting. Cross a footbridge to the sunken fire pit and enjoy a glass of wine while taking in the panoramic vistas of the San Juan Mountains. Inside, the soaring interiors feature floor-to-ceiling glass walls, allowing you to admire the wild beauty of the West. With six beautifully appointed bedrooms, including a primary suite with luxurious amenities like a fireplace and walk-in closet, Sunset Ridge offers a perfect retreat. Additional features include a home theatre, wine fridge, and the convenience of a nearby ski slope and Alta Lakes for outdoor adventures. Witness the magic of Telluride from this mid-century masterpiece.
4. Little Harvest Caye, $22,862 (for 7-night minimum)
Discover an exquisite private island retreat at Little Harvest Caye, a luxurious Airbnb nestled off the coast of Placencia Village in Belize.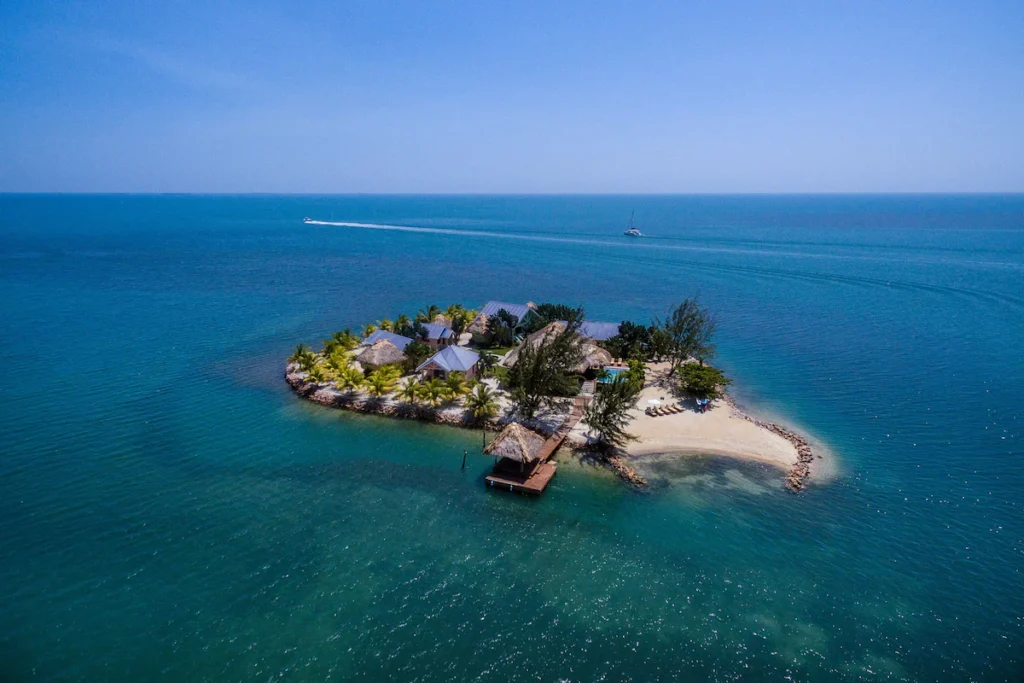 This exclusive getaway offers the ultimate fusion of land and sea, with a pool terrace leading to a pristine white-sand beach and complimentary kayaks and paddleboards for aquatic adventures. The open-concept main house invites warm breezes, while a short boat ride unveils fishing spots and whale shark habitats. Just five minutes across the water lies Placencia village on the mainland. With five stunning bedrooms, including a primary suite with a king-size bed, Little Harvest Caye offers a perfect blend of serenity and luxury. Indulge in personalized services such as a dedicated concierge and convenient laundry service, making every moment unforgettable in this idyllic Belizean haven.
5. Pearl West, $49,738 (for a 5-night minimum)
Indulge in the epitome of luxury at Pearl West, an exquisite Airbnb nestled within the Pearls of Long Bay Estate in Providenciales, Turks & Caicos Islands.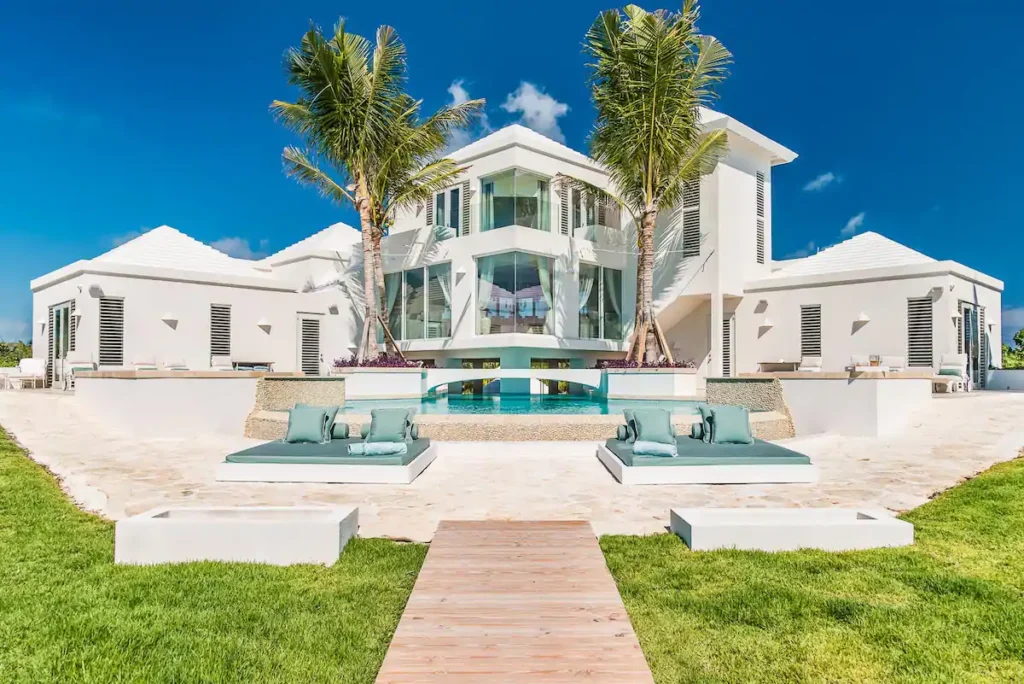 This contemporary architectural masterpiece is designed to provide the ultimate vacation experience for relaxation and entertainment. The grounds boast two swimming pools, a children's wading pool, and a hot tub for soothing soaks. Perfectly suited for entertaining, you'll find alfresco dining, a pool bar, a Japanese teppanyaki cooking station, and a barbecue. The interiors are equally impressive, featuring a home theater room, indoor/outdoor sound system, and various entertainment options. With eight elegant bedrooms, each with its own ensuite bathroom, Pearl West ensures utmost comfort. Enjoy shared access to estate amenities, including a tennis court, Turkish steam room, sauna, gym, and alfresco massage area. Your stay includes a private chef, housekeeping, and airport transfers, allowing you to fully immerse yourself in luxury. Experience the unparalleled beauty of Providenciales at Pearl West.
6. Mount Hartman Bay Estate, $105,000 (for a 7-night minimum)
Experience unparalleled luxury at Mount Hartman Bay Estate in Lance aux Epines, Saint George, Grenada. Featured in prestigious publications such as Conde Nast Traveler, Harper's Bazaar, and World's Most Extreme Homes, this remarkable estate is a truly extraordinary vacation rental.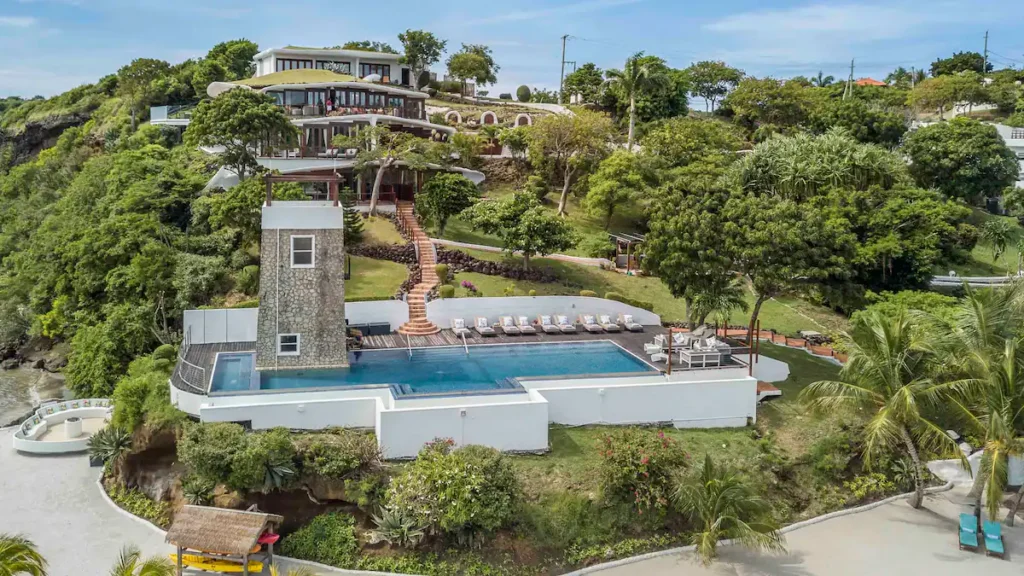 Spanning 7 acres of pristine white sand beach and tropical gardens, it comprises three villas, offering a total of 15 bedrooms and bathrooms, accommodating up to 50 guests. The Main House features seven opulent bedrooms, each with ensuite bathrooms and luxurious amenities. The Bay View Villa offers four additional beautifully appointed bedrooms, while the Beach House provides four unique bedrooms with alfresco showers. Immerse yourself in this amenity-packed haven and enjoy an unparalleled luxury experience that will leave you in awe. Mount Hartman Bay Estate is a true gem in the heart of Grenada.
7. Home in Creemore Countryside, $4,518 (for a 7-night minimum)
Escape to a serene and spacious retreat in the countryside of Creemore, Ontario, Canada with this luxurious Airbnb. Surrounded by lush treetops and peaceful rivers, this open-concept residence offers a tranquil haven.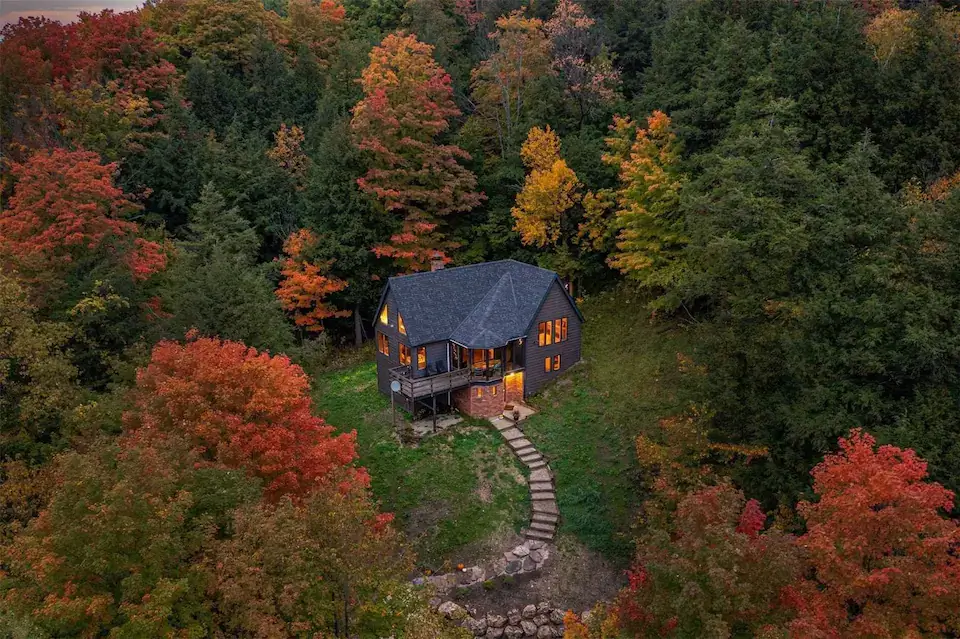 The home features four bedrooms, two bathrooms, and ample parking on its expansive 14.5-acre lot. Explore nearby attractions like Scenic Caves Nature Adventures or the Collingwood Arboretum. Spend evenings stargazing on the deck or enjoy cozy moments in the spacious sunroom during colder months. Nestled amidst a forest, this private home provides a truly enchanting woodland fairytale experience. Guests have access to the entire house, with the exception of the basement's laundry and utility rooms, as well as some locked cupboards. Immerse yourself in the beauty of nature in this picturesque countryside getaway.
8. Chalet in Brand bei Bludenz, $11,206 (for a 5-night minimum)
Escape to the idyllic Brandnertal and indulge in an extraordinary luxury experience at Chalet GM. This newly built premium chalet combines nature, recreation, comfort, and privacy in the most impeccable way.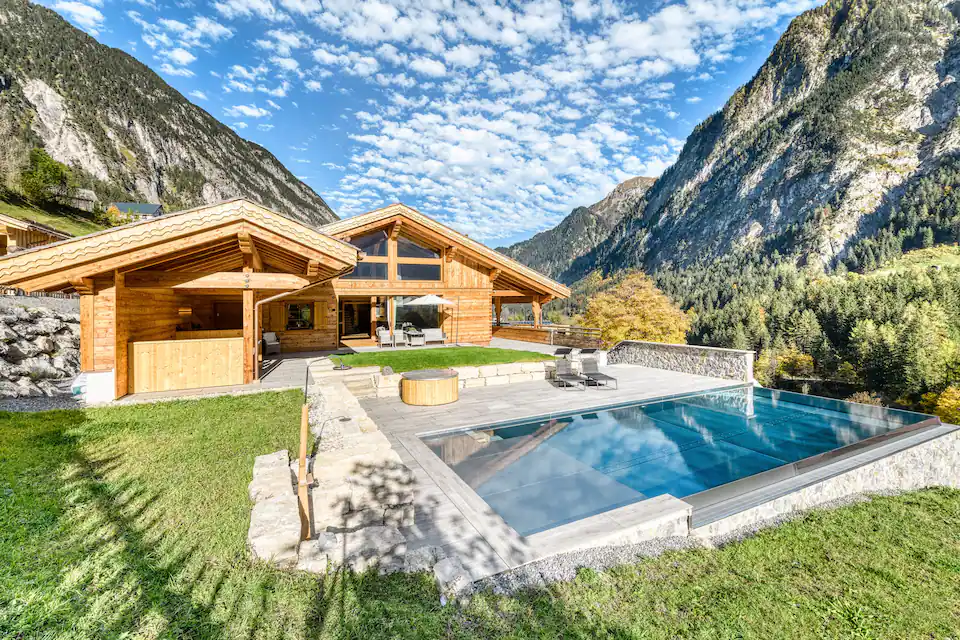 From the moment you enter, meticulous attention to detail is evident, with a seamless blend of natural materials and contemporary design. The warm wood accents, inviting scents of the forest, and panoramic views of the mountains create a serene and immersive ambiance. Chalet GM caters to every need with spacious living areas, state-of-the-art amenities, and a dog-friendly atmosphere. Whether you're enjoying outdoor activities, savoring the delights of the open-plan kitchen, or immersing yourself in the beauty of the Alps, this luxurious retreat in the Brandnertal exceeds all expectations.
9. Amilla Villa Estate, $58,100 (for a 5-night minimum)
Escape to the pristine beauty of the Maldives' Baa Atoll and immerse yourself in the luxurious oasis of Amilla Villa Estate.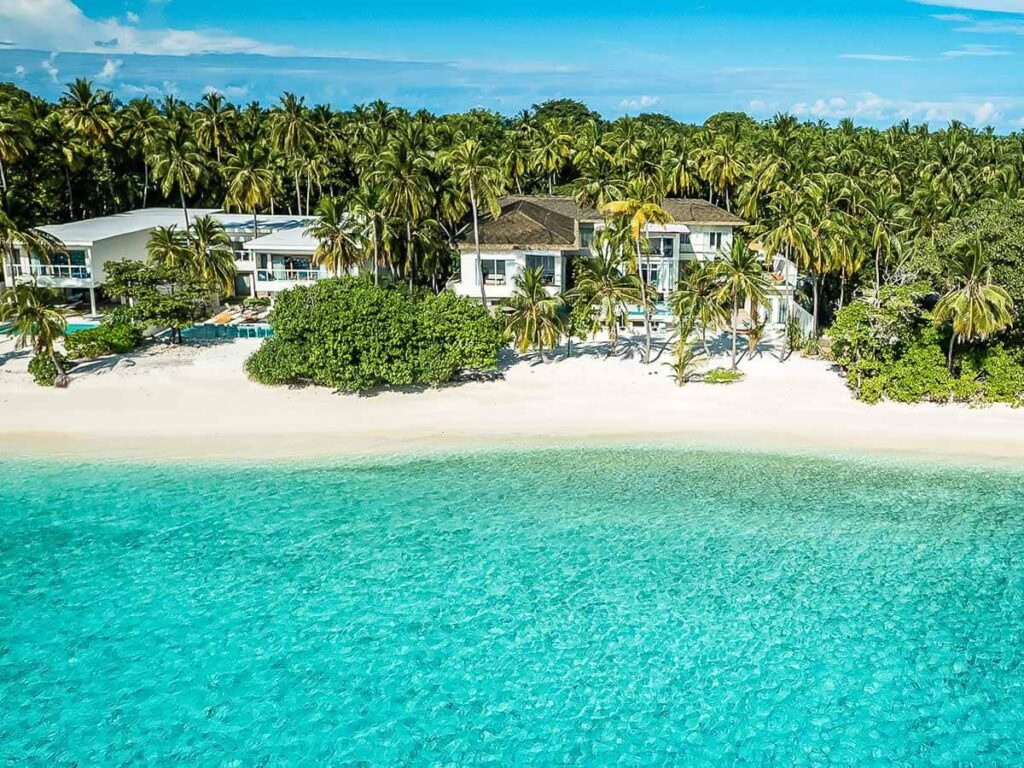 This prestigious rental offers a remarkable experience with its six stunning bedrooms, expansive indoor and outdoor spaces, private beachfront, and awe-inspiring views of the Indian Ocean. The villa provides a home-like ambiance with a fully equipped kitchen, entertainment lounge, and terrace featuring a swimming pool, hot tub, and ample seating areas. The elegant décor creates a bright and tranquil atmosphere, while each bedroom offers ocean views and ensuite bathrooms. With exceptional service, including breakfast, housekeeping, and 24-hour security, Amilla Villa Estate promises an unforgettable stay surrounded by world-class amenities and the natural splendor of the Maldives.
10. Kaanapali Beachfront Estate, $56,294 (for a 6-night minimum)
Experience the epitome of luxury at the Kaanapali Beachfront Estate, a magnificent Airbnb located in Lahaina, Hawaii.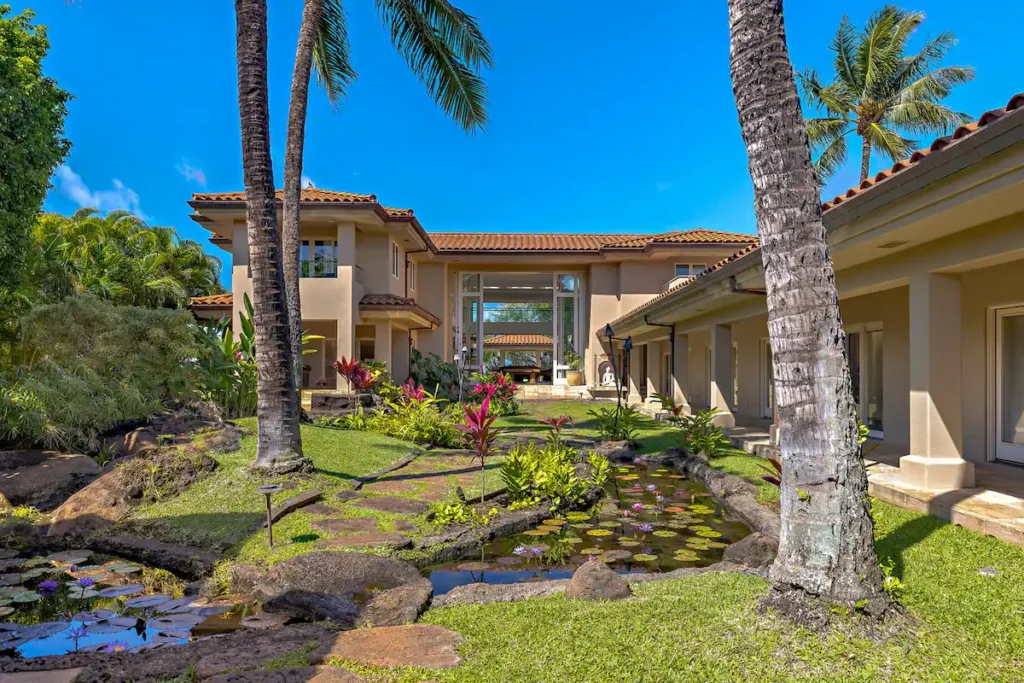 This breathtaking estate offers eight bedrooms and nine and a half bathrooms, accommodating 16+ guests. Nestled on one of only six beachfront residential parcels in all of Kaanapali, this private home provides unparalleled solitude and proximity to five-star dining and award-winning spas. Each bedroom is beautifully appointed, offering ensuite bathrooms and modern amenities. Guests can enjoy the stunning ocean views from the primary bedroom, relax in the spacious living areas, and indulge in the convenience of a kitchenette in one of the bedrooms. This extraordinary estate sets the stage for an unforgettable Maui vacation, combining luxury, privacy, and breathtaking surroundings.
11. Western Saloon, $2,939 (for a 6-night minimum)
Immerse yourself in the charm of the Old West with a stay at the Western Saloon with Teton Views! This unique and delightful cabin is nestled on a 10-acre property in Tetonia, Idaho, offering breathtaking views of the Teton Valley.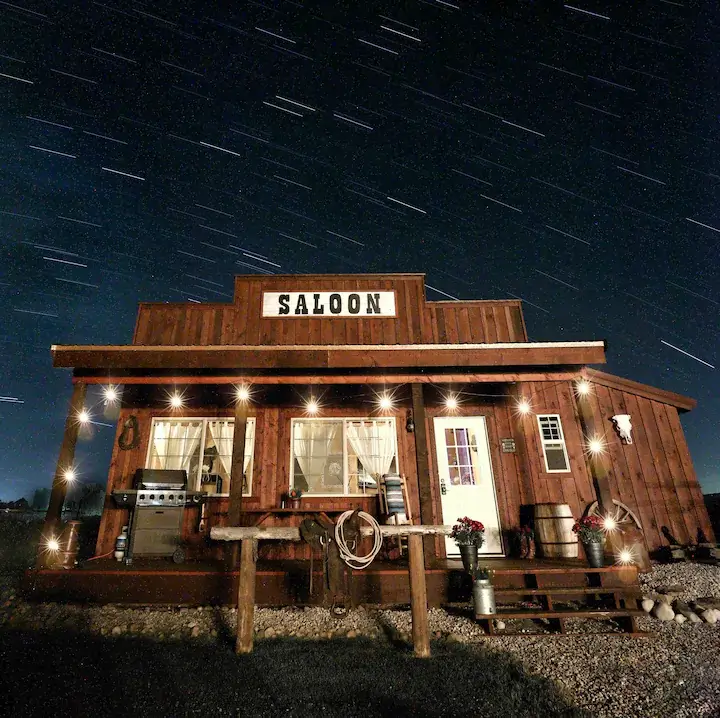 With accommodation for up to 4 guests, this spacious one-bedroom saloon features a plush queen bed, a pull-out couch, a cozy fireplace, and a pool table for hours of entertainment. Unwind in the saltwater hot tub, admire the stunning sunsets and sunrises, or gather around a fire under the starry sky at this mountain retreat. The property boasts a tranquil creek and multiple outdoor sitting areas where you can relax and reconnect with nature. With access to all the saloon and outdoor spaces, you'll have a truly unforgettable experience in the Wild West.
12. Houseboat-Yacht Nestled In A Lake Travis Cove, $5,333 (for a 7-night minimum)
Experience a unique and breathtaking getaway at the Houseboat-Yacht nestled in a Lake Travis cove in Leander, Texas.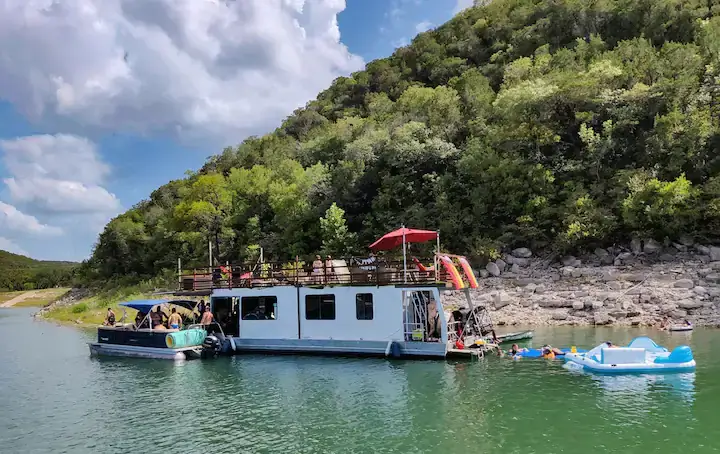 With accommodation for 16+ guests, this water-centric glamping experience offers gorgeous lake views and a serene setting for family vacations, romantic getaways, team-building retreats, or fun trips with friends. Watch shooting stars and spectacular meteor showers at night and wake up to breathtaking sunrises. The 55-foot-long, 14-foot-wide Deluxe Triple Decker Sustainable Airstream Houseboat-Yacht features modern global style interiors, including two bedrooms, two bathrooms, and ample space across three decks. Enjoy the tranquility of the cove, with options for kayaking or paddleboarding to reach the houseboat. Embrace the off-grid experience, powered by solar panels, a generator, and a backup Goal Zero battery storage power supply. Indulge in the beauty of nature while creating unforgettable memories on the water.
13. Invisible House Joshua Tree, $15,542 (for a 5-night minimum)
Experience the extraordinary at the Invisible House in Joshua Tree, California. This iconic and world-renowned modern masterpiece, designed by veteran film producer Chris Hanley, offers a truly unique desert retreat.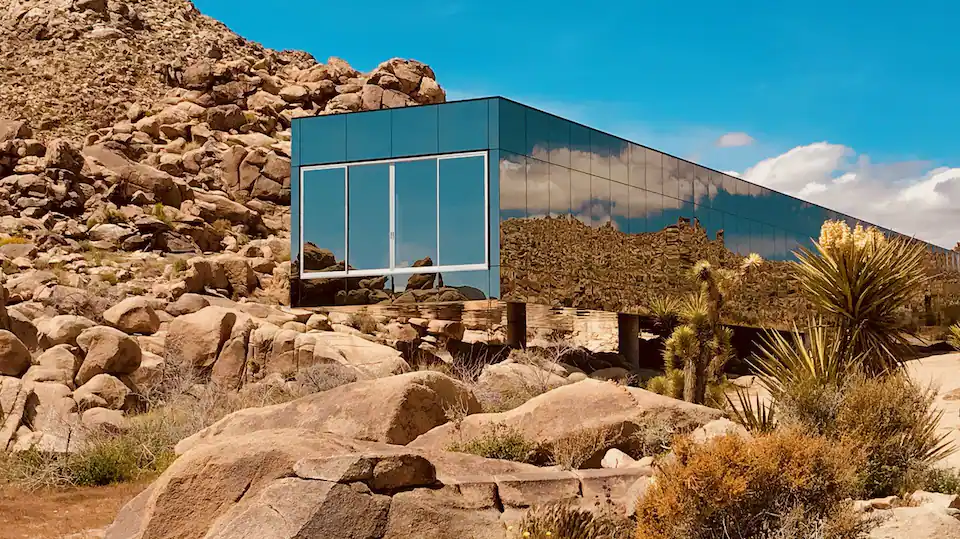 Set on 90 acres of stunning land adjacent to Joshua Tree National Park, this 5,500 sq. ft. minimalist oasis features a mirrored facade that seamlessly blends into the desert landscape. With three bedrooms in the main house and an additional bedroom in the detached casita, guests can enjoy top-of-the-line amenities, ensuite bathrooms, and floor-to-ceiling sliding glass doors that create a seamless connection to nature. The property boasts a 100-foot indoor swimming pool, eco-friendly construction, and access to private hiking trails and the Desert View Conservation Area. Whether you're seeking a private getaway or a location for filming and photography productions, the Invisible House offers an unforgettable experience in harmonizing modern architecture with captivating desert surroundings.
14. Whimsical Stone Abode, $1,374 (for a 5-night minimum)
Escape to a truly unique retreat that combines the charm of Santorini's cliffside suites with the coziness of a hobbit house.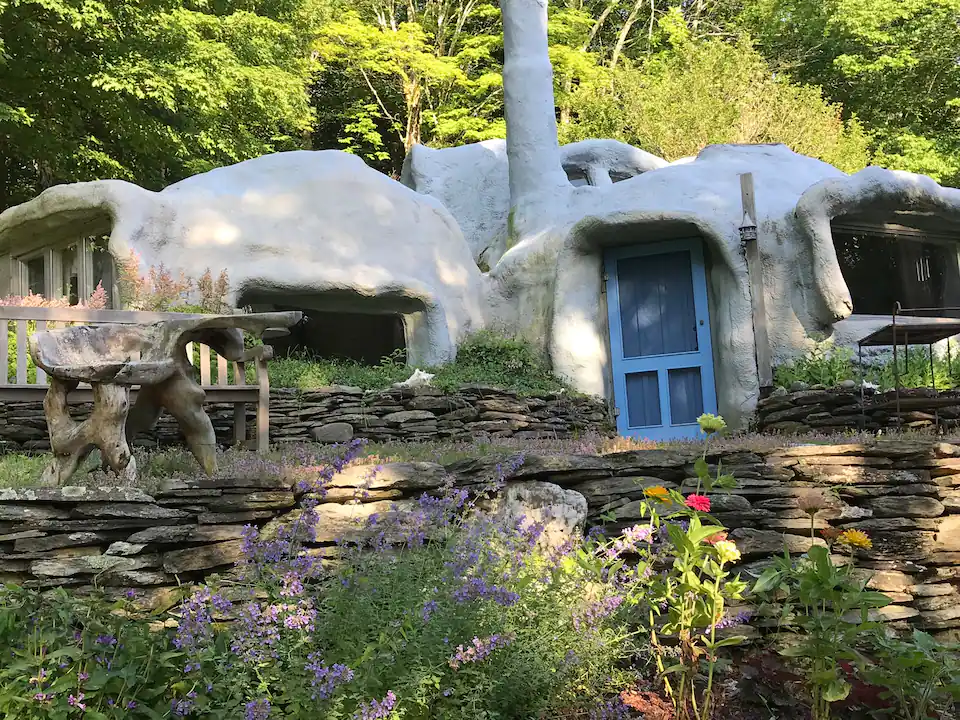 Featured in Boston Magazine, these private domes offer an exclusive experience where you'll be the only guest. Enjoy the comforts of free WiFi, a fully equipped kitchen, a queen size bed, and a full bathroom with heated tile floors. In cooler seasons, cozy up by the thermostatically controlled propane-fueled 'wood' stove. Outside, you'll have access to a gas grill, patio, and 10 acres of woodland and meadows to explore. With nearby attractions like Arlington, Manchester, Bennington, and Saratoga Springs, as well as outdoor activities like swimming, fishing, hiking, and skiing, there's something for everyone to enjoy.
15. Private Castle with 3 Course Dinner & Breakfast, $14,636 (for a 5-night minimum)
This extraordinary castle offers exclusive stays tailored to your every desire. Upon arrival, the enchanting "Castle in the Sky" will mesmerize you with its breathtaking views.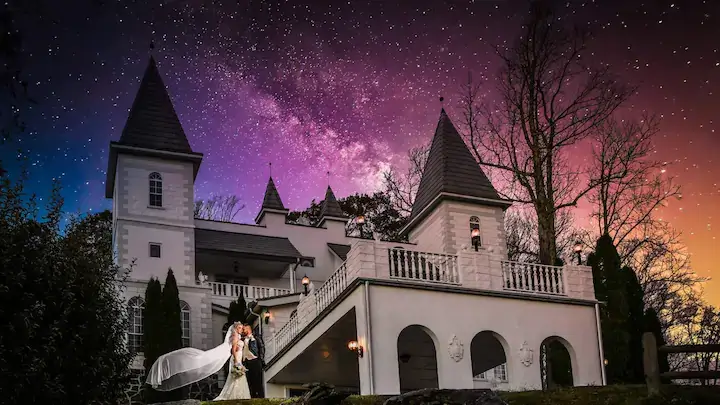 Unwind in the exceptional rooms before savoring a divine 3-course gourmet dinner by renowned Chef Benjamin in the Royal Dining room. As the royal treatment continues, wake up to a regal breakfast served on the majestic balcony. Smithmore Castle goes above and beyond with its 5-star rated gourmet chef and personalized concierge services, ensuring an unforgettable experience. Explore the castle's remarkable spaces, from the vintage starlight bar to the Tuscan-themed lounge and the opulent dining room. Marvel at the ceiling frescos and indulge in the exquisite wine room. The Great Room beckons with its marble floors, fine paintings, and a dazzling Swarovski crystal chandelier. Step outside to the captivating courtyard with its grand fountain or the expansive open deck over the portico. Lose yourself in the spellbinding views time and time again. Immerse yourself in the extraordinary charm and luxury of Smithmore Castle, where dreams become reality.
16. Moonview Ranch, $1,109 (for a 5-night minimum)
Escape the city and find solace at 'Moonview Ranch,' a serene solar-powered retreat in Sebastopol, California. This charming 1-bedroom vacation rental sits on 20 acres of rolling fields, offering distant ocean views and the company of peaceful cows and sheep.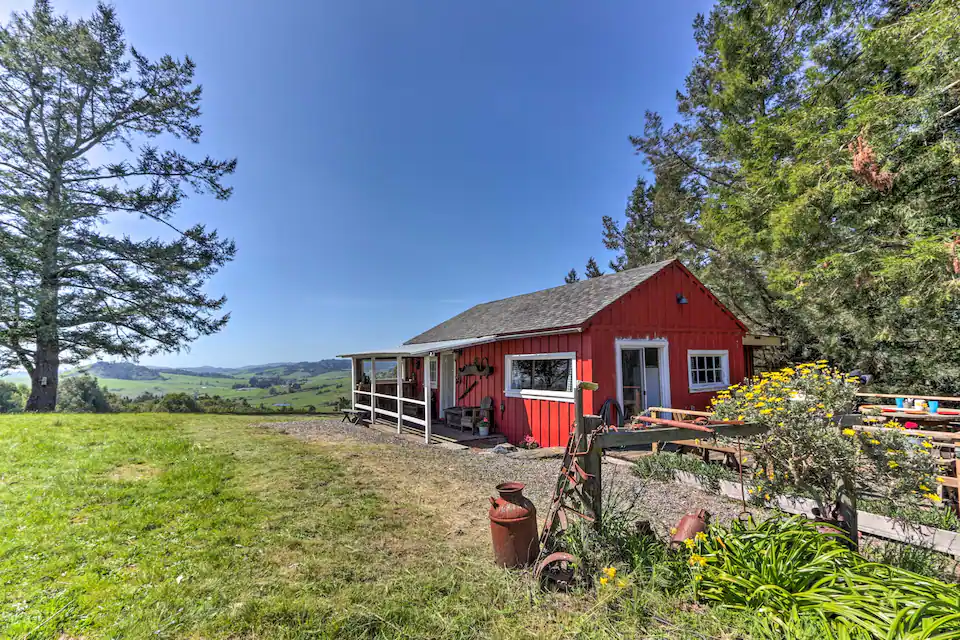 With a fully equipped kitchen, three furnished decks, a bocce court, and a playhouse for the kids, you'll have everything you need for a relaxing getaway. Explore the nearby Russian River for kayaking, indulge in the region's award-winning wines, immerse yourself in Sebastopol's arts and music scene, and discover the Bohemian Highway towns of Occidental and Freestone. Unwind in the cozy interior with its rustic charm, repurposed wood walls, and wood-burning stove. Whether you're sipping wine on the deck, grilling outside, or stargazing under the night sky, 'Moonview Ranch' promises a rejuvenating experience for two guests.
17. Estate Taurus, $20,125 (for a 5-night minimum)
Escape to the luxurious Estate Taurus in Punta de Mita, Nayarit, Mexico for an unforgettable getaway. This stunning Airbnb property offers a lavish stay with its 5 bedrooms and 5 bathrooms, accommodating up to 10 guests.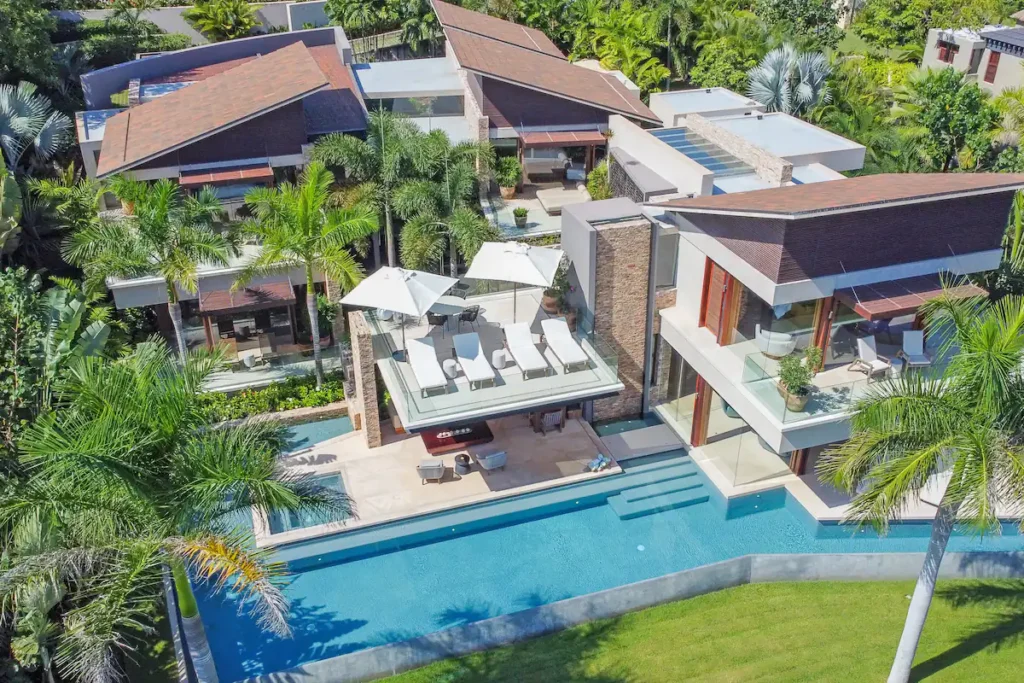 The master bedroom boasts a king-size bed, an ensuite bathroom with a stand-alone shower and bathtub, a walk-in closet, and a balcony with mesmerizing ocean views. The other three bedrooms also provide comfort and style with king-size beds, ensuite bathrooms, walk-in closets, and balconies offering partial ocean views. Additionally, the media room features a Murphy bed and access to a hallway bathroom. Indulge in the ultimate luxury experience at Estate Taurus, where comfort, elegance, and ocean vistas await.
18. Blue Windmill Villa, $5,633 (for a 6-night minimum)
Experience the epitome of luxury and enchantment at the Blue Windmill Villa in Imerovigli, Santorini, Greece. This Airbnb luxury stay offers a unique opportunity to stay in a white-washed windmill, immersing yourself in the beauty and charm of Santorini.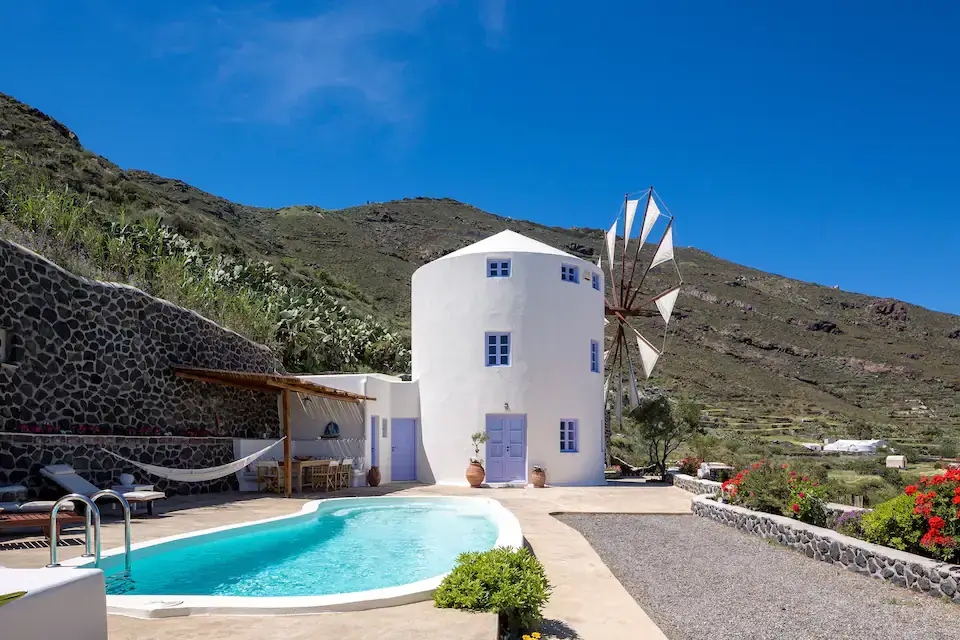 With 2 bedrooms and 3 bathrooms, this retreat can accommodate up to 6 guests. The ground floor showcases breathtaking views of the vineyards, swimming pool, and the Aegean Sea, featuring a spacious living room, dining room, and well-equipped kitchen. Ascend the spiral staircase to the second floor and find a cone-shaped bedroom with an ensuite bathroom, providing ample space and comfort. The swimming pool, designed in the shape of a bean, offers a soothing hydro-massage for up to 4 persons, while a pergola provides a shaded area for enjoying meals and taking in the picturesque surroundings. Immerse yourself in the tranquility of the island, accompanied by warm Greek hospitality, and create memories that will last a lifetime at the Blue Windmill Villa.
19. Traditional and Hanok Main House, $3,204 (for a 6-night minimum)
Experience the rich tradition and culture of South Korea with a luxurious stay in a traditional Hanok house in Jeongnamhang.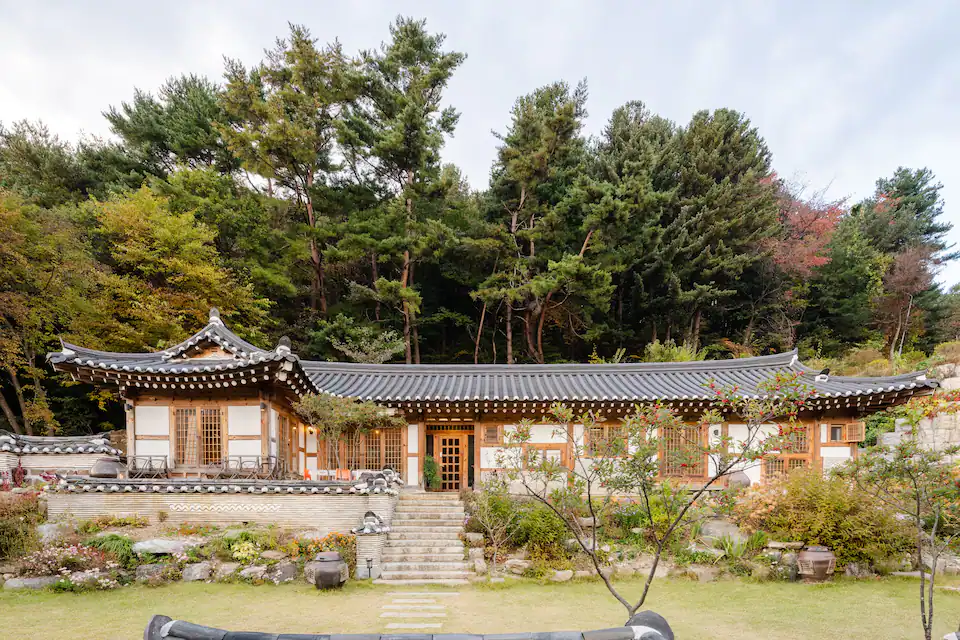 This Airbnb accommodation offers a unique opportunity to immerse yourself in the charm of a hanok, featuring a traditional Paljak Roof and eco-friendly construction with triple windows and insulation. With 3 bedrooms and 1.5 baths, this hanok can comfortably accommodate up to 15 guests. Nestled 500m above sea level, near the renowned Yongmunsan Mountain, the hanok is surrounded by a beautiful valley that remains lush throughout the four seasons. The serene atmosphere, complemented by pine trees, provides the perfect setting for health and relaxation. Enjoy the private outdoor space with a table and chairs, and make use of the barbecue facilities for a delightful culinary experience.
20. On The Rocks Retreat, $19,355 (for a 7-night minimum)
Experience the beauty of Maine's Georgetown coast at On The Rocks Retreat, a spectacular 6-bedroom oceanfront vacation rental.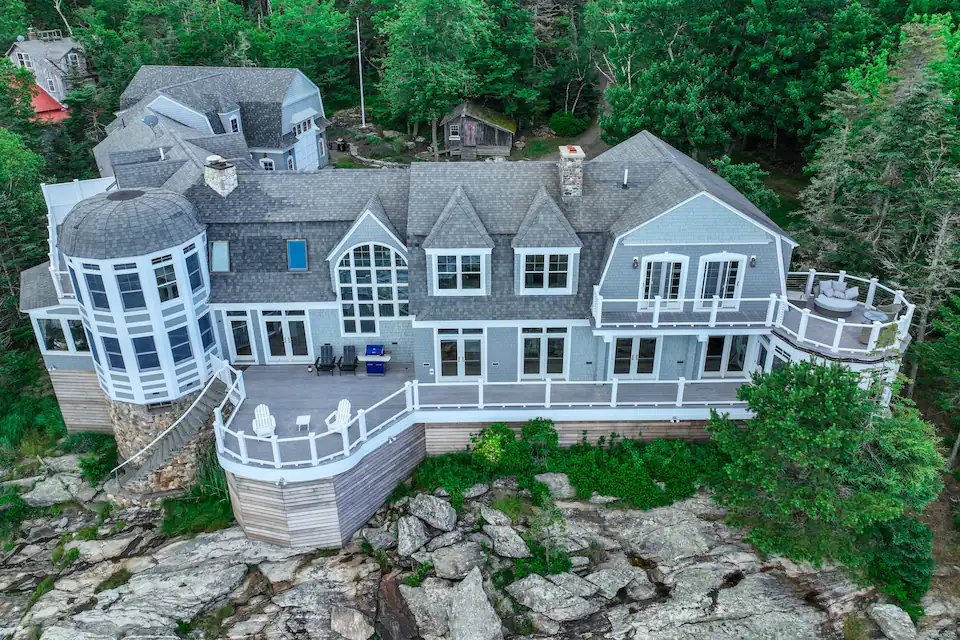 This unique home offers a perfect blend of modern design and breathtaking natural surroundings. Located within walking distance of Reid State Park and its sandy beach, you'll have easy access to outdoor activities and attractions like the Robinhood Marine Center and Morse Pond Reserve. The interior of the home features sunlit living spaces with vaulted ceilings and wooden beams, creating a nautical ambiance. The well-equipped kitchen and spacious dining area are perfect for meal preparation and family gatherings. Relax in the two separate living spaces or enjoy the view from the sunroom and furnished deck. The main suite offers a stunning panoramic view, allowing you to wake up to the beauty of the ocean. Stay connected with streaming-capable TVs and high-speed internet, and make use of the private washer/dryer. With its incredible location and amenities, On The Rocks Retreat is the ideal oceanfront getaway in Georgetown, Maine.
21. Victorian Castle with Garden and Pool, $6,258 (for a 5-night minimum)
Welcome to Villa Idalina, a magnificent full-house rental in Portugal with a charming garden, pool, and play area.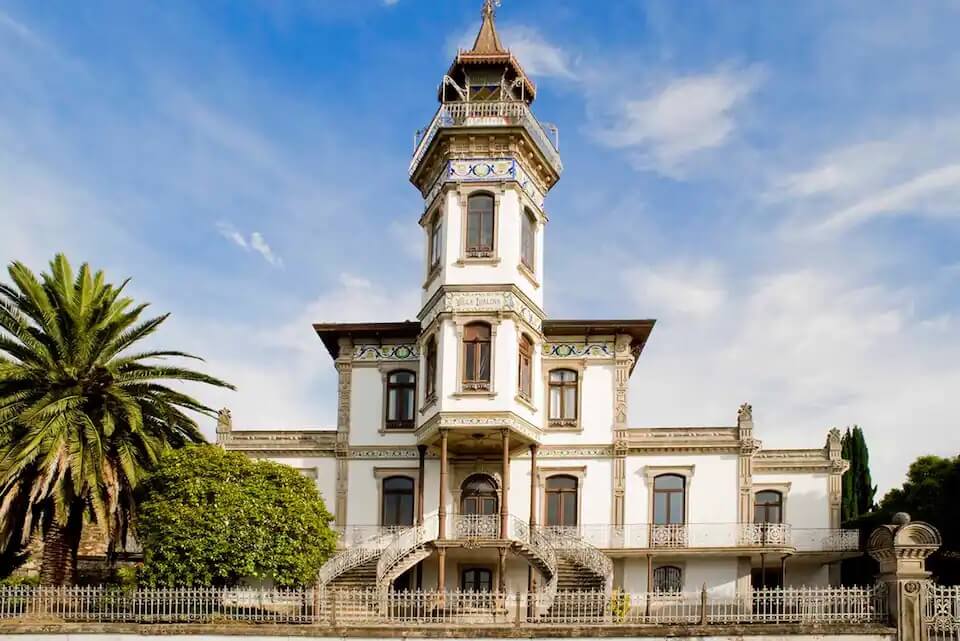 This spacious property offers a 1000 square meter house and a sprawling 6000 square meter garden for you to explore and enjoy. Although there is no kitchen for guest use, a delicious breakfast is included and served in the elegant rooms of the house. Daily room service is provided to ensure your comfort and convenience. Villa Idalina is exclusively rented to groups of 4 to 12 people, offering a private and intimate experience. Nearby, you'll find several restaurants offering traditional Portuguese cuisine at affordable prices. The villa itself is a historic gem, showcasing the architectural beauty and rich history of early 20th-century Brazilian mansions. Immerse yourself in the art, history, and cultural experiences that Villa Idalina has to offer, including intimate concerts featuring jazz, Fado, and Galician-Portuguese music in the house's winery.
22. Rhodiad Mill, $2,850 (for a 5-night minimum)
Rhodiad Mill, a tranquil haven in Pembrokeshire, is now part of St Davids's Escapes. Surrounded by nature and decorated in natural tones, the mill offers a peaceful countryside location with plenty of space and charming features such as a log burner.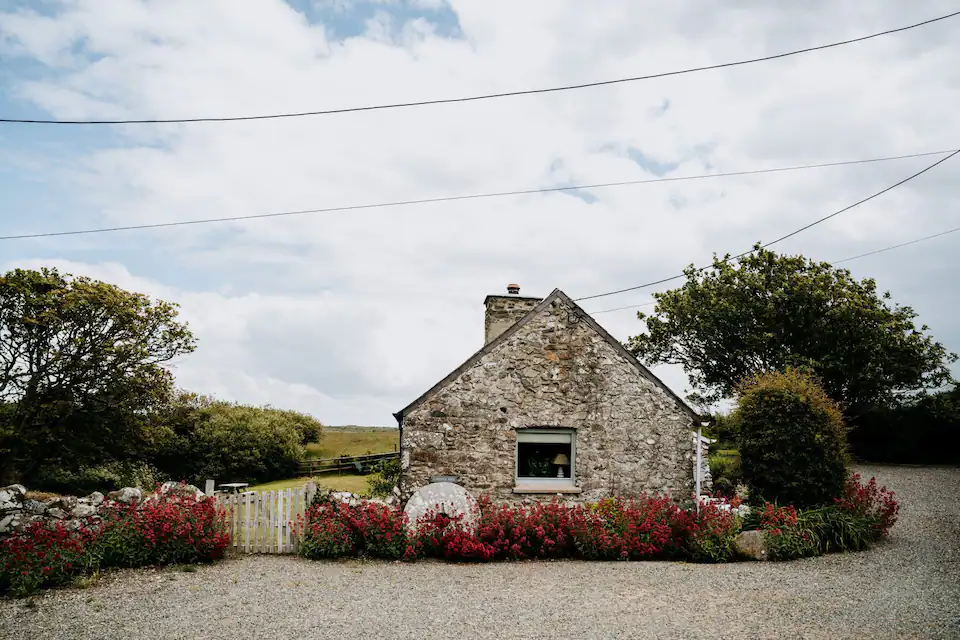 It is conveniently located just five minutes away from St Davids, allowing easy access to the attractions of the area. This 18th-century mill has been lovingly converted to retain its original beauty while providing a stylish and relaxing base for a holiday. Guests can relax and unwind, enjoy the babbling stream, and observe the local wildlife.
23. Barn Home - Solar Music Studio, Views & Hot Tub, $4,433 (for a 5-night minimum)
Located in Saugerties, New York, this stunning timber frame home offers a unique experience with its net-zero solar power and music studio.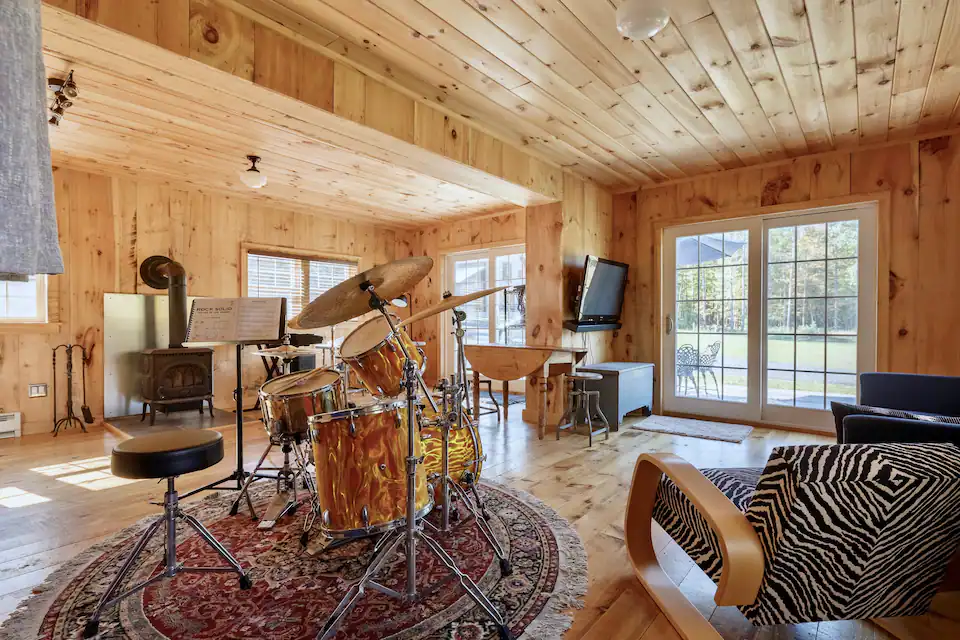 The main house features 3 bedrooms and 3 baths, while a separate guest cottage serves as a 1-bedroom/bath music studio. The great room impresses with a Steinway grand piano, a massive stone fireplace, and handpicked furnishings. The fully equipped kitchen and spacious dining area are perfect for entertaining. Guests can relax on the stone deck with a hot tub and fire pit, enjoying mountain views. With total privacy on 18 acres, this retreat offers a memorable getaway.
24. Blue Ridge Luxury Lodge, $7,448 (for a 5-night minimum)
Nestled in Logan, Ohio, the Blue Ridge Luxury Lodge is a spacious retreat offering comfort and entertainment for large groups. With 8 bedrooms and 10 beds, it can accommodate up to 16 adults or 20 adults/children.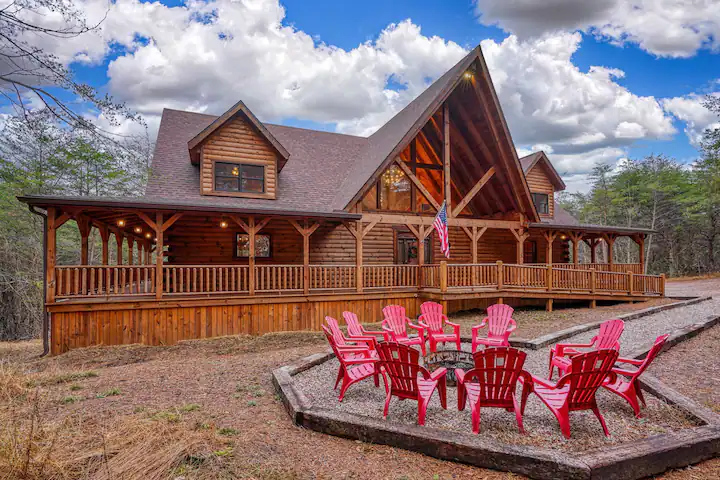 The lodge features amenities such as a pool table, hot tub, indoor/outdoor fireplaces, and laundry facilities. The first floor offers wheelchair accessibility with a zero-entry shower, wider hallways, and doors to the master bedroom. Additionally, the Blue Ridge Luxury Lodge boasts a chef's kitchen, providing a well-equipped culinary space for guests to prepare delicious meals. With its modern appliances, ample countertop space, and high-quality cooking amenities, the chef's kitchen enhances the overall experience for those who enjoy cooking and culinary adventures during their stay.
25. Relaxing Chalet, $2,638 (for a 5-night minimum)
Seven Pines Chalet in Ellsworth, Michigan, offers a relaxing retreat with beach access and a range of amenities. This charming chalet features four bedrooms, accommodating up to eight guests, making it ideal for a family or group getaway.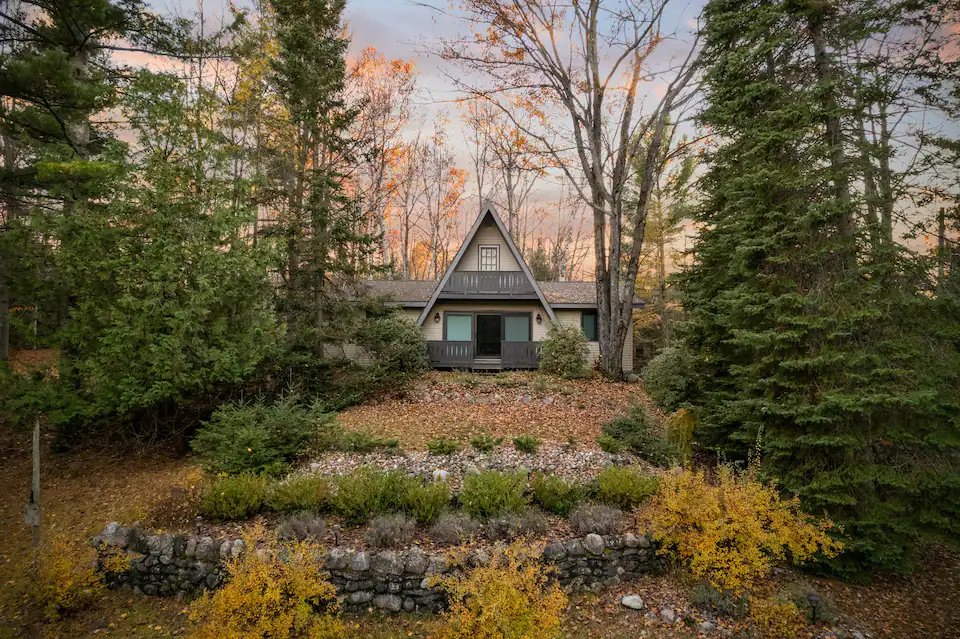 The open-concept kitchen and dining area provide a welcoming space, while the comfortable living room with a wood-burning stone fireplace offers a cozy atmosphere. Enjoy the wildlife and serene views from the decks, and unwind with board games or your favorite shows on the 50" LG ROKU Smart TV. The fully equipped chef's kitchen with quartz countertops and modern appliances allows for convenient meal preparation, making your stay even more enjoyable.
26. Elegant 7 BR Jay Peak Manor Home, $4,302 (for a 5-night minimum)
Escape to the serene beauty of Northern Vermont with a stay at Janski, an elegant 7-bedroom manor home in Troy.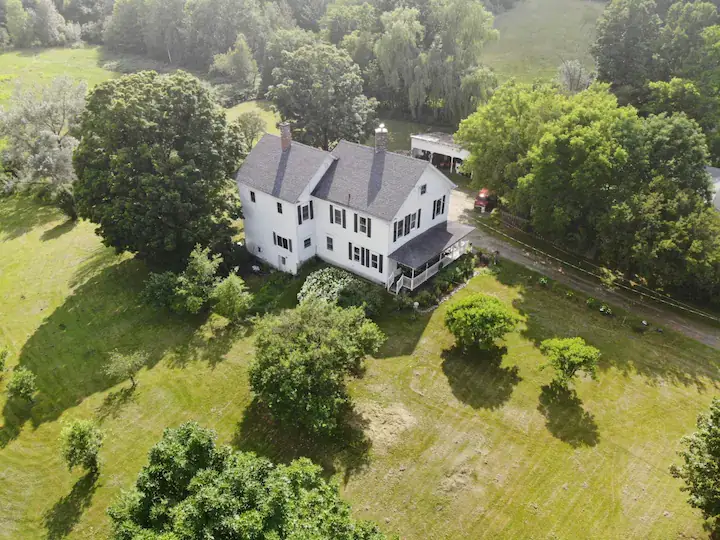 This luxurious vacation rental sits on 2 acres of land and comfortably accommodates 14 guests. The property is conveniently located just 10 minutes from Jay Peak Ski and Golf Resort. The 4000 sq. ft. home, originally an inn from the mid-1800s, has been fully updated with modern amenities while maintaining its historic charm. With three bedrooms featuring king-size beds and ensuite bathrooms, as well as additional bedrooms with queen and twin beds, there is ample space for everyone. The well-equipped kitchen, including a butler's pantry, is perfect for preparing meals. Enjoy the outdoors with nearby hiking trails, golf courses, swimming holes, and fishing spots. Janski is also an ideal lodging option for large wedding groups, with its proximity to several wedding barns.
27. Nature's Nook, $1,615 (for a 5-night minimum)
Immerse yourself in the beauty of wine country at Nature's Nook, a modern treehouse in Dahlonega, Georgia.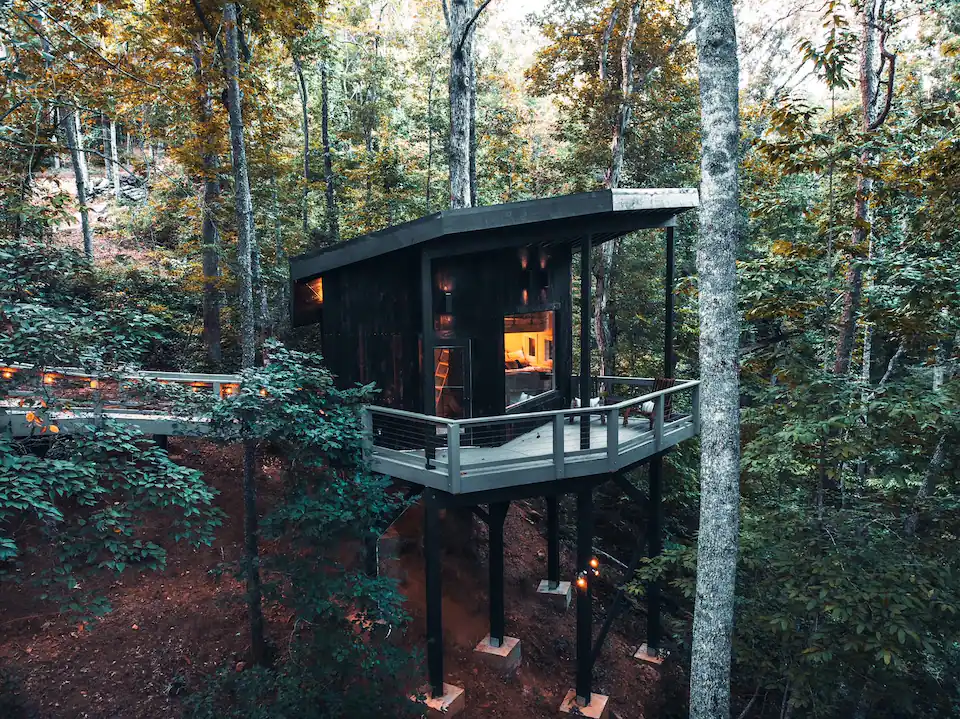 This unique getaway combines nature and modern design, offering a compact interior that can accommodate up to 4 guests in cozy bunks, lofts, and nooks. The exterior space features a sprawling deck with stunning views of the fern-filled valley below. Inside, you'll find creature comforts like heating, air conditioning, and a full bathroom. The craftsmanship of Nature's Nook is truly remarkable, with hand-scribed live edge poplar floors, custom cabinets, and a living roof covered in moss. The treehouse is built around a magnificent oak tree, and large windows provide panoramic views of the surrounding fern forest. Enjoy the outdoors with the deck's amenities, including a grill and a built-in YETI cooler. Don't miss the unique features such as the charred cypress siding, glass-tiled shower, and custom-made whiskey barrel Adirondack chairs. Nature's Nook is the perfect retreat for adventure, hiking, and savoring the serenity of its natural surroundings.
28. Back in Time! River Log Cabin, $832 (for a 5-night minimum)
Experience the charm of a one-room log cabin at the River Log Cabin in Appomattox, Virginia. This 1840s cabin sits on a 500-acre farm by the James River, offering a peaceful retreat from the city.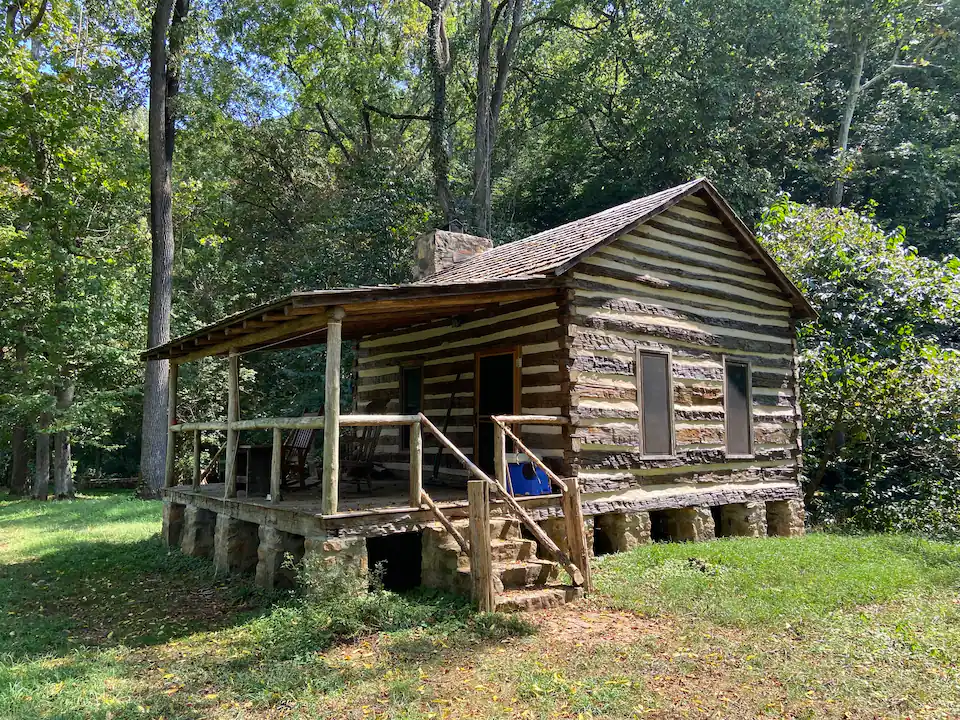 With solar power lighting and an outdoor shower and sink, you can enjoy the simplicity of off-grid living. Relax on the covered porch, take in the river view, or gather around the campfire. Pets are welcome, and there is an outdoor kitchen with a grill. While there is no electricity or running water inside, a clean outhouse and hot water shower house are available. Disconnect and immerse yourself in nature at this serene Virginia cabin.
29. Clapboard Island Estate, $102,600 (for a 7-night minimum)
Escape to the enchanting Clapboard Island Estate, a private island retreat off the coast of Portland, Maine. With a rich history dating back to the 1800s, this iconic New England residence has hosted illustrious visitors, including US presidents.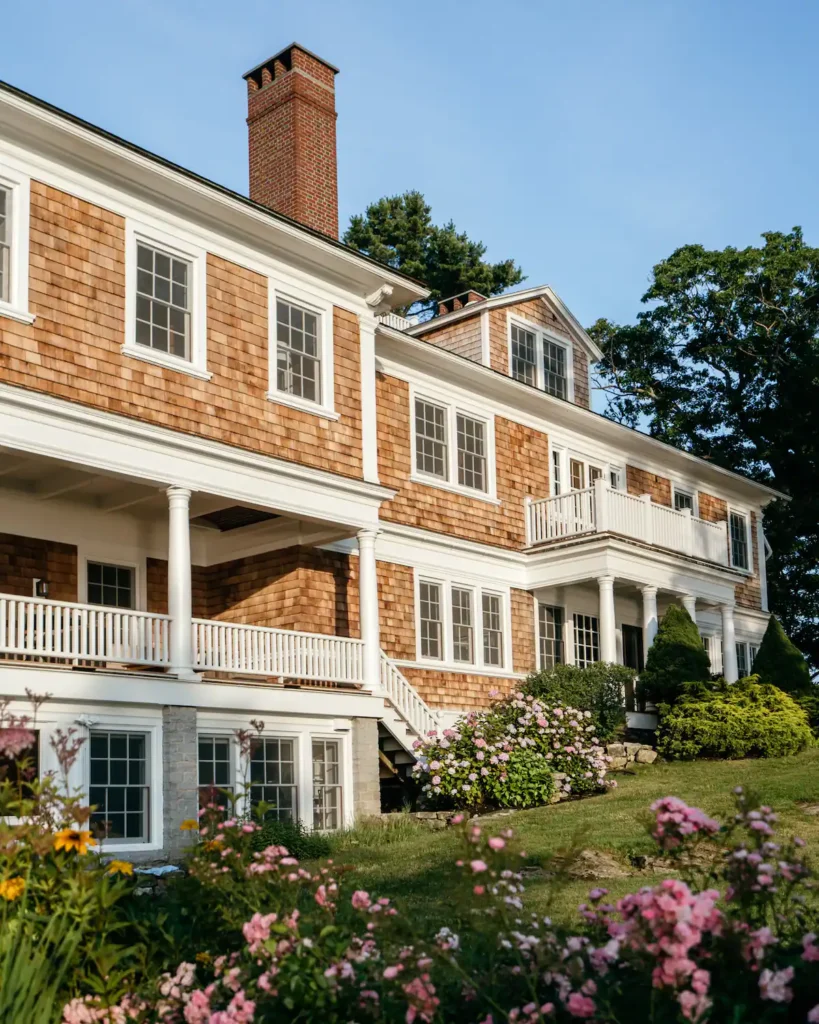 Decorated in classic cedar shingles, the estate showcases its New England heritage. Enjoy the deep water dock, six private beaches, and scenic walking paths around the 22-acre estate. Luxurious accommodations for 16 guests are available in the main house, with additional space in the farmhouse for six more. Indulge in fresh lobster and try your hand at fishing off the stone pier on Casco Bay. Experience a vacation like no other at this prestigious destination.
30. Hidden Harbor, $11,662 (for a 7-night minimum)
Escape to the Hidden Harbor, a luxurious Airbnb stay in Mooresville, North Carolina. Nestled among the picturesque Lake Norman trees, this oasis offers a spacious open-concept interior for 16+ guests.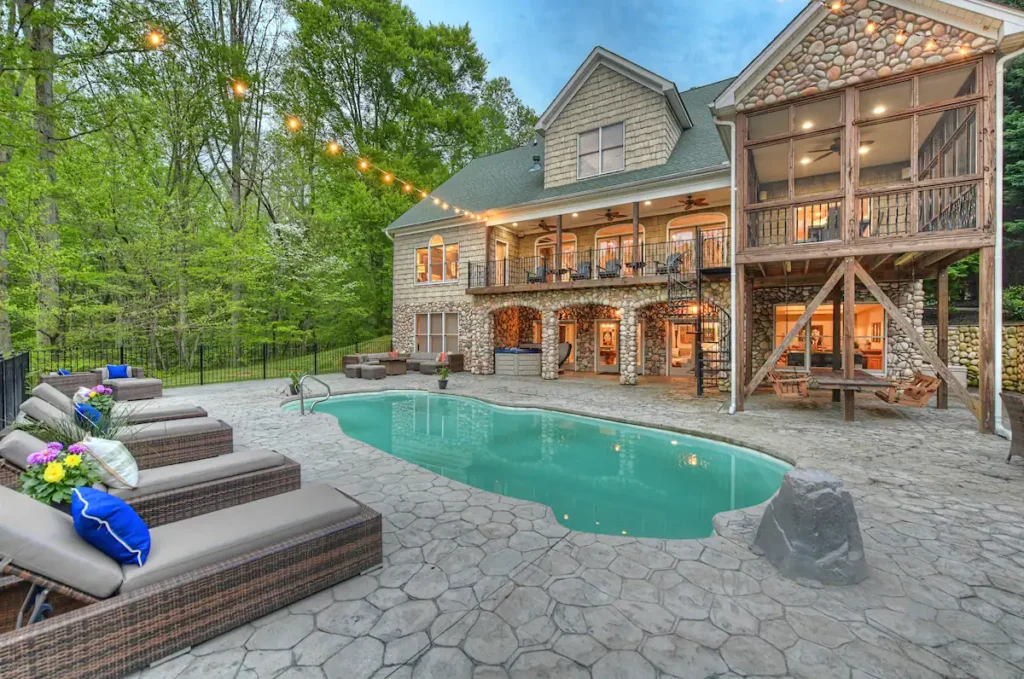 Enjoy the screened-in deck for al fresco dining, relax in the hot tub while vintage lights illuminate the surroundings, and have fun in the games room. Explore the lake with kayaks provided for a peaceful paddle. The four bedrooms offer comfortable accommodations, with the primary bedroom featuring a king-size bed, ensuite bathroom, terrace, and lake views. Experience a tranquil and unforgettable getaway at Hidden Harbor.
31. The Arctic Hideaway, $590 (for a 2-night minimum)
Embark on an extraordinary journey to the Arctic Hideaway in Gildeskål, Nordland, Norway. This unique island tiny-house village comprises 11 architecturally distinct buildings, including a shared iconic tower house, kitchen house, studio building, bathhouse, crab trap, and sauna.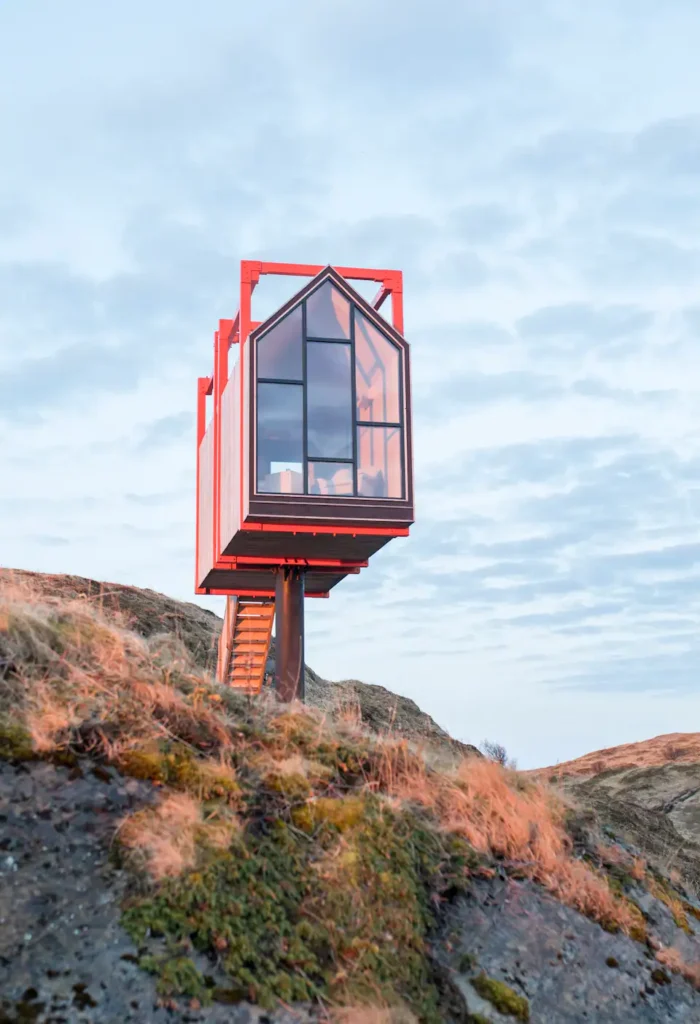 Immerse yourself in the beauty of the northern lights and midnight sun. The serene surroundings offer stunning views of the Norwegian Sea, nearby islands, wildlife, and breathtaking natural phenomena. Disconnect from the outside world and embrace the tranquility of this remote retreat. Please note that meals and pantry access require an additional fee as all food is shipped from the mainland. Experience a truly transformative stay at the Arctic Hideaway.
32. Villa By The Sea, $48,970 (for a 5-night minimum)
Experience the epitome of luxury at this stunning two-story architectural masterpiece in Angra dos Reis, Rio de Janeiro, Brazil. Designed by Mareines + Patalano, this villa boasts 7 exquisite suites accommodating up to 14 guests.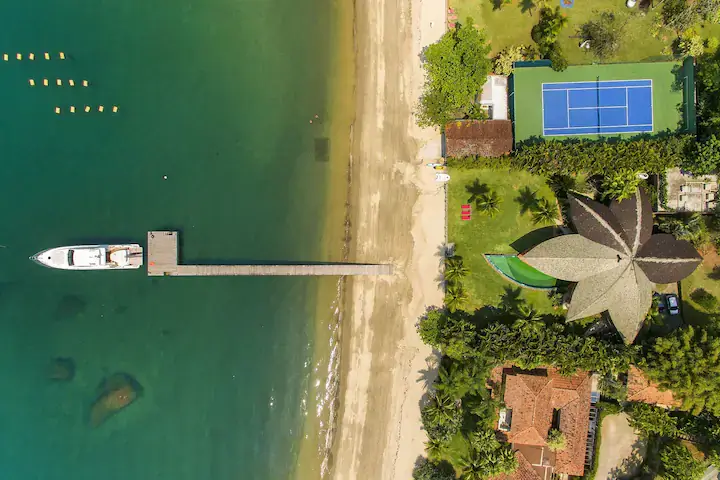 With a spacious living area spanning 800 square meters, you'll revel in the opulence and comfort of this property. The outdoor area is equally impressive, featuring a swimming pool, a private beach garden, and a magnificent deck leading to a yacht with a dedicated captain at your service. Enjoy modern amenities such as WiFi, Pay TV, air conditioning, and 24-hour security. A cook, housekeeper, and maid are also provided for your convenience. Immerse yourself in the tranquility of Angra dos Reis and create unforgettable memories with loved ones. For an additional fee, you can rent the Azimut 68 yacht with a captain and sailor, making your stay even more extraordinary.
33. Tree House Pucón "Swallow Nest", $1,060 (for a 5-night minimum)
Escape to the enchanting Tree House Pucón "Swallow Nest" in Pucón, Araucania, Chile. This unique duplex accommodation is elevated 7 meters above the ground, providing breathtaking panoramic views and a sense of tranquility.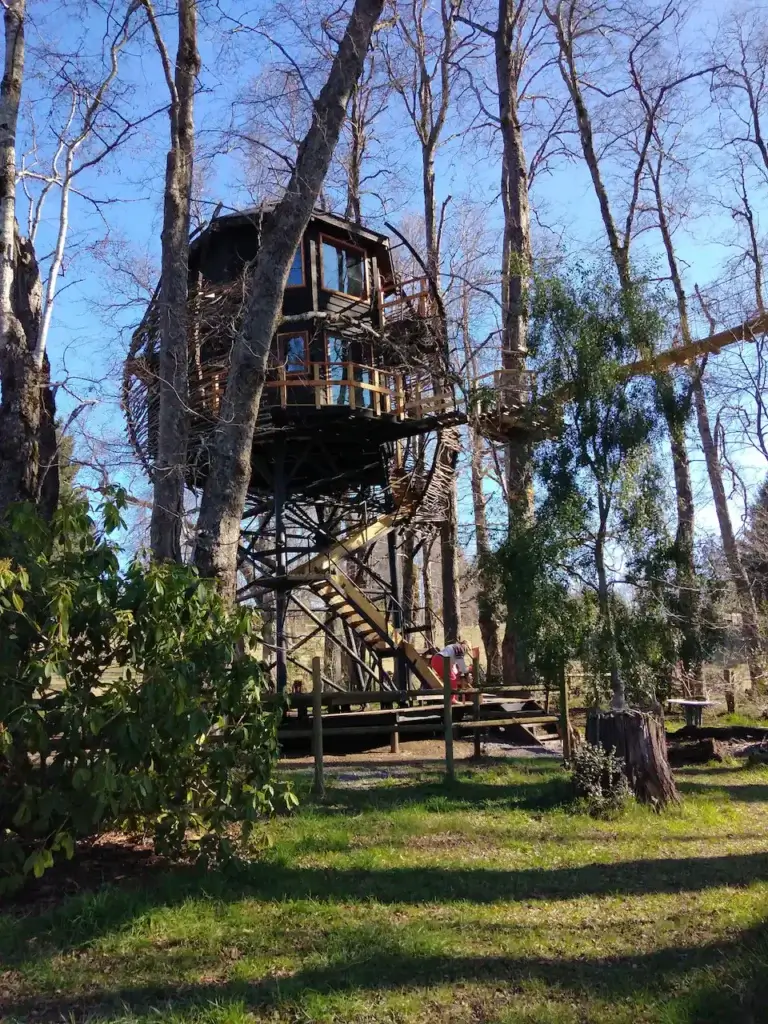 The tree house features thermal insulation, double glass windows, floor heating, and a slow-combustion fireplace to keep you cozy. With a queen-size bed, desk, Wi-Fi, and a fully equipped kitchen, you'll have everything you need for a comfortable stay. The full bathroom offers an incredible shower with a view. Outside, you'll find a fire pit, BBQ area, and parking. Located just 6 km from Pucón, this tree house is surrounded by a 2-acre private park, offering a perfect blend of adventure, peace, and intimacy with nature. The attentive hosts ensure that every detail is taken care of, creating a warm and relaxing atmosphere. While close enough to enjoy the amenities of Pucón, this tree house provides a peaceful retreat.
34. Hideout Beehive, $1,880 (for a 5-night minimum)
Escape to the Hideout Beehive, one of Bali's most popular bamboo houses in Selat, Indonesia. This unique retreat offers spectacular river views and a jacuzzi pool, making it an ideal destination for a relaxing staycation with friends.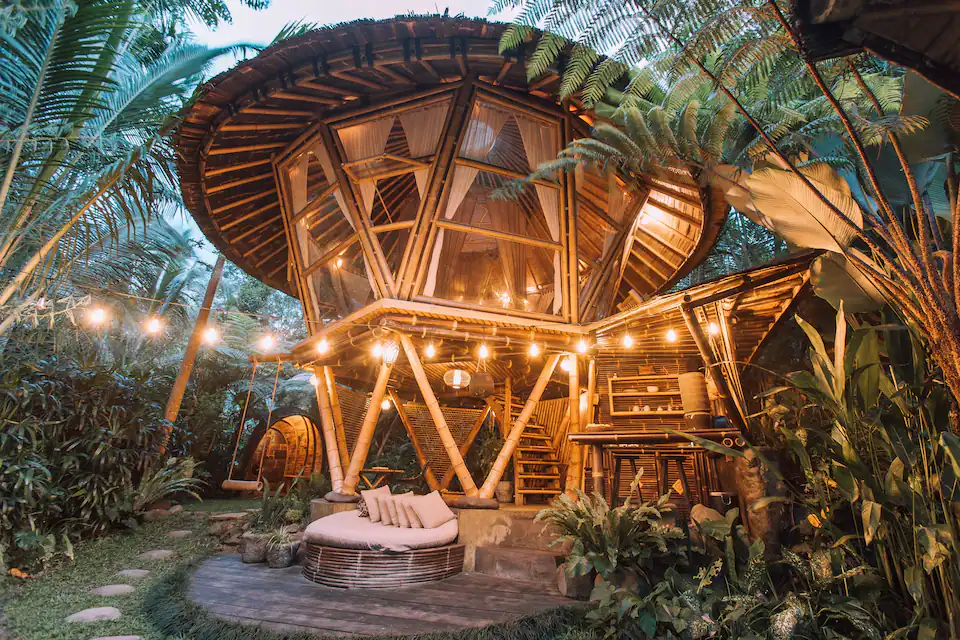 Breakfast is included in the price and served in the house, while lunch and dinner can be ordered from Hideout Bistro for an additional charge, with vegan options available. Guests also have access to a complimentary scooter and an equipped kitchen with unlimited drinking water and a stocked fridge. The house features a main bedroom with a round bed and a smaller house with a king-size bed, both with mosquito nets. Amenities include wifi, a music stereo system, and a hot shower. The pool is heated to a comfortable temperature, and guests can expect to encounter wildlife in the surrounding jungle.
35. Casa Acantilado, $3,463 (for a 7-night minimum)
Experience the architectural icon of Costa de Granada at Casa Acantilado in Salobreña, Andalusia, Spain. This unique house is built inside the mountain, offering a constant temperature of 20 degrees Celsius throughout the year.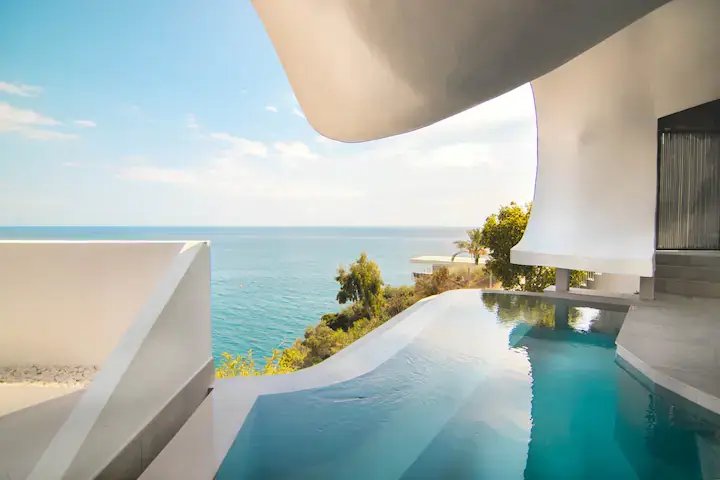 With its exclusive design, undulating roof, and large integrated kitchen, the 150-square-meter living room provides breathtaking views of the Mediterranean Sea. The beach is just 5 kilometers away for water sports, and in winter, guests can enjoy skiing in the nearby Sierra Nevada. The house boasts handcrafted features, including a roof made of deformable metal meshes and custom-designed furniture. The terraced hall, heated pool, balconies, and underground temperature further enhance the remarkable experience. Hosting parties or events for up to 70 people is also possible. Don't miss the opportunity to explore this Spanish work of art and enjoy the year-round pleasures it offers.
36. The Boot - Fairytale Accommodation, $925 (for a 5-night minimum)
Nestled in Nelson, New Zealand, Casa Acantilado offers a unique and enchanting retreat called "The Boot." This extraordinary accommodation rises from the ground, reminiscent of a fairytale setting. Surrounded by natural beauty and a rugged coastline, with stunning mountain scenery nearby, it provides a truly magical experience.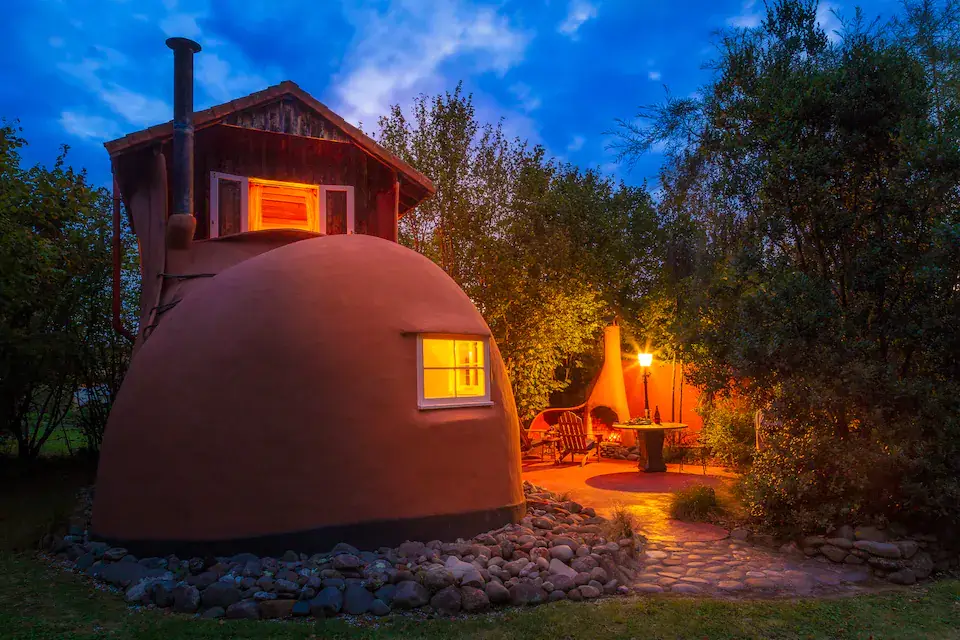 The Boot features captivating architecture, cozy open fireplaces, a luxurious queen-sized bed, a shower for two, and thoughtful touches like flowers, chocolates, and homemade treats. Additionally, guests have their own private courtyard. The neighboring Jester Cafe, owned by the same entity, offers a delightful dining experience, including breakfast, lunch, and supper platters that can be enjoyed at The Boot.
37. The Hideaway at Creekside Meadows, $2,040 (for a 6-night minimum)
Located in the scenic foothills of the Elkhorn Mountains, this charming earth home offers a unique and cozy retreat. With clean Scandinavian-style decor, the home showcases its magnificent construction.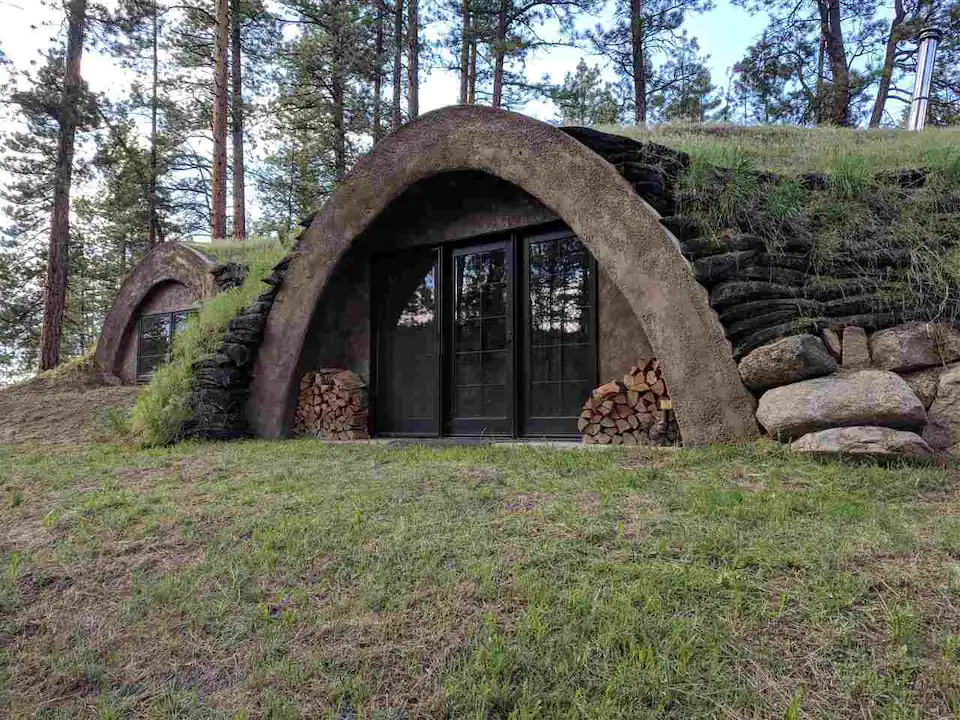 It features four full-sized built-in sleeping nooks, each with lights and electrical outlets, adding a touch of novelty. A secret door leads to a hidden private bedroom, adding an element of intrigue. The bathroom is accessed through a shower entrance designed as a 'tree trunk' with impressive 13-foot ceilings. With only one private bedroom and bathroom, this home is best suited for gatherings and creating memorable experiences with friends and family. Whether you choose to enjoy the outdoors or snuggle up inside, the inviting atmosphere ensures a fun and cozy stay.
38. Hobbit Cottage, $508 (for a 5-night minimum)
Immerse yourself in the world of The Lord of the Rings at this unique Hobbit Cottage in Cedar City, Utah.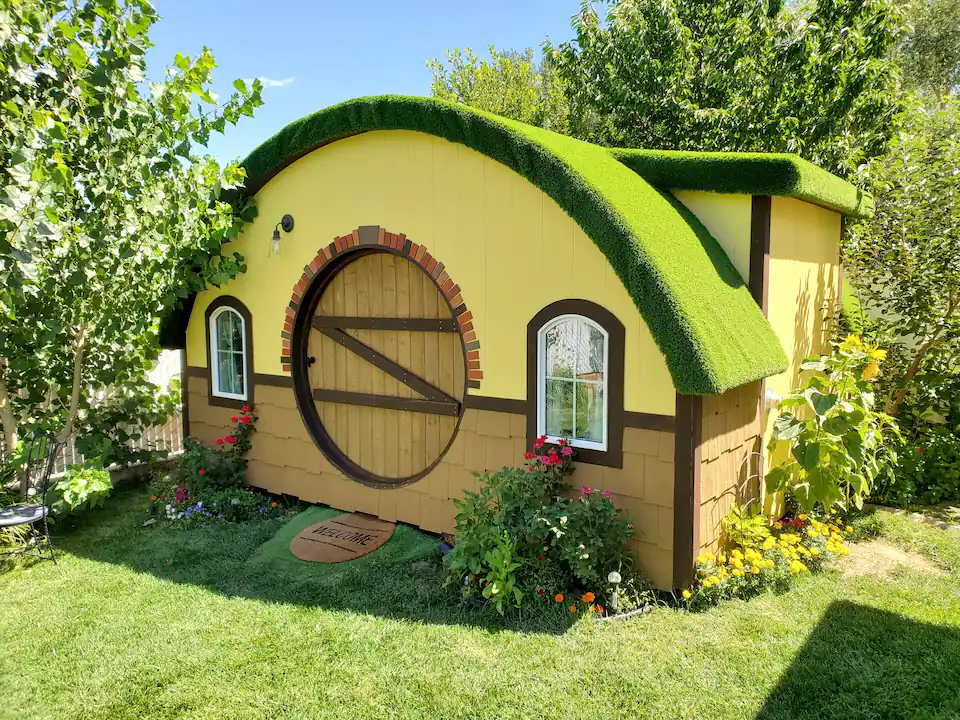 Perfectly situated between Zion National Park, Bryce Canyon, Kannarra Falls, and Brian Head ski resort, this custom-built cottage offers a safe and cozy retreat for adventurers. Whether you're a fan of the series or not, you'll appreciate the round door and arched interior of this modern cottage. Inside, you'll find a comfortable queen bed, a sink, a stand-up shower, an eco-friendly waterless toilet, and a kitchenette equipped with a microwave, fridge, water kettle, paper plates, and utensils. Stay comfortable with the air conditioner for summer and the heater for winter. Enjoy proximity to hiking trails, dining, events, Shakespeare festivals, nightlife, coffee shops, yoga, lakes, streams, and the beauty of all four seasons.
39. Cozy Dome Away from Home Inn A Nutshell, $970 (for a 5-night minimum)
Escape to the cozy Dome Away from Home Inn A Nutshell in Kasilof, Alaska, where you can enjoy a unique and tranquil retreat.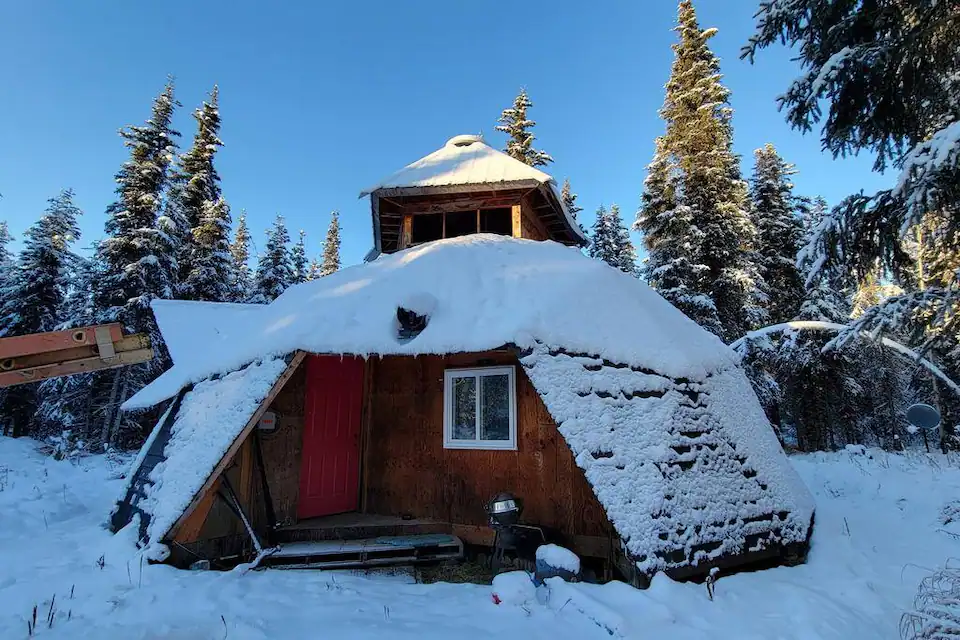 Curl up in front of the fireplace with a fuzzy blanket, gaze at the northern lights from the comfort of your bed in the peak of the dome, or relax in an indoor hammock under the stars. This is the perfect opportunity to discover the beauty of real Alaska and all it has to offer. With amenities like a kitchen, WiFi, dedicated workspace, free parking, and the option to bring your pets along, you'll have everything you need for a comfortable stay. Feel at ease with security cameras on the property, allowing you to fully enjoy your peaceful getaway.
40. Spaceship Destination!, $888 (for a 5-night minimum)
Experience a truly unique stay in the Spaceship in Brush Prairie, Washington. This one-of-a-kind 1960s futuristic lodging sits on 5 acres of rural Hockinson hills, surrounded by trees, hills, and meadows.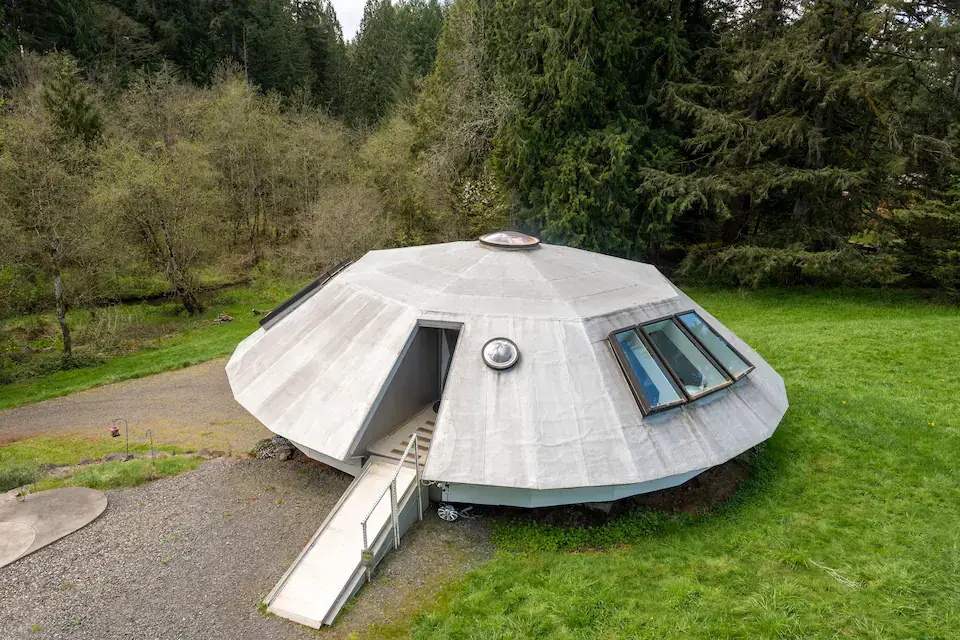 The 726-square-foot spaceship offers a wet bar called the Lunar Lounge, complete with a fridge, gamma ray microwave, and Mr. Fusion coffee maker. Accommodations include two futon sofas/full-size beds, one queen airbed, and up to four cots. The spaceship features a bathroom with a shower, TV, Blu-ray and "Laser" disc/CD player, stereo, and WiFi. Don't miss the freezing tubes for those planning a 5+ year stay. The spaceship is conveniently located just 30 feet from the hosts' living quarters, accessible via a private driveway. Parking is available in front of the spaceship or below it, ensuring a seamless arrival and departure.