The United States is filled with stunning freshwater lakes sprinkled across the nation, but the most beautiful lakes offer more than just clear waters and a lovely view. View the most beautiful lakes in the US, many of these gorgeous bodies of water have an exciting history and diverse habitats; some even provide a unique experience to enjoy when visiting their shores. Let's dive into our list of the most beautiful lakes to add to your travel bucket list.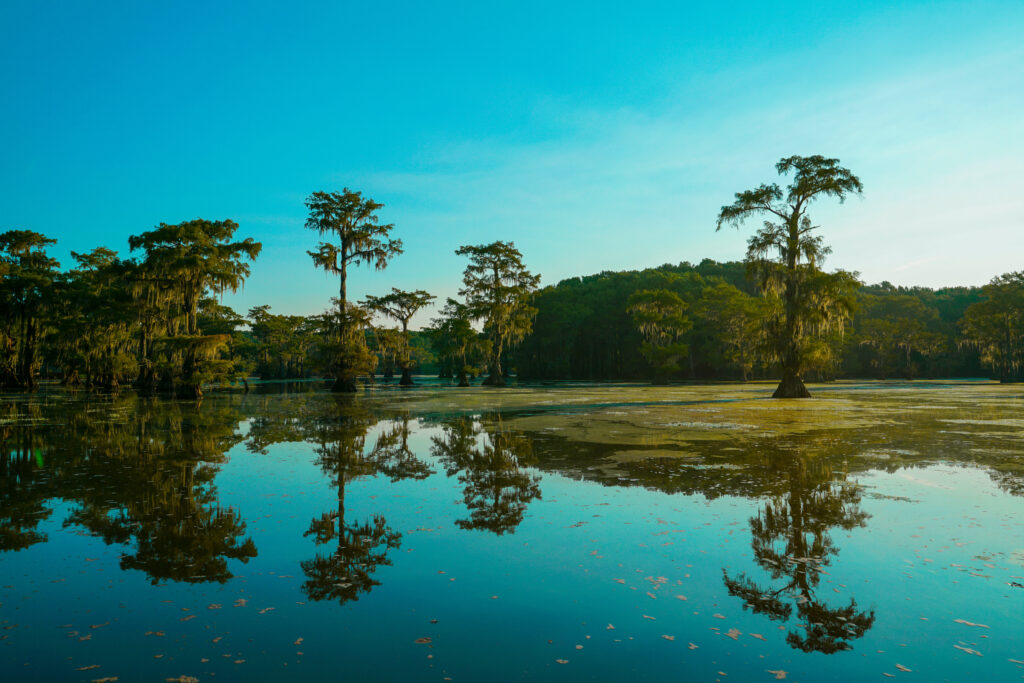 The eerily beautiful Caddo Lake is in the deep woods of East Texas, spilling over to Louisiana. Most of this stunning lake's 26,000+ acres are filled with fantastic fishing in the bayous filled with lily pads and the memorable "knobby knees" of the cypress trees that make up much of this. Popular with boaters, fishermen, and campers, Caddo Lake is also home to alligators, so swimming here is not recommended.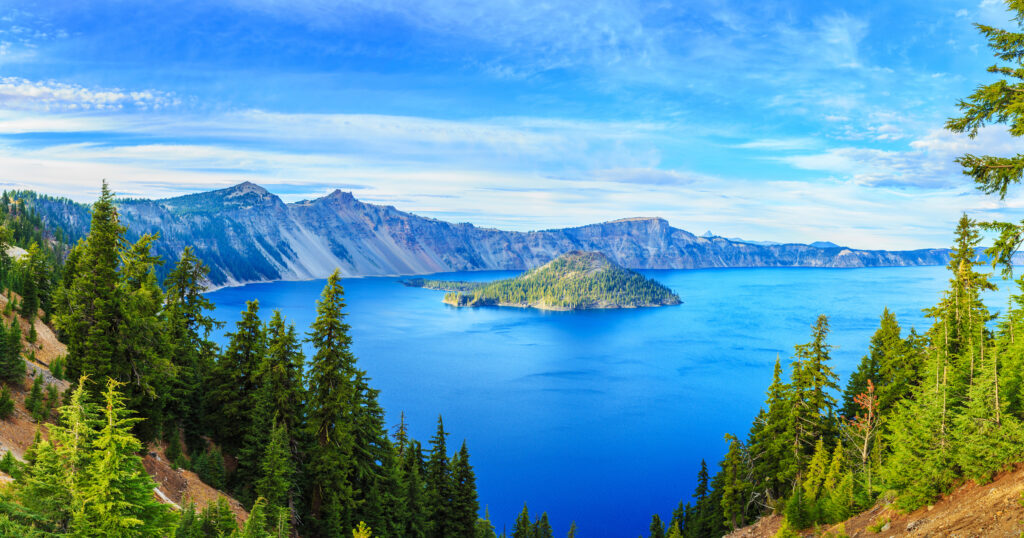 This absolutely breathtaking natural wonder is nestled inside a collapsed volcano in the Cascade Mountains and is the deepest lake in the US. The pristine water is impossibly blue, and small Wizard Island juts out of the waters, holding another smaller collapsed volcano on its shores. Boat tours are available (but no personal watercraft can enter), as well as hiking and camping around Rim Drive, where visitors drive the 55-mile loop around Crater Lake to capture a glimpse of this spectacular, one-of-a-kind lake.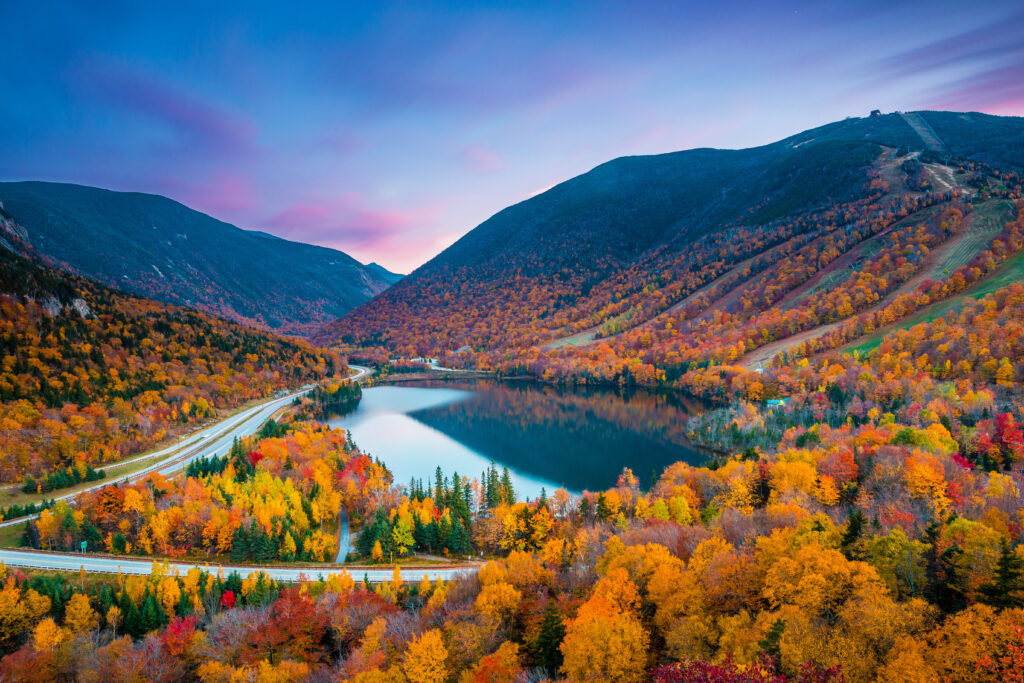 Hikers and rock climbers flock to Echo Lake's massive 700-foot cliffs in the Cathedral Ledge and White Horse Ledge climbing areas of the lake; swimming, camping, and kayaking in Echo are also popular. The White Mountains surrounding the area create a gorgeous view of this freshwater beauty all year round, but the rich fall colors in the autumn here make Echo Lake a perfect destination to see the leaves when the weather turns too chilly to jump into one of Echo Lake's sandy beach swimming areas.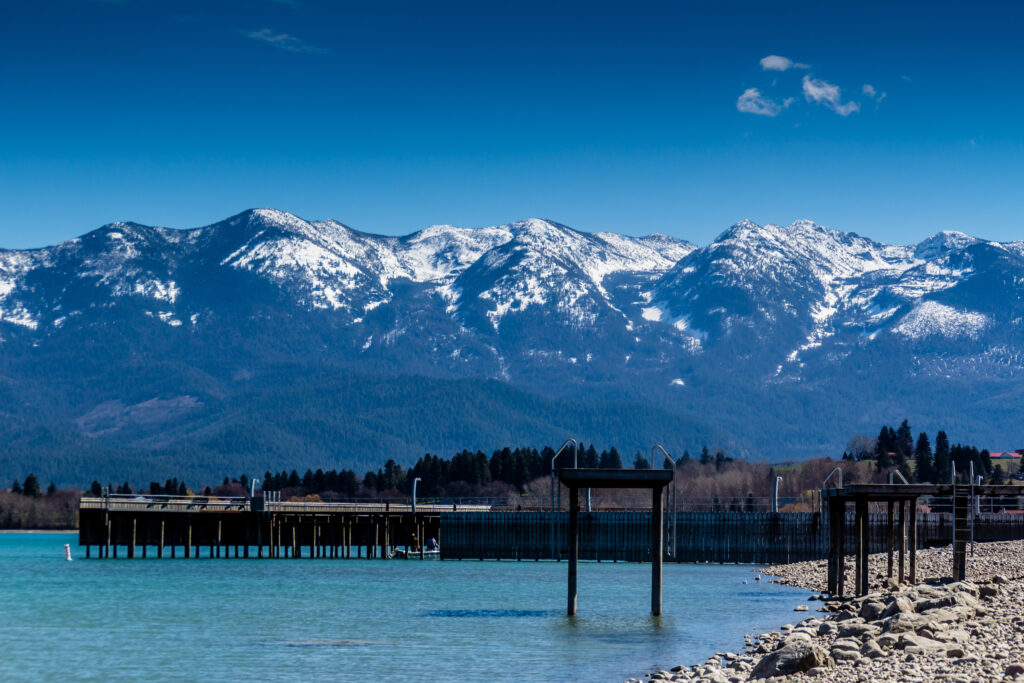 A Glacier National Park lake, Flathead is impossibly clear and full of spunky trout and yellow perch that anglers love. Ideal for camping, motorboating, sailing, and kayaking, Flathead Lake is also a popular swimming hole in her chilly waters. But one of the big draws here is Wild Horse Island, a 2,160-acre refuge in the midst of Flathead's staggering 191 square miles.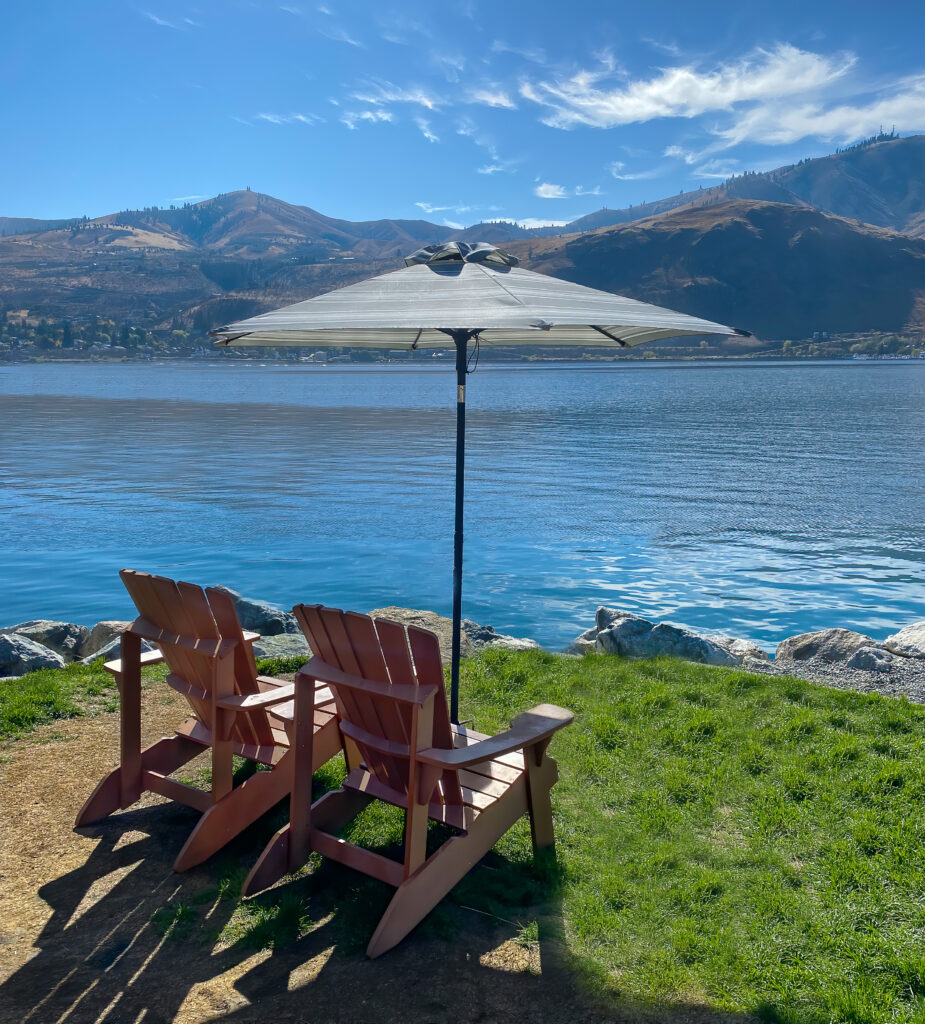 Near Washington's popular wine country, Lake Chelan is a small glacier-fed lake with lovely clear water that boaters and swimmers enjoy. Boating, fishing, and windsurfing are all popular at Lake Chelan, but visitors here also benefit from its rugged, natural beauty and proximity to the hiker-friendly Cascade Mountains.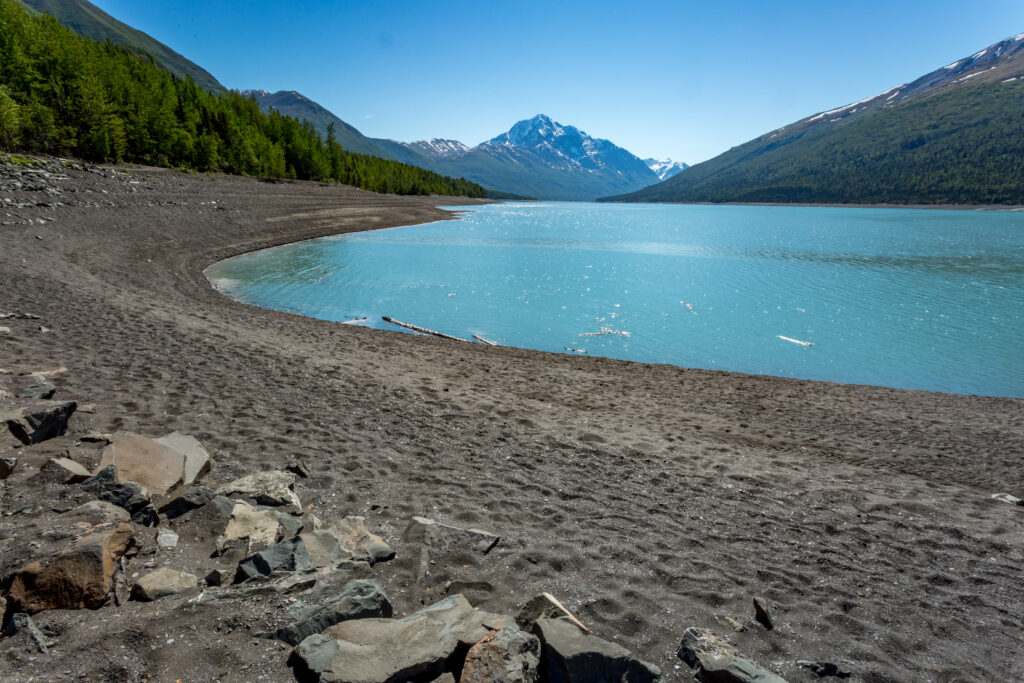 Located an hour from Anchorage, deep in the Chugach Mountains, Eklutna is a surreal glacier-fed lake that snakes through the wilderness with over 15 miles of coastlines. Hiking, kayaking, and camping in one of the many first-come-first-serve campground spots and rental cabins around Eklutna make this gorgeous turquoise lake a must-do destination for outdoor adventurers. Visitors bring bikes and ATVs to explore the shore trails of Eklutna, but only the brave swim in this chilly lake that is also home to dog sledding and other winter sports much of the year.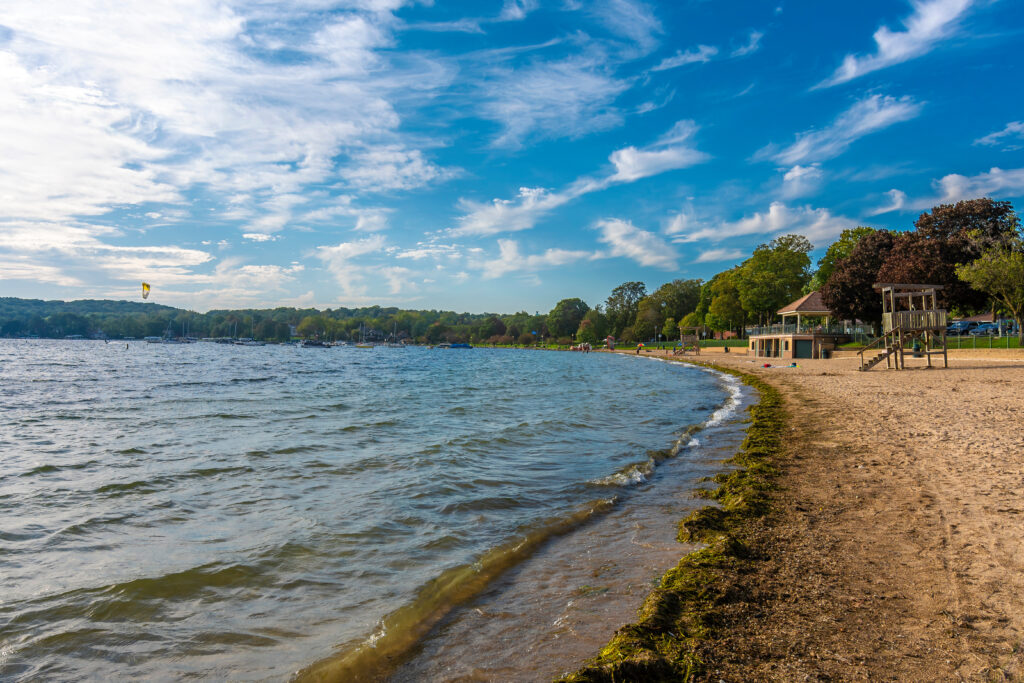 This beautiful freshwater lake fed by natural springs is very popular with boaters who motor and sail across its 5,000 acres. Also known for its 23-mile shoreline path and charming namesake town of Lake Geneva with its many beaches, shops, and restaurants, this lovely lake is a popular destination year-round.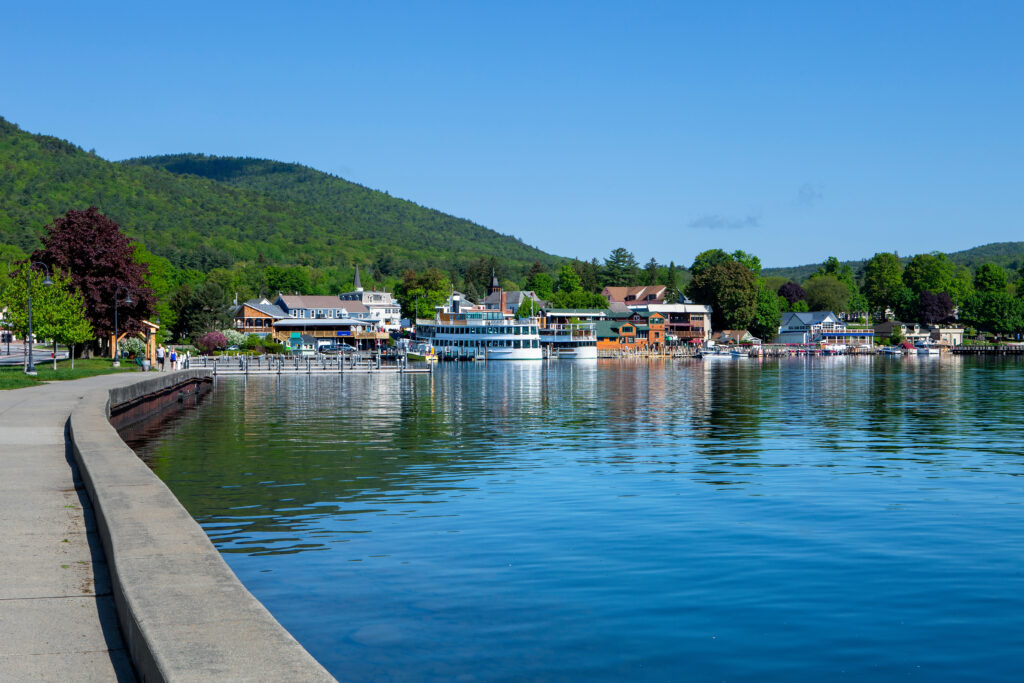 Lake George is also called the "Queen of American Lakes." This grand dame of beautiful lakes is lined with Millionaire's Row, a 10-mile stretch of stone mansions once owned by robber barons from the Gilded Age. Today, George is a haven for vacationers who love the tranquility and natural beauty of this stunning lake snuggled into the Adirondacks. The resorts, upscale shops, and dining offered here assure visitors that this lake will continue to be just as popular in the future as it has been for over 200 years.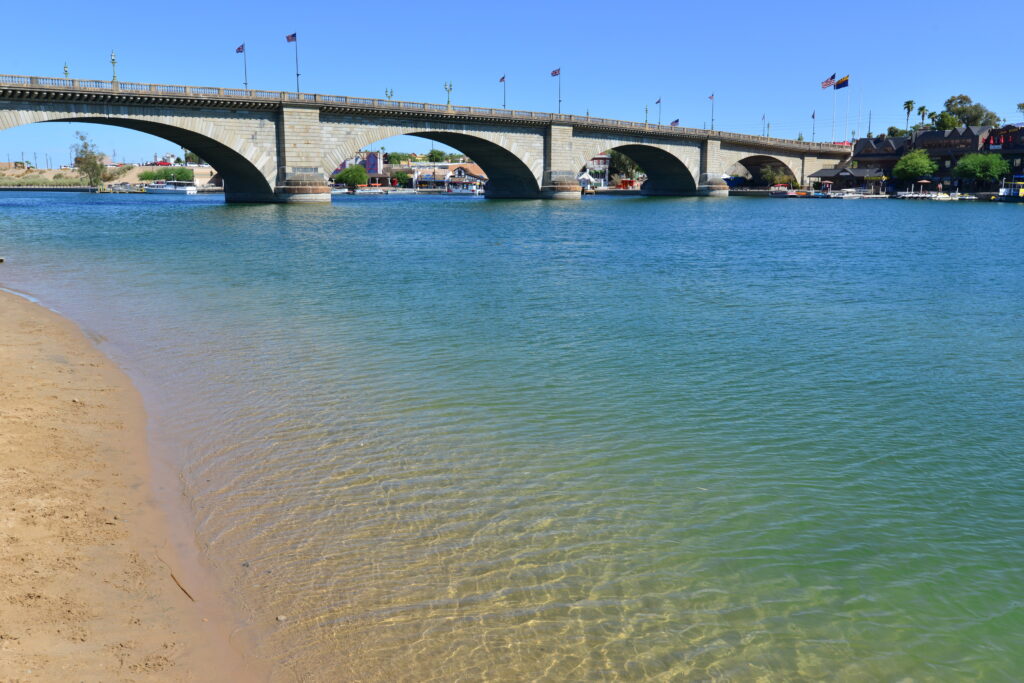 Known as the "Personal Watercraft Hub of the World," jet skiing is visitors' most popular activity in Arizona's beautiful Havasu. Yachts and ski boats share the lake with avid fishermen who cast for everything from large-mouth bass to redear sunfish in the clear waters of Havasu. Embanked by rugged red terrain, golf courses, and other more manicured areas, Lake Havasu also sports a surprising European connection: London Bridge spans the lake straight from the UK. Additional points of interest at Havasu are Copper Canyon and the "mini Grand Canyon," Topock Gorge, both stunning additions to this uniquely gorgeous lake.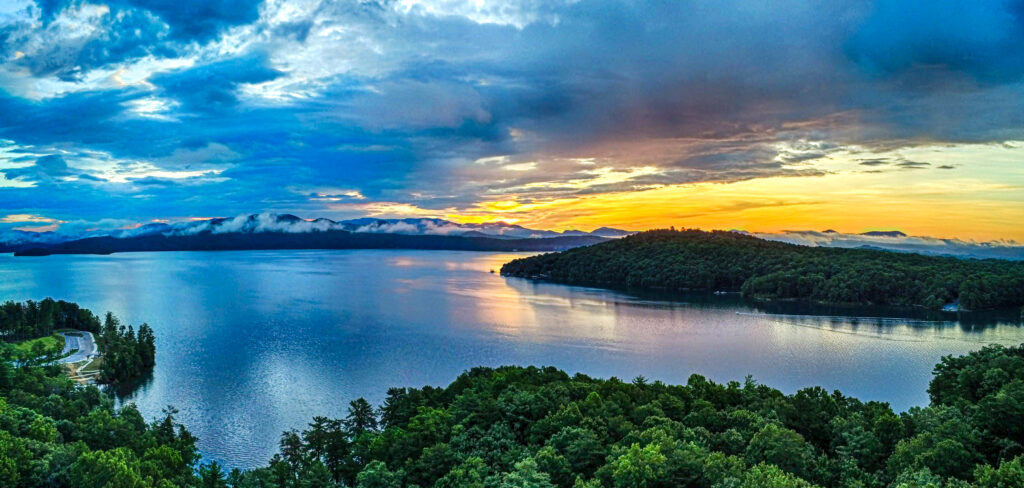 Lake Jocassee is uniquely located, snuggled into the Appalachian Mountains, and many lakeside spots are only accessible by boat. The surprisingly cool waters of this 9,000-acre reservoir are thanks to the natural rivers, streams, and waterfalls that constantly flow into this man-made lake. A trout fishing mecca and a boater's dream, this beautiful water is a popular boating, fishing, camping, and swimming lake, thanks to its crystal clear waters.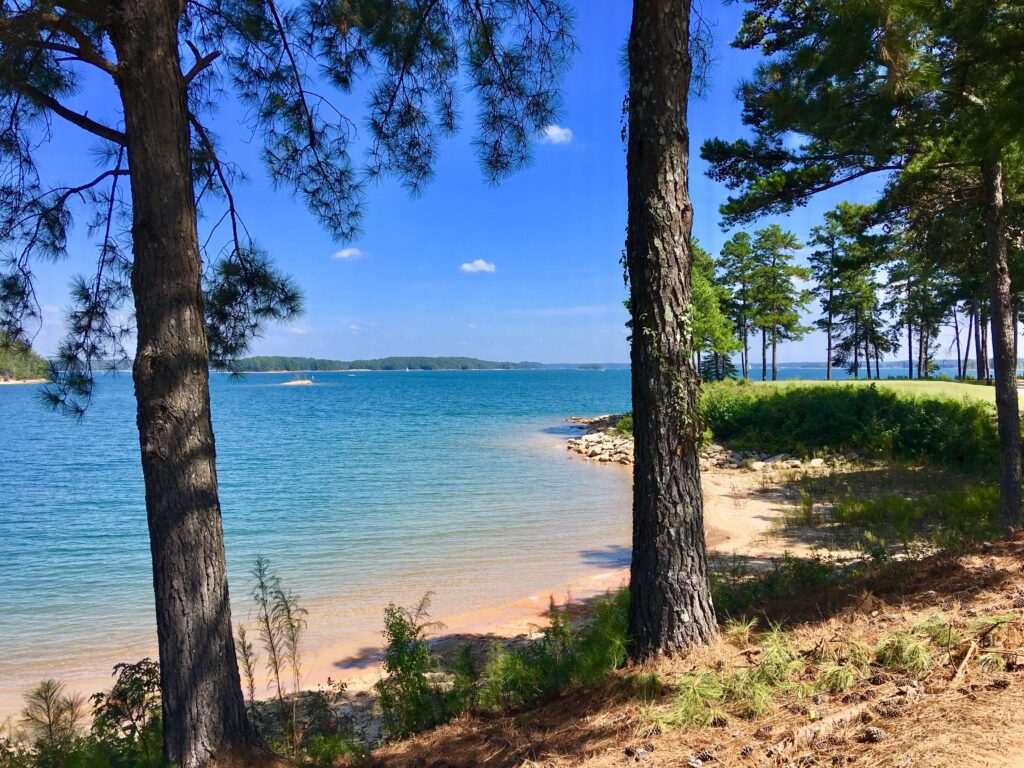 The Blue Ridge Mountains feed the largest lake in Georgia, called Lake Lanier, and this spectacular lake is known for its 700 miles of shoreline and vibrant blue waters. With over 20 swimming beaches, over 40 campgrounds, and 10 marinas, visitors flock to the shores of Lake Lanier for fun in the sun. Adventurers here love to kayak or boat to one of Lanier's 100+ small islands to picnic or hike to explore the rocky terrain at one of the US's most beautiful lakes.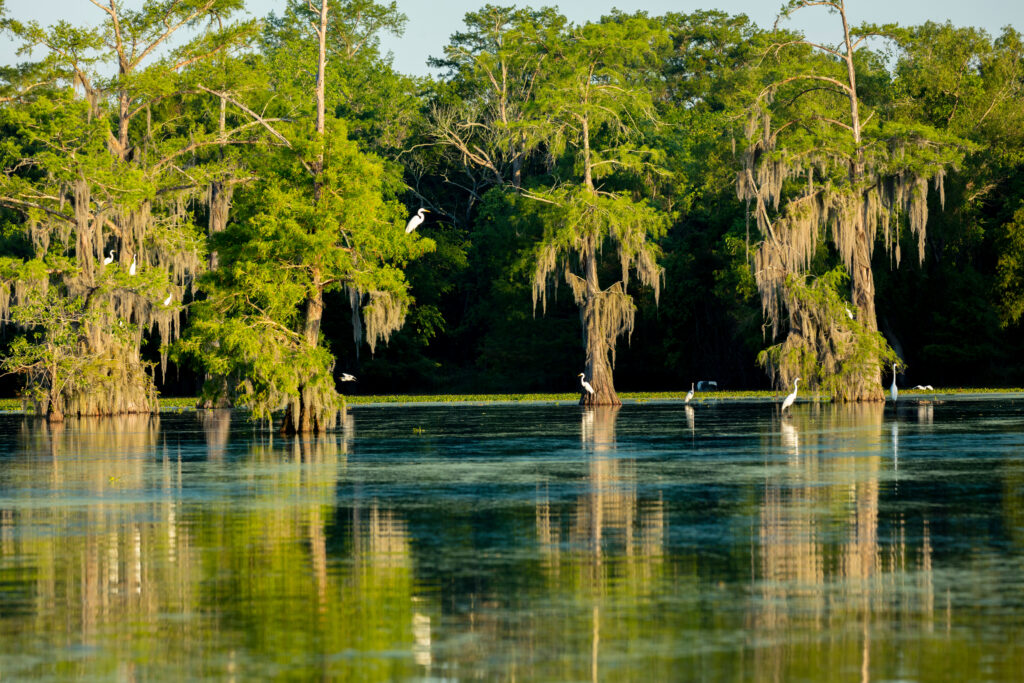 Southern Louisiana's Breaux Bridge is the home to Lake Martin, a birder's paradise. But visitors to Lake Martin shouldn't expect a typical lake experience. Lake Martin is an ecosystem unique to the area, and this swamp is home to alligators, snapping turtles, and unusual birds like the great egret and the roseate spoonbill. Pontoon boat tours are the most popular way to experience Lake Martin, but paddleboats and fishing boats are also commonly seen in this southern Louisiana lake. Boardwalks around the shore offer another way to view the wildlife, cypress, and tupelo trees that give Martin its distinctive appearance and a slot in our list as one of the country's most beautiful lakes.
As the only Great Lake wholly in the US, Lake Michigan is one of the country's most picturesque and beautiful lakes. With over 100 lighthouses dotting the shore, sandy beaches, and wineries scattered all over the Leelanau and Old Mission Peninsulas, Lake Michigan is a favorite destination for visitors seeking a classic Michigan experience. The striking Sleeping Bear Dunes on the shore of Lake Michigan give visitors a chance to tackle the challenging Dune Climb or explore the forests, dunes, and cliffs of this majestic lake.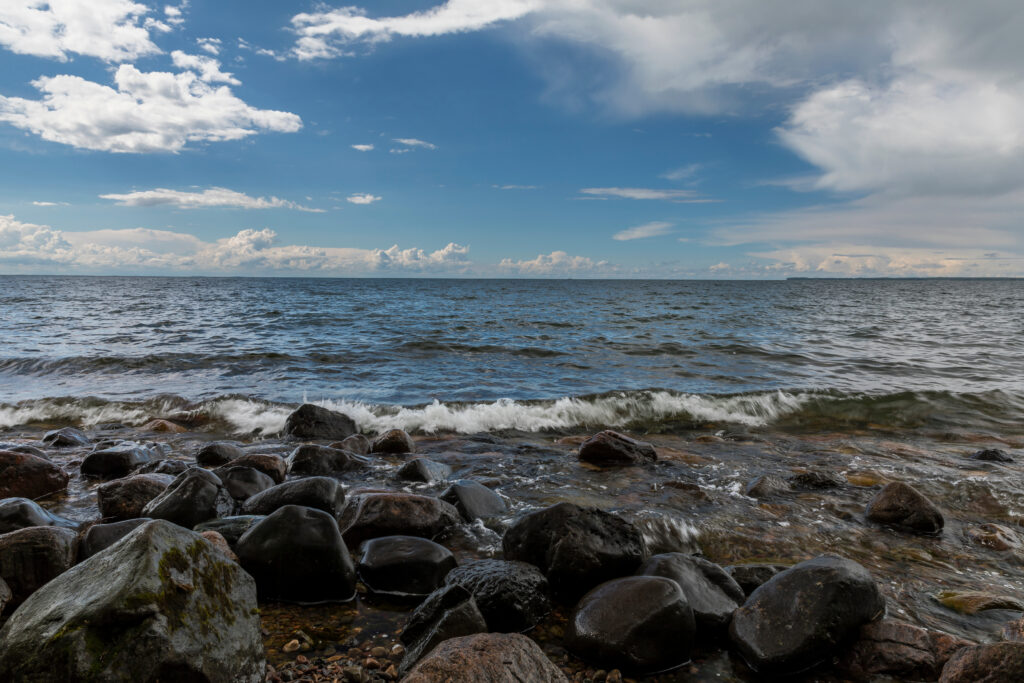 One of the best bass fishing spots in the nation during warm weather and an ice-fishing destination for winter, Lake Mille Lac is a beautiful lake to visit every month. Famous for its walleye, northern pike, and small and largemouth bass populations, this lake is a sport fisherman's paradise. Visitors here also come to kayak, kiteboard, hike, swim, and birdwatch around this lovely 200-acre lake. With golfing, shopping, dining, and horseback riding at Lake Mille Lac, there is something to do for everyone at Minnesota's 2nd largest lake.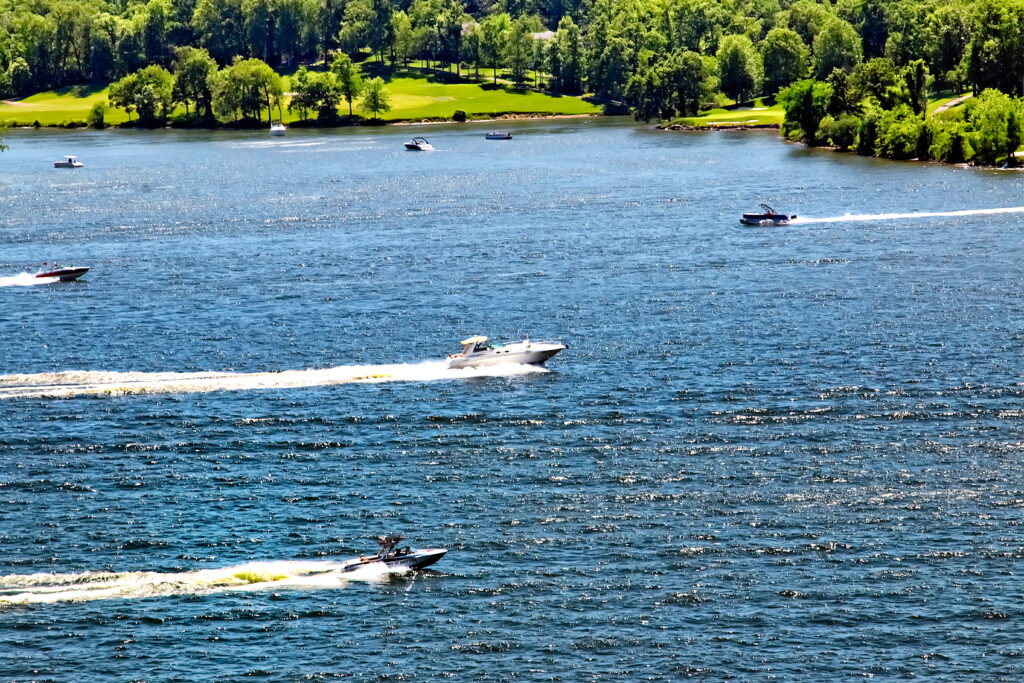 The Lake of the Ozarks is full of recreational boaters, swimmers, and fishermen enjoying the clear, cool waters of one of the country's most beautiful lakes. This 54,000-acre lake is the playground of the Midwest. Ringed by charming small towns with cabins and resorts, campgrounds, shops, and restaurants, visitors can enjoy every minute of their time here. Other family-friendly activities surround the lake, like water parks, caverns, golf courses, and spas.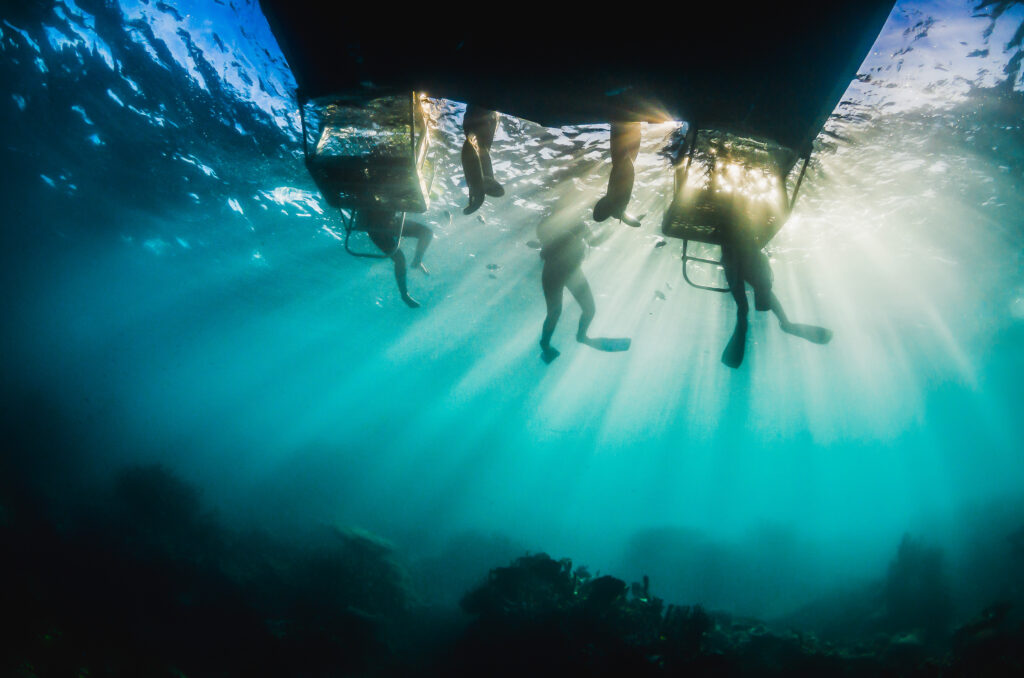 The clear blue waters of Lake Ouachita are home to the first geo-float trail, perfect for the aqua adventurer up for a new challenge. But visitors to Arkansas's largest lake flock here to boat, swim, fish, and hike the pristine 600-mile shoreline. Scuba divers also use Ouachita as a training ground due to the crystal clear water.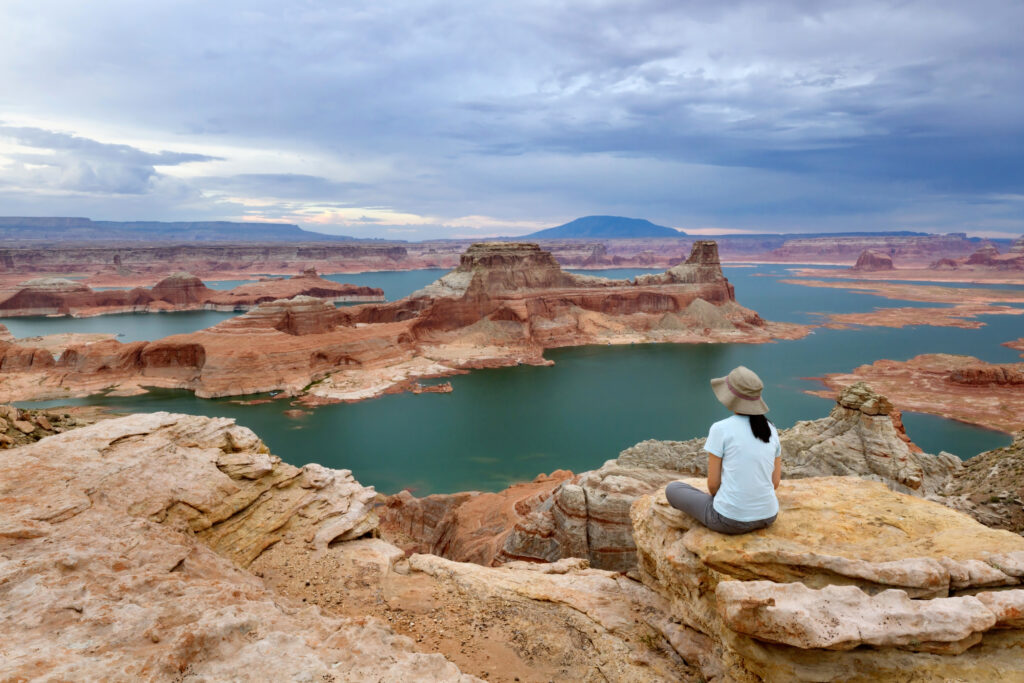 Winding through the canyons, Lake Powell provides visitors with unlimited views as well as opportunities to boat and hike through this extraordinary lake. Rich red canyon rock contrasts with the deep blue water of Lake Powell, providing unmatched vistas for visitors at this dual-state lake. And the stunning Rainbow Bridge that spans a segment of the lake, made of layered and compacted natural canyon rock, is a sight to behold.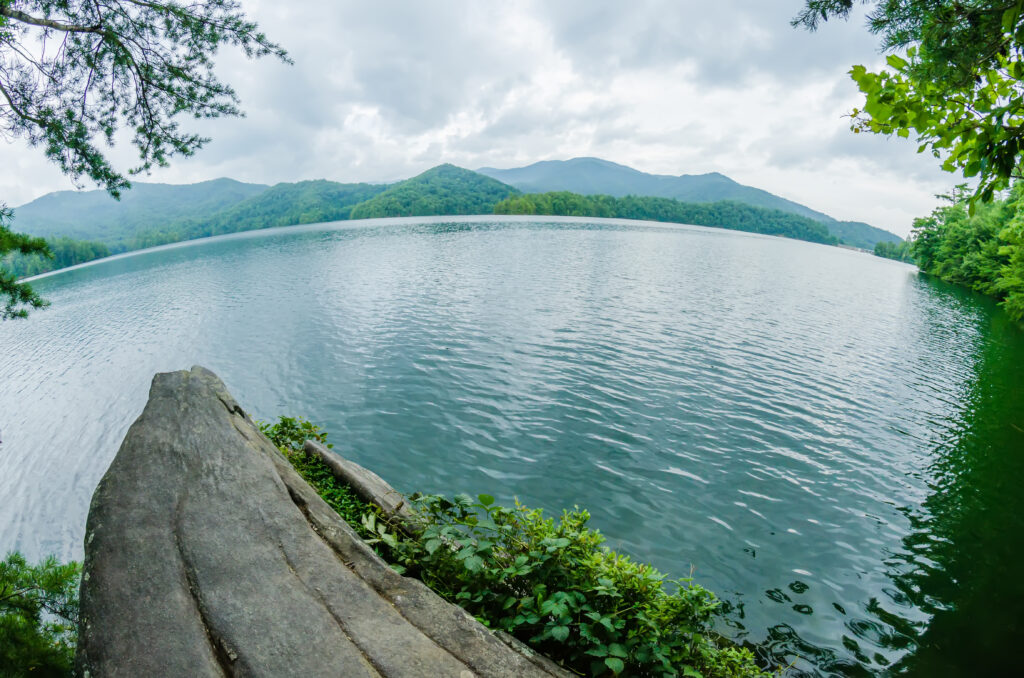 This man-made lake is completely nestled in the Nantahala National Forest and borders the Great Smoky Mountains National Park, and much of the lake is uninhabited as a result. But anglers, hikers, and recreational boaters keep Lake Santeetlah busy because the untouched, natural beauty of the lake is unmatched by almost every other lake in the country.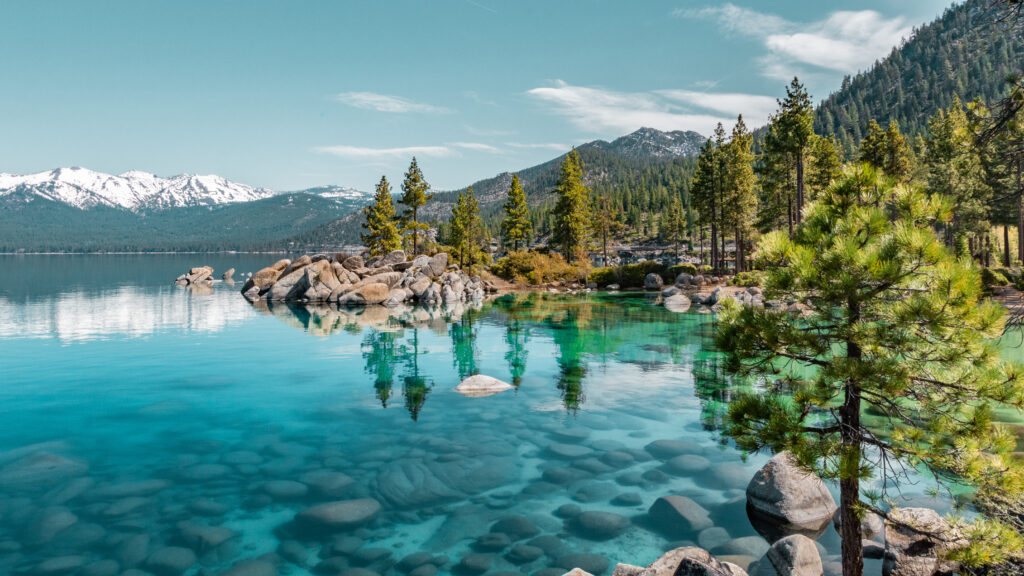 Surrounded by ski resorts in the Sierra Nevada mountains and national parks, Lake Tahoe is undoubtedly one of the most beautiful lakes in the country, if not the world. Its unbelievably blue waters make it a photographer's dream and a favorite destination for recreational boating, swimming, fishing, parasailing, and jet skiing. Wintertime is just as exciting on Tahoe, with skiing and all kinds of winter sports available in view of this majestic lake. A foodie destination, Tahoe offers fantastic dining as well as shopping, casinos, golf courses, and just about every type of entertainment right on her shores.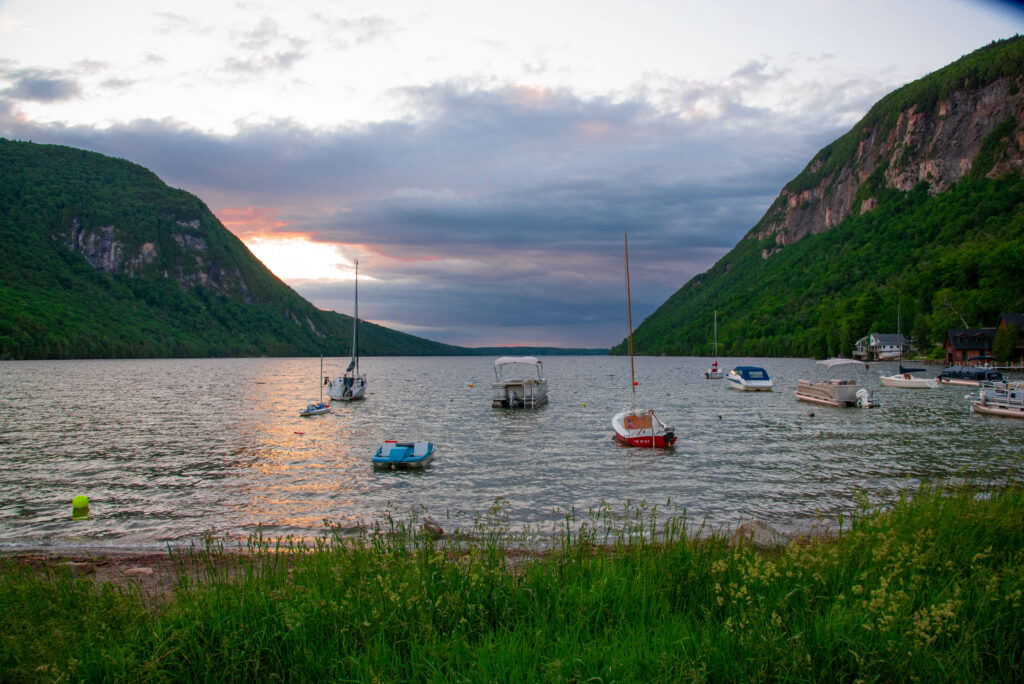 Nestled between the two fjord-like mountains, Mount Pisgah and Mount Hor, Lake Willoughby's nickname of "America's Lucerne" seems like a well-earned moniker for one of the country's most beautiful lakes. With clear blue waters running up to 300 feet deep, visitors here can see all the way to the sandy, rocky bottom of this glacial lake. In the winter, Willoughby freezes entirely over, so ice fishing is a popular activity for anglers to try their hand at the trout, chub, and yellow perch that live here. In all four seasons, hikers love exploring the forest that borders Willoughby.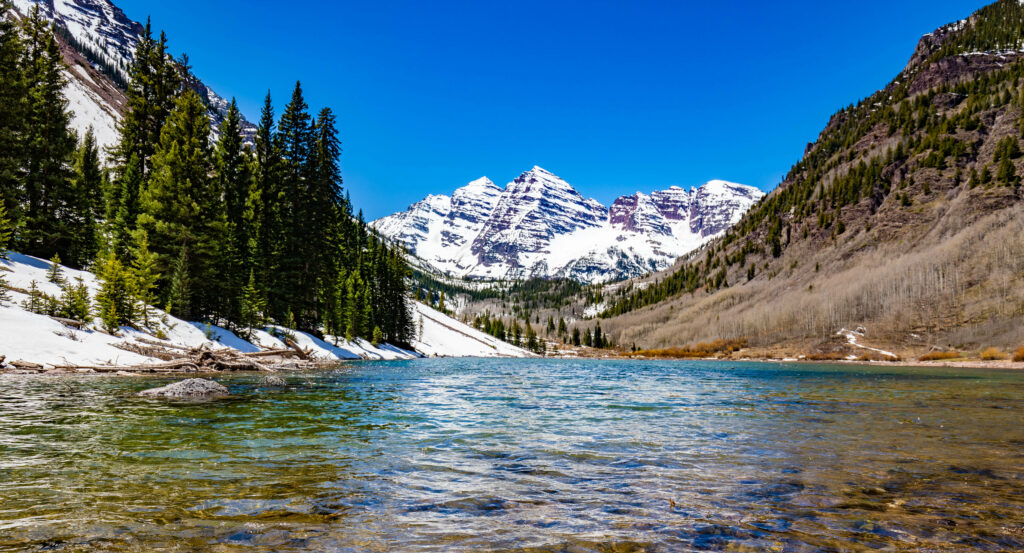 This hike-in lake is situated between two of Colorado's esteemed 14,000-foot peaks, providing the perfect photography backdrop, making the location the most photographed mountain area in the US. This highly reflective alpine lake offers visitors unmatched views of its surrounding hiking trails while exploring the area. Warm-weather camping is available. Snowshoeing and cross-country skiing provide winter access, but the lake remains pristine, so no boating or fishing is allowed at the small but dreamy Maroon Lake.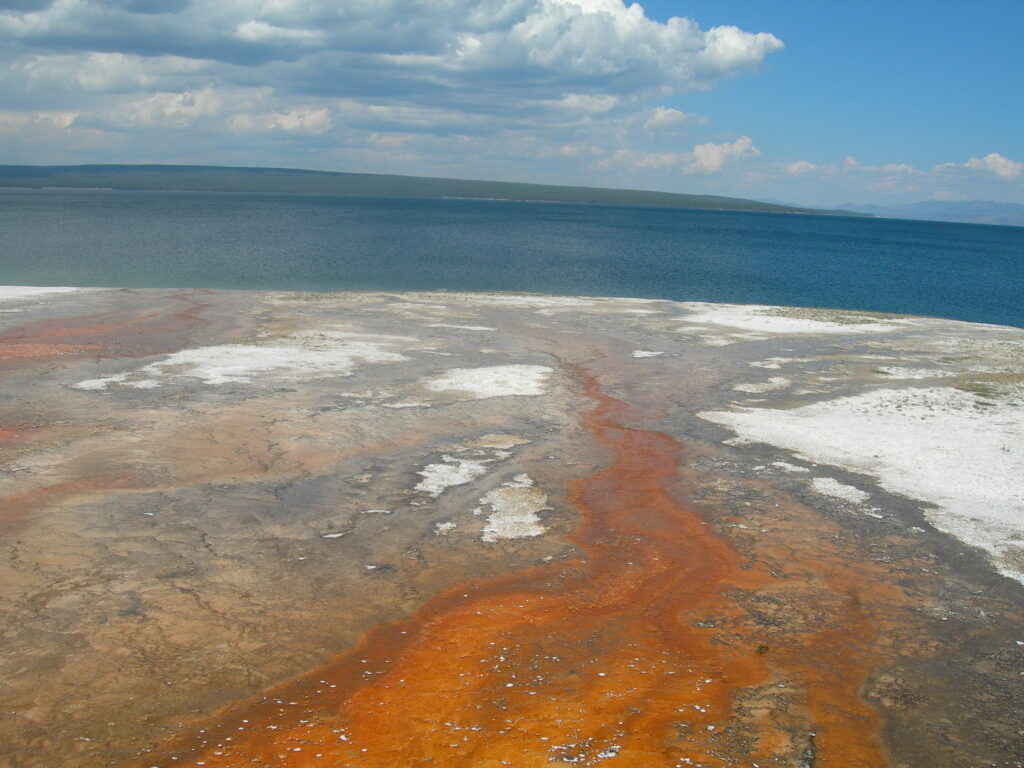 One of America's most beautiful lakes is found in the Wyoming area of Yellowstone National Park. The largest high-elevation lake at 20 miles long and 14 miles wide, this massive body of water is also situated inside an ancient caldera, giving the underwater geologic structure a similar look to the park's famous hot springs and geysers. Yellowstone's waters remain chilly year-round at an average of 41 F, providing a perfect home to the native cutthroat trout but unfriendly to swimmers.
While exploring these lakes, you should take some time to read our companion piece on the Top Destinations For RVs & Campers