Part of the wedding planning process includes choosing the right venue for the ceremony and reception. And for some couples, picking a stunning destination wedding location is an option. From sunny beaches to dreamy city destinations, couples can choose from endless beautiful places all over the globe to plan their destination wedding. Here are our top 20 picks for the best destination wedding spots where brides and grooms will love to say their I do's.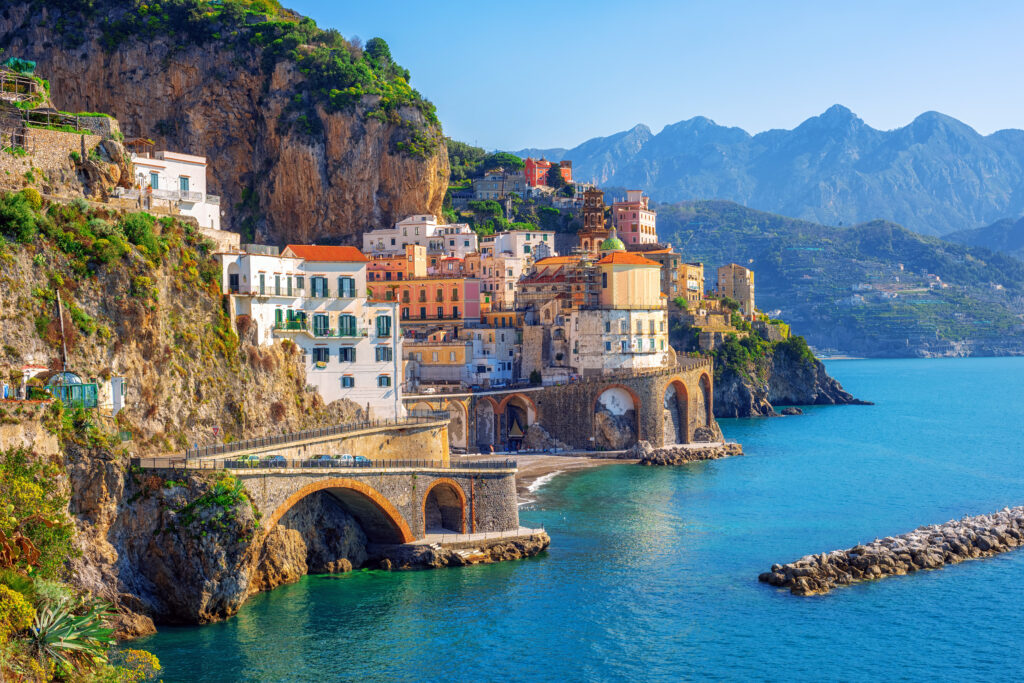 For couples dreaming of a European-style beach wedding, selecting just one spot out of the 16 small villages that make up the Amalfi Coast as their destination wedding spot can take a lot of work. This vaunted coastline just south of Naples is home to stunning Mediterranean views, quaint beachfront venues, and countless citrus trees that provide lemons for southern Italy's famous Limoncello. Destination weddings on the Amalfi Coast can include day trips to stunning locations like a boat ride to the Blue Grotto on the island of Capri or a hike on the 9-mile Path of the Gods between Positano and Agerola.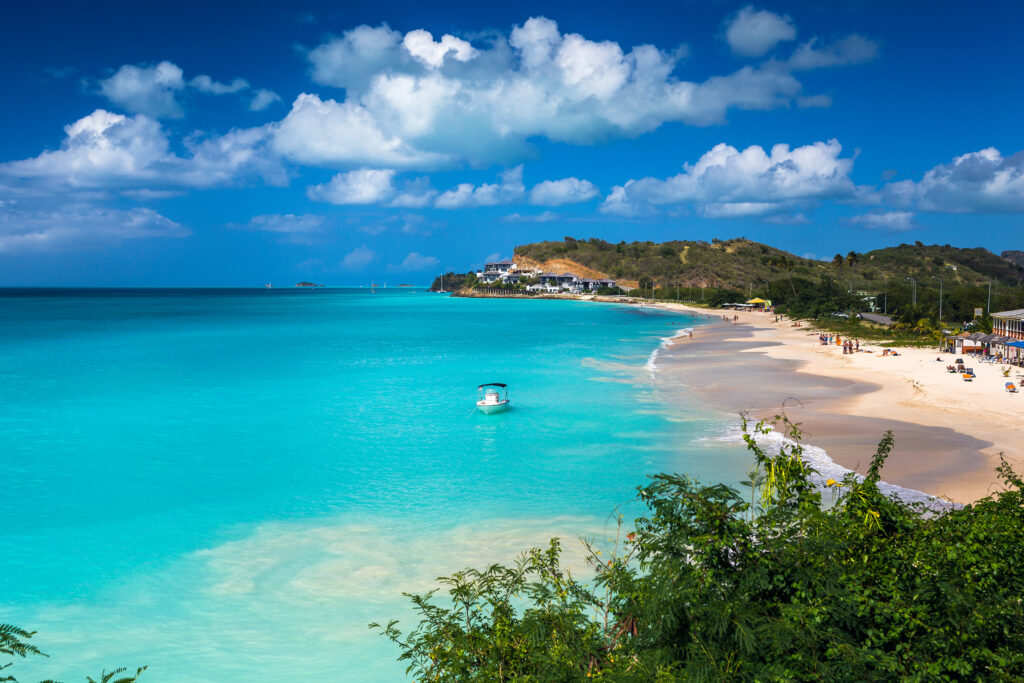 Betrothed couples flock to this West Indies island to wed because Antigua is one of the most accessible spots to get married since they don't have any waiting period to get married here as many other locations do. But being able to wed quickly is only one reason we love Antigua. Antigua, with its stunning beaches, beautiful resorts, and charming St. John, is perfect for any size wedding. Marrying here also promises an unforgettable honeymoon in sunny Antigua, set against the Caribbean Ocean's deep blue waters.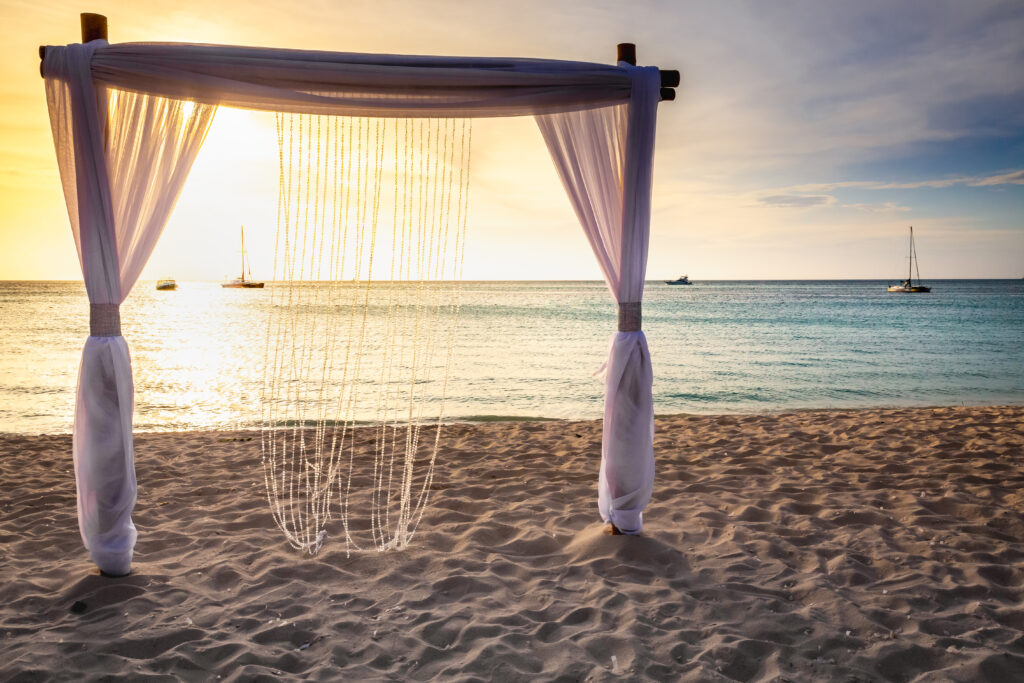 A perfect spot for couples who want to avoid tricky weather ruining their destination wedding. Aruba, located outside the Caribbean's hurricane belt, offers a unique advantage. Weddings can be planned here year-round, free from the worry of bad weather. Additionally, this sunny island is positioned just off the coast of Venezuela. It stands out for its LGBTQ+ friendliness. Therefore, it's an excellent tropical location for any couple planning to tie the knot.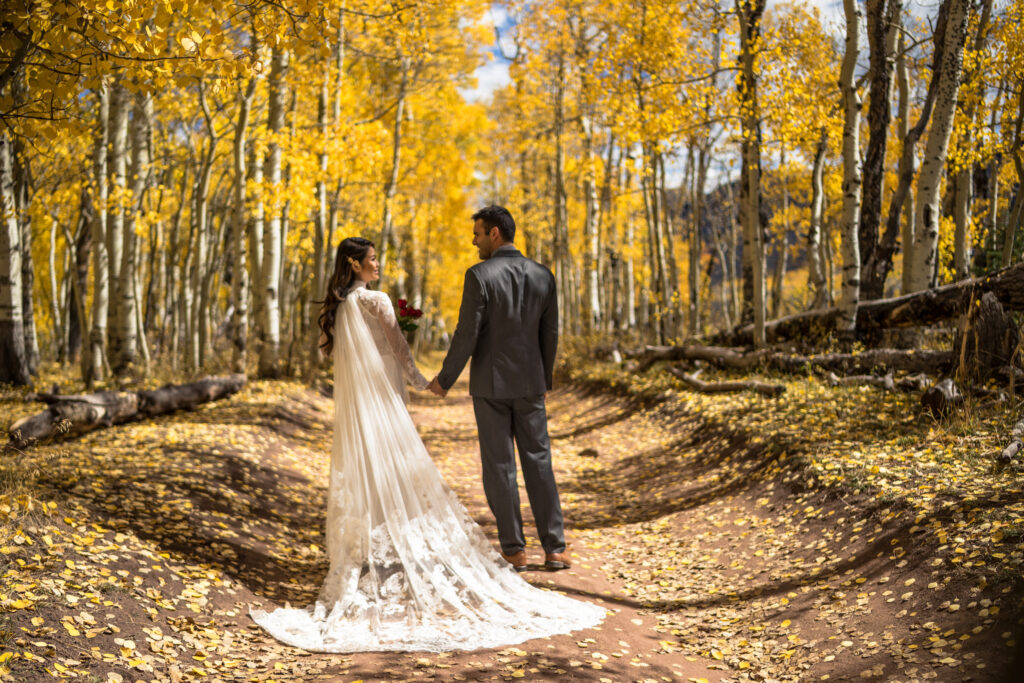 This former silver mining town's glamorous appeal offers destination weddings a classic Colorado experience with an upscale twist. Couples and guests can ride to the top of Ajax Mountain on a scenic gondola for a memorable ceremony. One of the many lovely hotel venues or large private residences can be booked for the nuptial event. Aspen offers stunning views all year round, adding a unique charm to every occasion. Furthermore, the city is home to swanky boutiques, which are sure to delight fashion-forward guests. It also boasts world-class dining, making every meal an experience to remember. For those who love outdoor activities, Aspen provides spectacular skiing and hiking opportunities. Given these features, Aspen becomes an ideal choice for couples desiring an elegant mountain chalet feel for their destination wedding.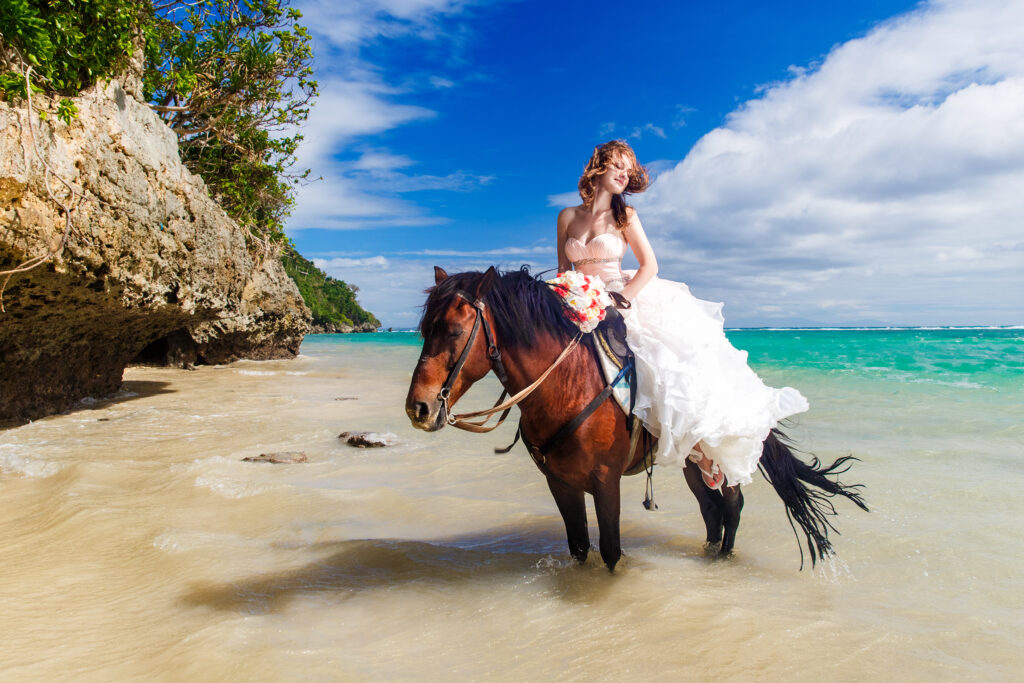 The Bahamian islands, comprising over 700 islands, are conveniently located just a short plane ride away from Florida. This proximity makes them an ideal wedding destination for those desiring a tropical setting without the burden of long-haul travel.
Couples can choose to host their wedding in one of the exquisite resorts situated on the larger islands in the Bahamas. Alternatively, for an ultimate romantic experience, they can even rent out a private island.
The Bahamas promise an unforgettable experience for both couples and their guests. Highlights include the unique pink sand beaches, an exciting chance to swim with Bahamian pigs, and the captivating blue waters. Undoubtedly, the memory of these spectacular islands will linger long after the wedding festivities.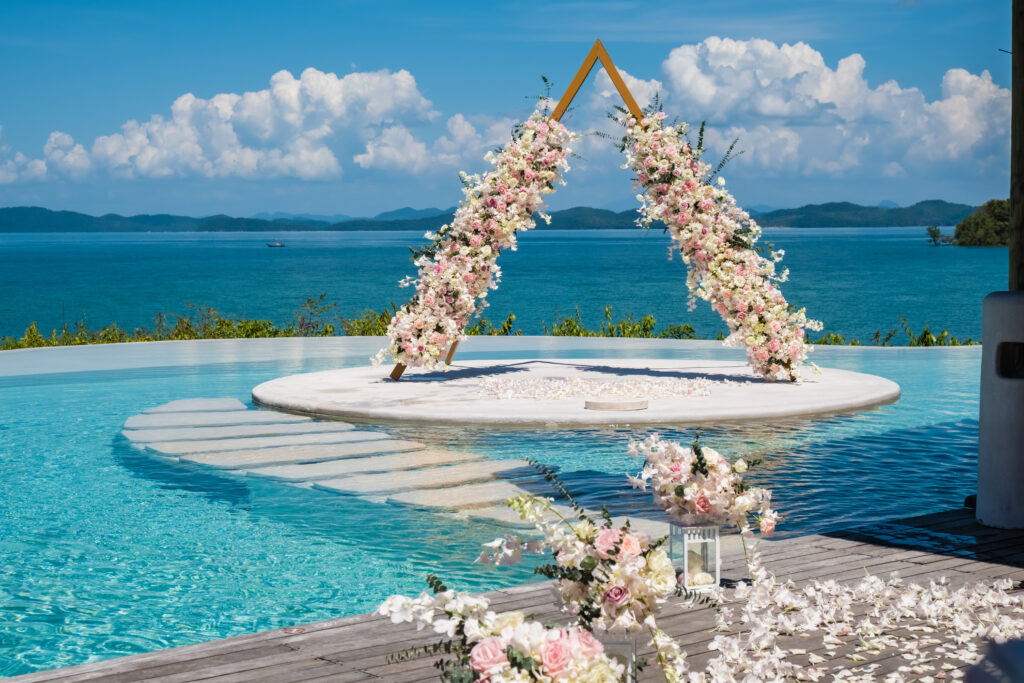 The grand dame of Mexico's unspoiled beaches has long been a favorite destination for those seeking sun, sea, and sand.
Cancun is a coveted wedding destination where betrothed couples can arrange their ceremony and reception. They have the option to choose from numerous gorgeous beachside resorts. With Cancun's white sand and crystal-clear water, these resorts provide the perfect backdrop for any wedding.
However, it's crucial to note that Cancun is also a popular spring break destination. It draws a significant crowd, especially from December through March. Couples aiming for a more private wedding day may want to avoid these months. Otherwise, they might have to share their special occasion with the thousands of beachgoers that typically flock here during this period.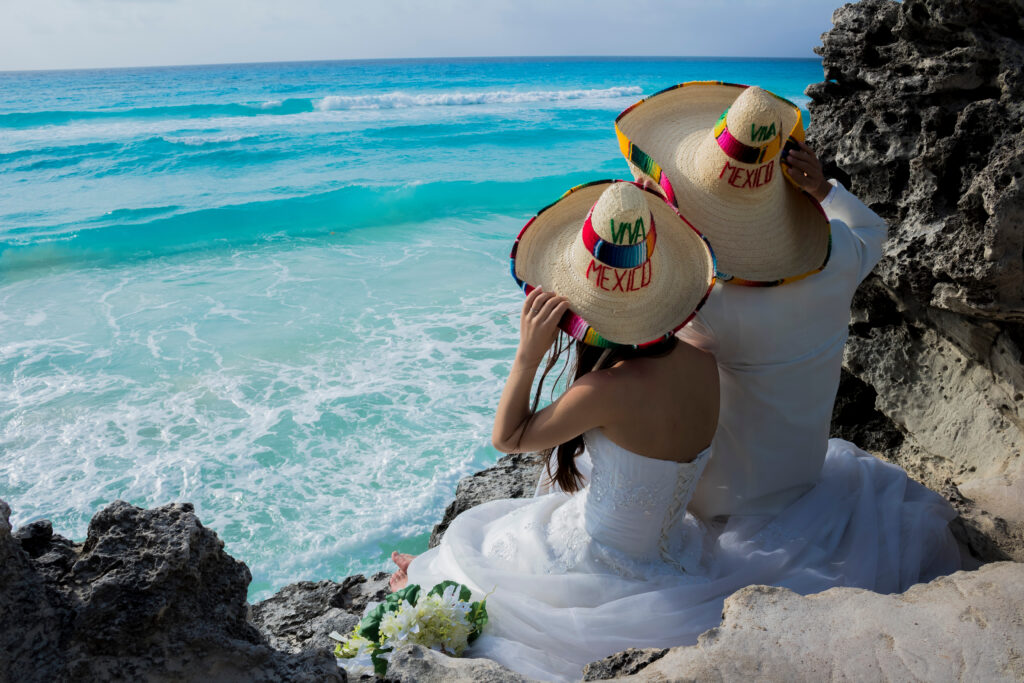 This stunning Mexican island is just a short plane or boat ride away from Cancun, but many engaged couples like to plan their destination weddings here because of Cozumel's intimate feel and lush Mayan cultural influences on the island. Cozumel offers multiple all-inclusive resorts perfect for the ceremony venue and hosting all guests on this beautiful island known for the spectacular snorkeling and diving on its protected coral reefs.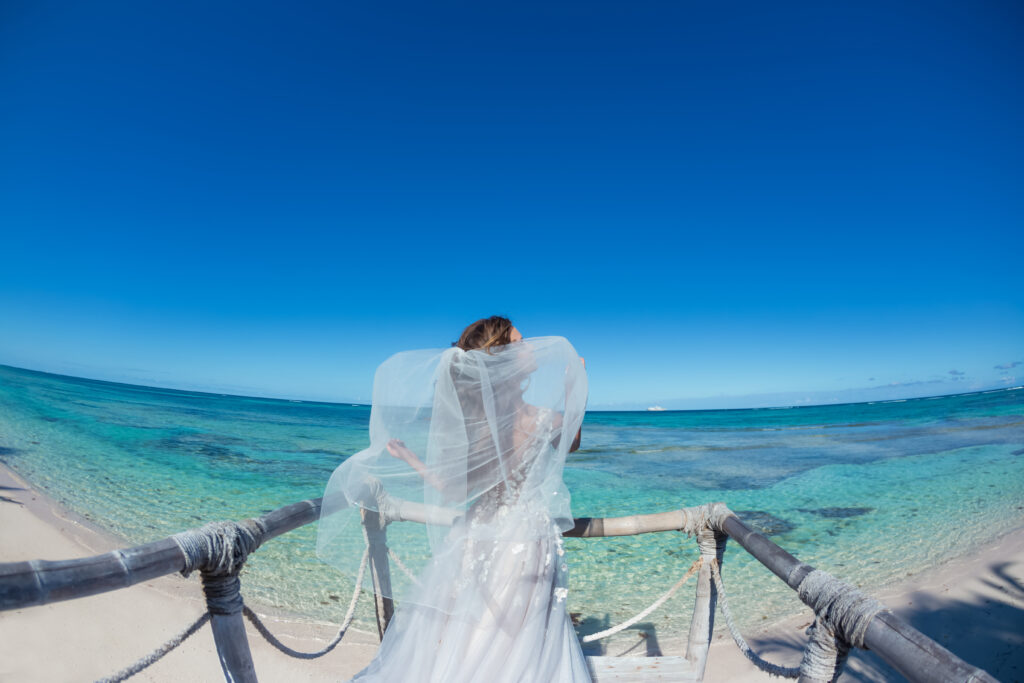 This lush Caribbean hotspot is only a two-hour flight from Miami, making it a prime destination wedding location. Couples who wed here can choose from beautiful beaches, romantic cathedrals, or ritzy resorts as their venues, and the lively Dominican culture only adds to the fun of getting married in this sultry hotspot. Many hotels here offer wedding packages so the bride and groom don't have to worry about all the details when planning a destination wedding, from license requirements to coordinating accommodations for their group.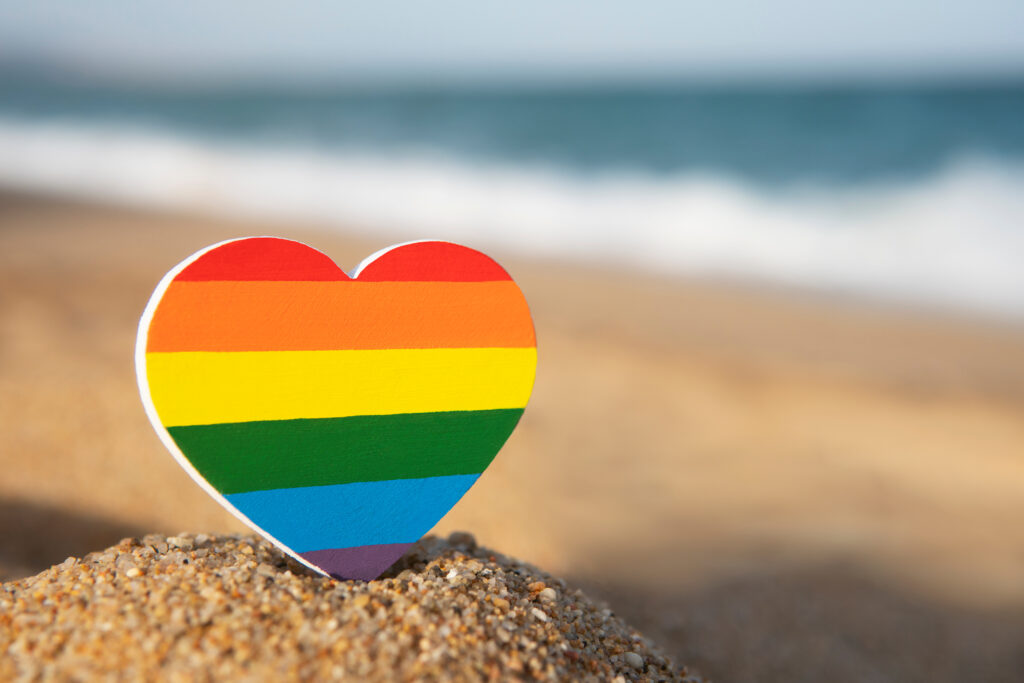 The Florida Keys present a welcoming choice for destination wedding couples. They cater especially to those seeking an environmentally conscious location. Furthermore, the Keys are known for their LGBTQ+-friendly stance. In terms of event planning, they offer multiple options, capable of accommodating weddings of any size. Key West's many resorts give brides or grooms luxurious options for venues and accommodations. At the same time, the more intimate locations on Islamorada, Key Largo, or the Lower Keys are ideal for just about any wedding party. The Florida Keys are a popular location for couples seeking to wed in a tropical paradise. Firstly, they offer exceptionally clear waters, perfect for diving enthusiasts. Secondly, the stunning sunsets add a magical touch to any ceremony. Lastly, the relaxed island culture contributes to a laid-back, enjoyable experience. Importantly, all these unique features are available without leaving the States, making the Keys popular with couples year-round.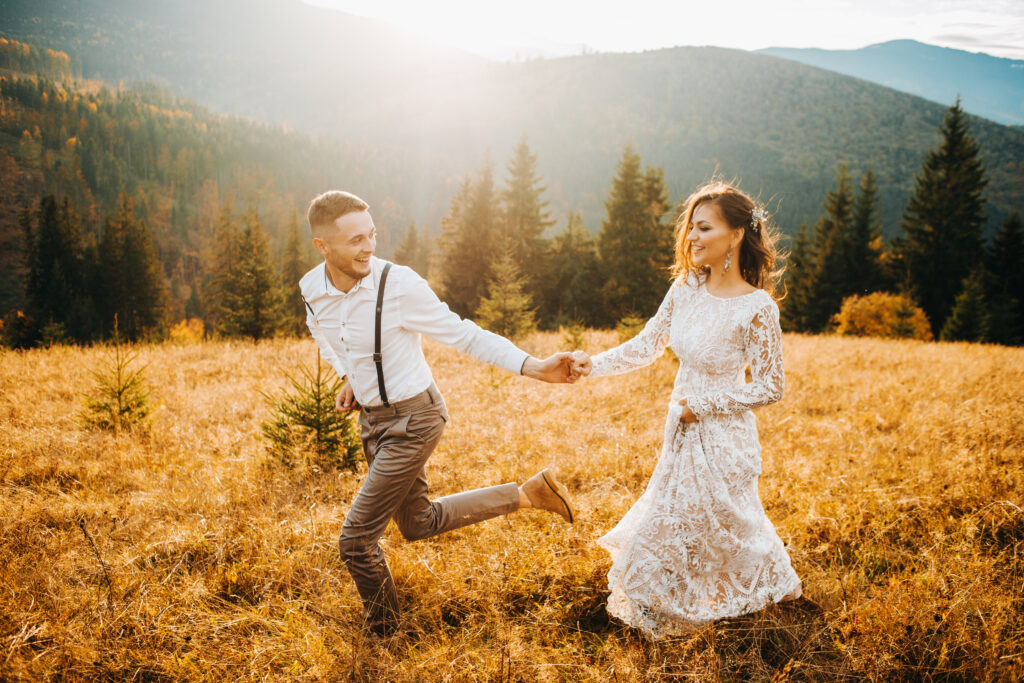 Couples who want to add adventure to their destination wedding will want to consider Jackson Hole to tie the knot with friends and family. Jackson Hole is renowned for its unique blend of elements. It's known for its art scene, making it an engaging location for those with a penchant for the arts. The town is also famous for its rustically elegant lodges, which offer a unique and cozy accommodation experience.
Wedding guests and couples alike will enjoy the rich culture here. Moreover, the surrounding natural beauty in this small yet lively town is sure to captivate everyone. The blend of nature and culture makes Jackson Hole an ideal wedding location.
The wedding party will find a plethora of activities in this western town. They can explore the nearby Yellowstone and Grand Teton National Parks. Not only do these parks offer adventure, but they also serve as stunning backdrops for wedding ceremonies.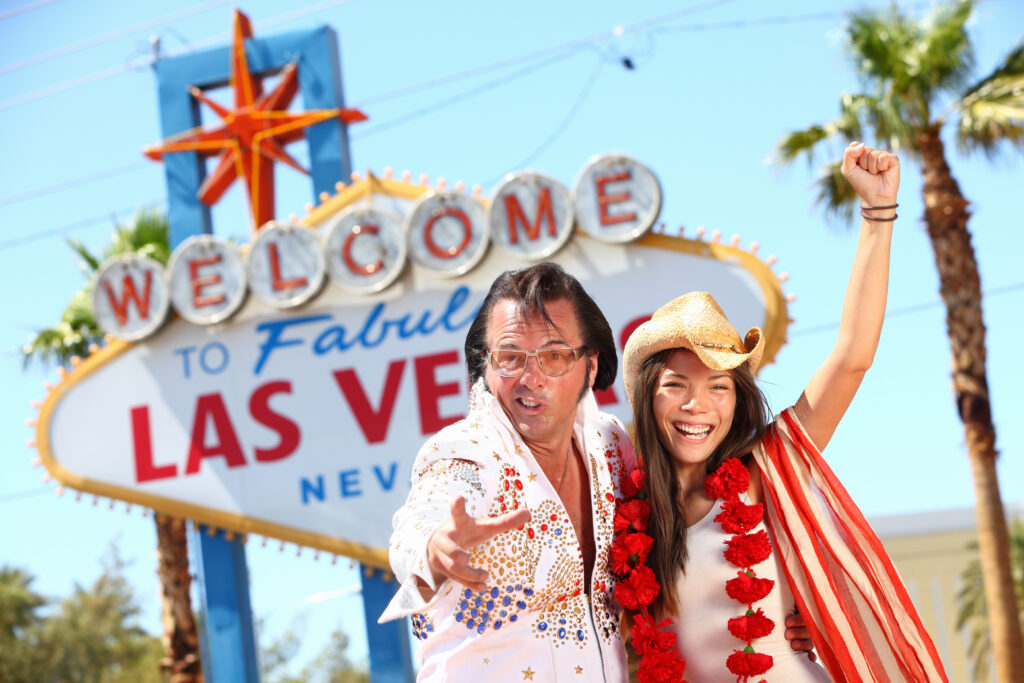 Brides and grooms looking for a fun destination wedding continue to flock to the Marriage Capital of the World, where over 150 weddings happen daily. Las Vegas's spectacular resort-style hotels and casinos, world-class restaurants, and endless nightlife options make destination weddings memorable and straightforward to plan for couples wanting to bring along friends and family to celebrate their event. Outside of resorts and casinos, downtown Vegas's Wedding Row offers everything couples need, including licensing, kitschy and classic chapels, and other beautiful venues for ceremonies or receptions.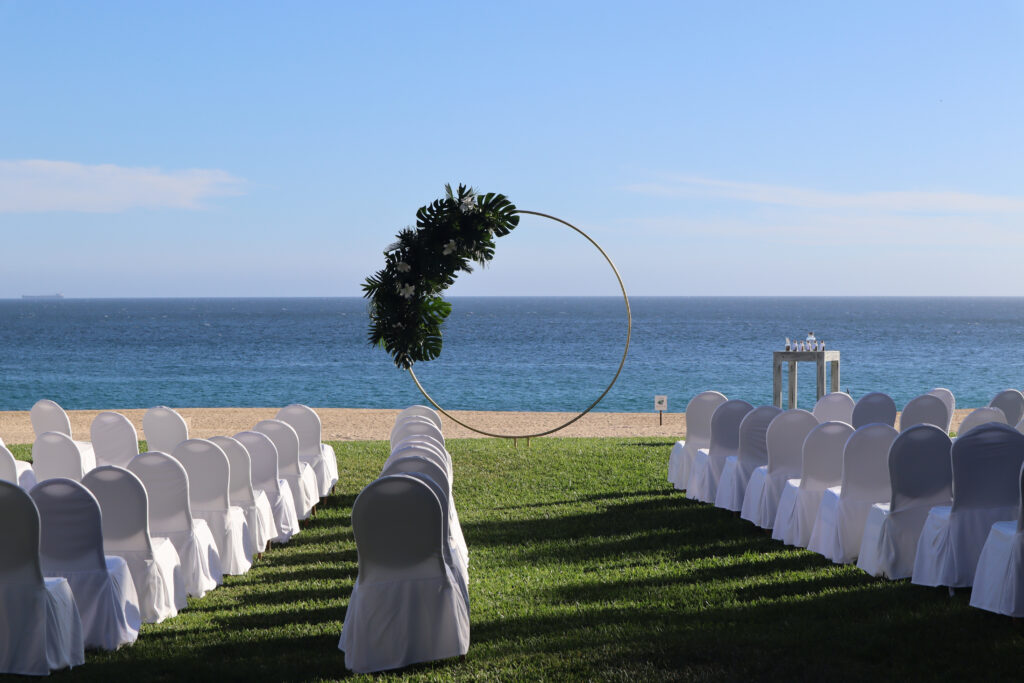 This gem in Baja California Sur is a destination wedding planner's dream. With spectacular resorts, perfect weather, and unmatched views, Los Cabos has everything couples need to plan their ideal wedding. Almost 20 miles of resorts and golf courses link the two cities of Los Cabos.
Cabo San Lucas and San José del Cabo, though smaller, have a lot to offer for a destination wedding. First, they boast magnificent Pacific views, providing a picturesque backdrop for any ceremony. Next, their dazzling sunsets add a touch of magic to the wedding festivities. Lastly, these locations offer five-star accommodations, ensuring a luxurious stay for the wedding party.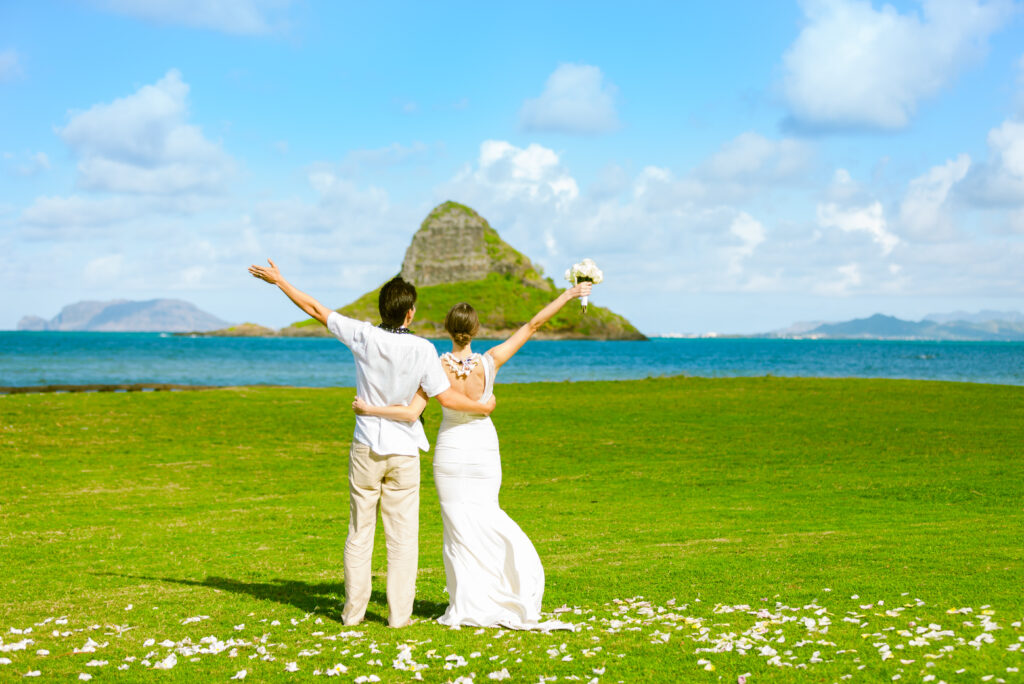 The lush green forests and soft sandy beaches of Maui are a siren call to couples who want a destination wedding with unmistakable romantic appeal. Maui is home to many beachfront or inland venues perfect for weddings on the island, whether the couple wants to use a five-star resort or a more intimate space. And since couples and officiants can register online for wedding licensure that is valid for a year, wedding planning in Hawaii is convenient for those who live elsewhere.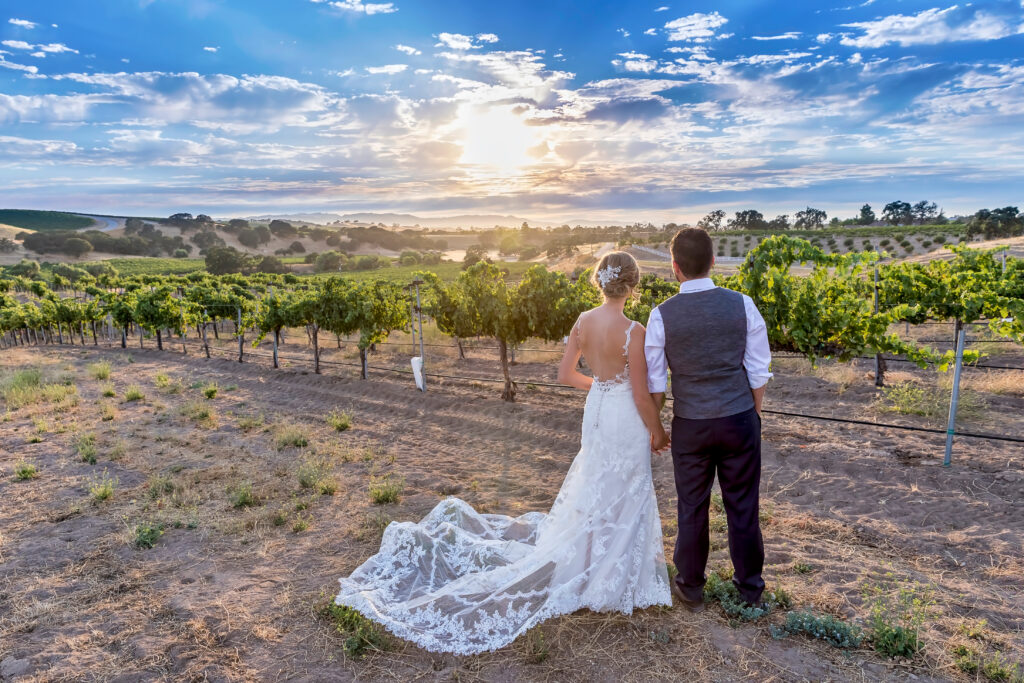 The rolling hills and lush valley dotted with vineyards make Napa Valley and its neighboring Sonoma Valley a popular destination wedding choice. Many wineries offer wedding packages, and nearby resorts, spas, and inns provide convenient and luxurious accommodations for couples and their guests. Fantastic food, almost year-round picture-perfect weather, and a fun wine train round out Napa's top appeal as a place to plan a wedding.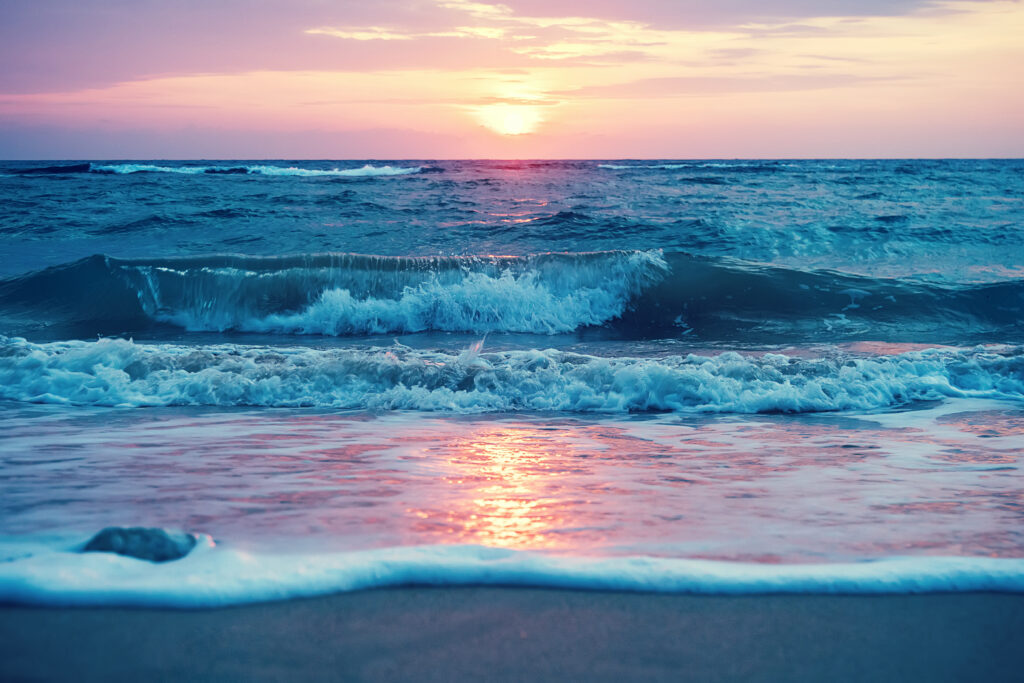 Hawaii's most populated island is full of natural wonders that make a destination wedding on Oahu ideal for couples who want to wed in a gorgeous setting without leaving the US. Weddings here can take place on beautiful beaches surrounding metropolitan Honolulu, near the iconic Diamond Head volcano, at the historic North Shore, or on Oahu's tranquil Windward coast. Destination weddings with large or small parties in attendance can find locations on this island to accommodate their needs with large resorts to smaller, more intimate venues.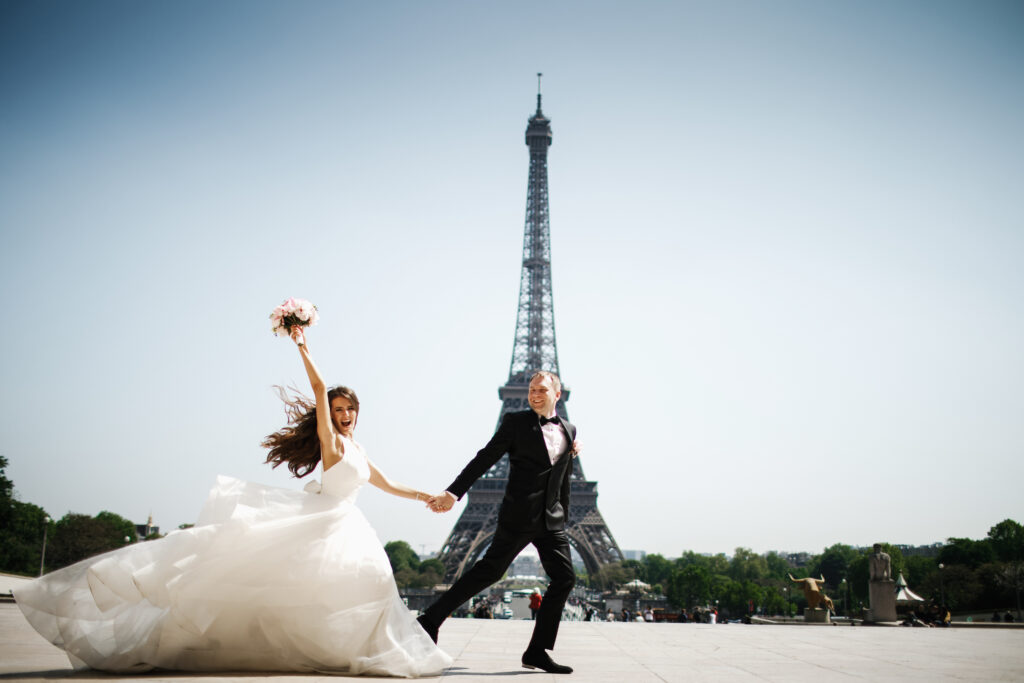 For an international destination wedding, there is no place more romantic than the City of Lights. Couples choosing Paris to tie the knot can add their love story to one of Paris's famous "lock bridges" and plan for guest outings to view the Eiffel Tower on one of the many Seine dinner cruises. The five-star venues in Paris will wow wedding guests, but couples can easily find smaller, more budget-friendly locations here. Day outings for guests to nearby places like Versailles or the Champagne regions of France are easy to coordinate with convenient train schedules. However, one caveat to planning a wedding in Paris is that complex wedding laws make symbolic weddings easier than legal ceremonies here.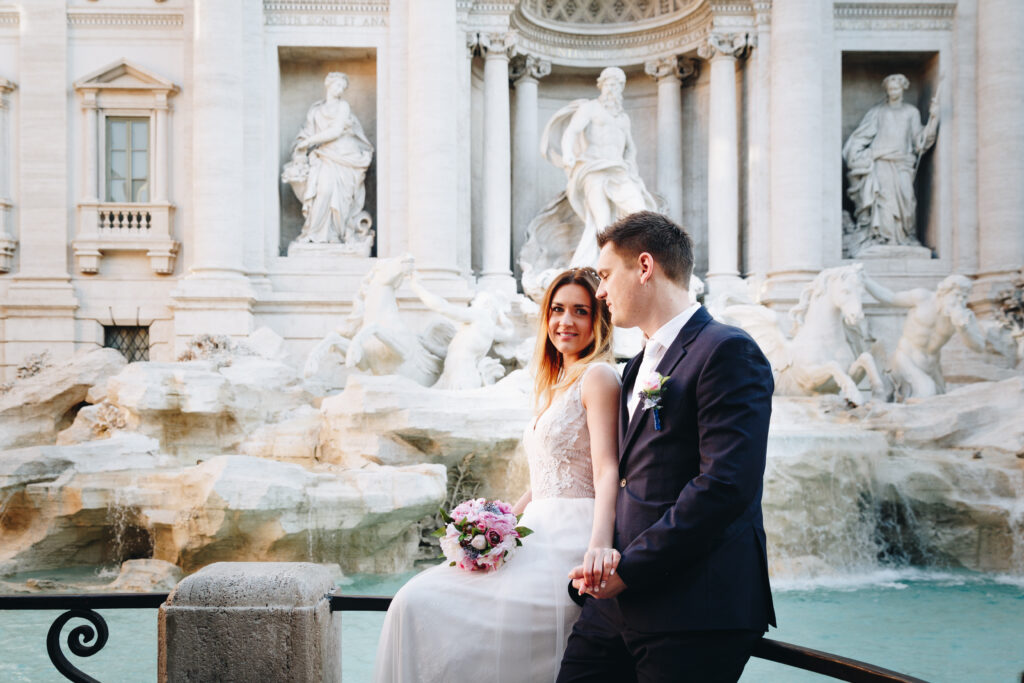 Hosting an authentic Italian wedding is a dream for many couples. In this regard, the Eternal City stands as an unmatched location. It is, indeed, the ideal place for a destination wedding. With historical sites, museums, and sumptuous food at every turn, planning a wedding here is only bound by the budget. Couples can hold a religious or civil ceremony in Rome. The city's many accommodations and venue options make planning an Italian wedding here eminently possible and enjoyable for the betrothed and their guests.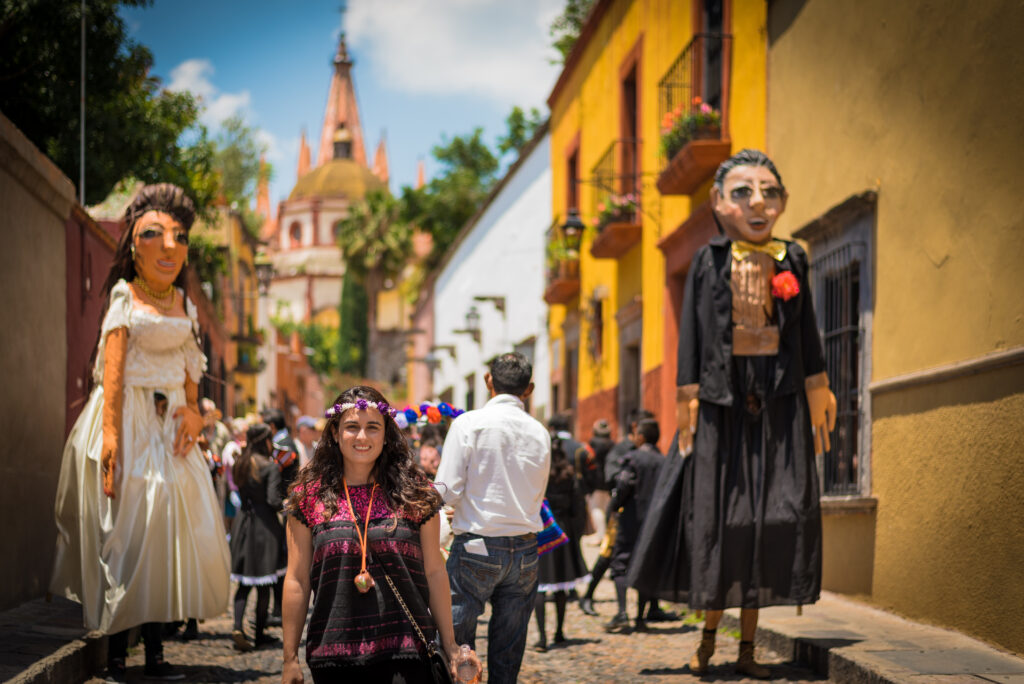 This colonial town in Mexico's interior bursts charm and culture. Couples worldwide love celebrating their love in San Miguel de Allende's colorful streets. Cobblestone streets connect this highly walkable city, making San Miguel a popular choice for destination weddings since couples and their guests can explore and enjoy Mexican culture together without having to plan for transportation too often during the event. Many historic chapels and picturesque sites like wineries, museums, and botanical gardens in San Miguel are close to outstanding restaurants and music venues around this small town. Wedding parties here can hop on the town trolley, ride in a hot air balloon or visit one of the town's four hot springs to soak off any wedding stresses.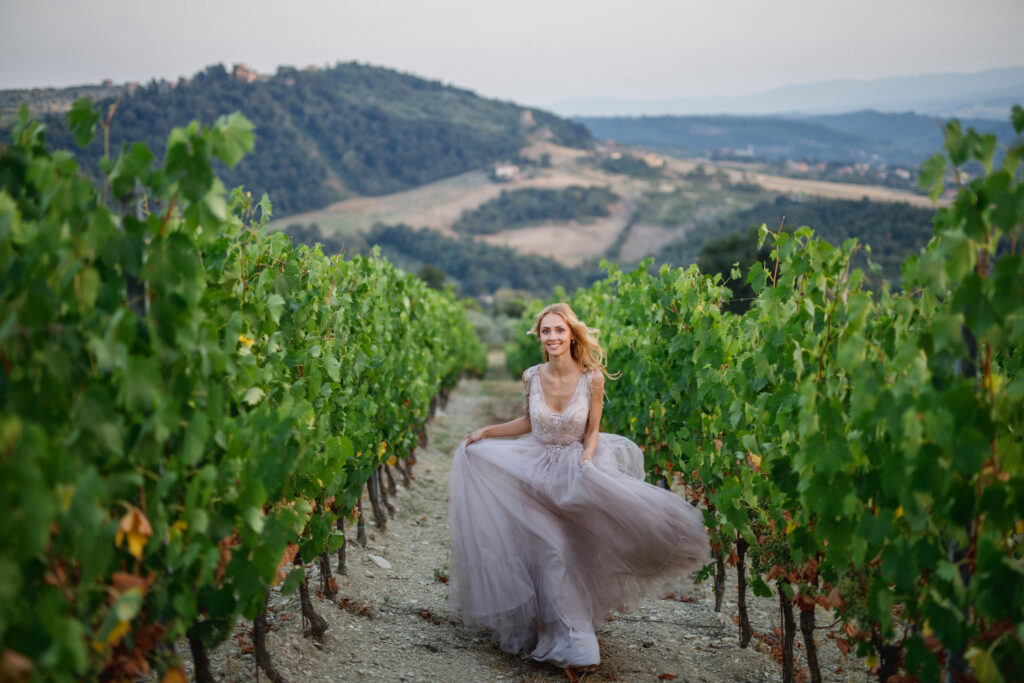 Both couples and their guests can experience a picture-perfect Tuscan wedding in the rolling hills and classic, white-washed towns in northern Italy's Tuscany. The historic yet relaxed nature of the region can provide the perfect backdrop for couples who want to share the romance of Italy with guests in places like Pienza's "via del Bacio" (street of kisses), where visitors traditionally take photos to commemorate their love for each other. Destination weddings in Tuscany can occur in romantic castles, nestled in scenic vineyards, or outside private hilltop villas.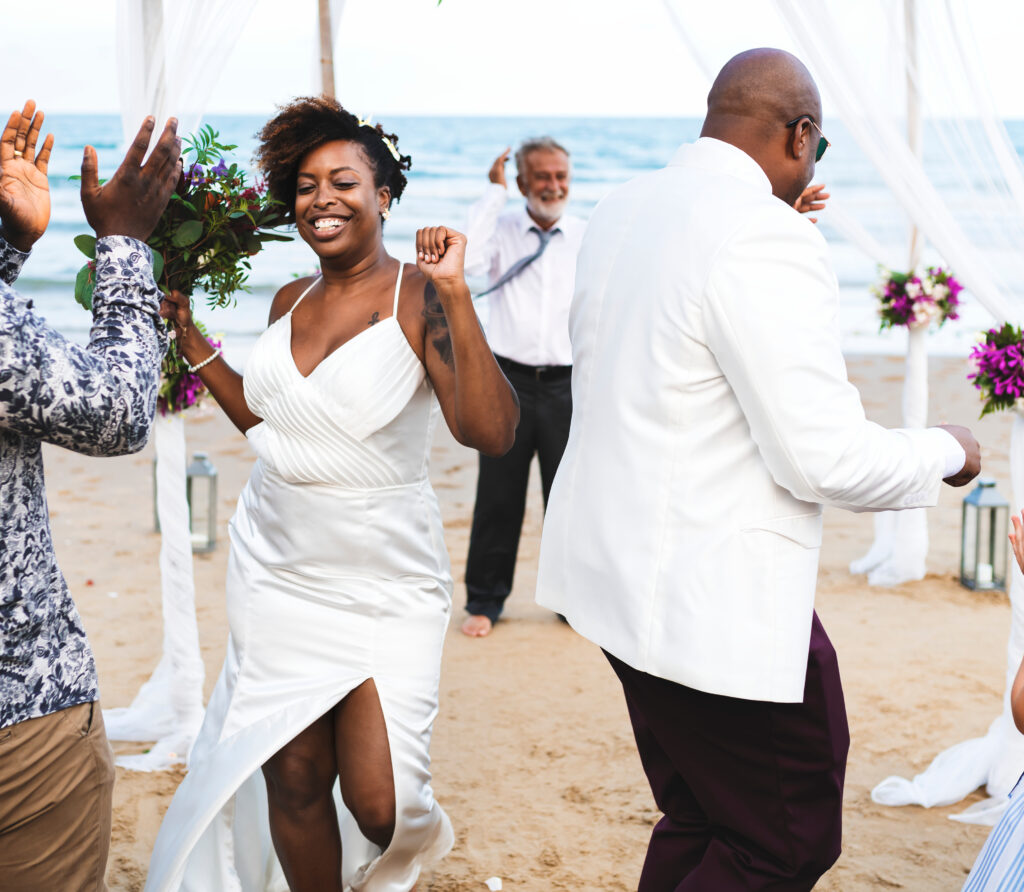 As US territories, the three USVIs are hassle-free to marry and don't require US citizens to use a passport to enter. St. Croix is the largest and southernmost of the three islands and offers a more cosmopolitan feel with Dutch, French, Spanish, English, and Danish influences still visible in the architecture and culture, making it ideal for couples looking for a venue that combines European and tropical vibes. The busy island of St. Thomas frequently hosts cruise ships in its port city of Charlotte Amalie and is a great starting point for weddings in the USVI. And since the island of St. John comprises primarily national parklands, this sleepy island is perfect for couples seeking a lush natural backdrop for their weddings.
After you choose your beautiful wedding destination, now it's time to start the honeymoon. At TravelReveal we have compiled a list of the top beaches in the Caribbean. As good a place to start as any!