New Orleans, Louisiana, is a city with a fascinating culture and rich history. Known for its vibrant music scene, delicious cuisine, and unique architecture, New Orleans is a popular tourist destination for those looking to immerse themselves in the city's rich cultural heritage.
History
New Orleans was founded in 1718 by French explorer Jean-Baptiste Le Moyne de Bienville. The city grew rapidly, becoming a major port and trading center for the Gulf of Mexico region. In the early 1800s, the United States completed the Louisiana Purchase, including New Orleans.
After that, New Orleans played a major role in the Civil War, with Union forces capturing the city in 1862. Significantly, the city suffered major damage from Hurricane Katrina in 2005 but has undergone a considerable rebuilding effort.
Culture
First, New Orleans is known for its unique culture, which blends French, Spanish, African, and Native American influences. Secondly, the city is famous for its jazz music, which originated in New Orleans in the early 20th century. Lastly, the city is also known for its Mardi Gras celebrations, which draw visitors from around the world.
Where to Stay
There are a variety of accommodation options in New Orleans, from luxury hotels to budget-friendly hostels. The French Quarter is a popular area to stay in, with a variety of hotels and Airbnb rentals available. Likewise, other popular areas include the Garden District, Mid-City, and the Central Business District.
Hot Spots to Visit
French Quarter: Most importantly, the historic heart of New Orleans, the French Quarter is known for its iconic architecture, lively nightlife, and delicious cuisine.
Jackson Square: Located in the heart of the French Quarter, Jackson Square is a public park and historic landmark. The square is home to a number of historic buildings, including the St. Louis Cathedral and the Cabildo.
Garden District: Known for its stunning homes and picturesque streets, the Garden District is a must-visit for architecture and history buffs. For example, visitors can take a guided tour of the area to learn more about the city's unique architectural styles. Similarly, you can take a stroll through the tree-lined streets. Lastly, visitors can peruse the eclectic mix of boutiques and antique shops, which offer an array of treasures ranging from vintage clothing and jewelry to unique home decor.
National World War II Museum: Located in the Central Business District, the National World War II Museum is a must-visit for history buffs. More importantly, the museum features exhibits on the war's impact on the home front, as well as the military campaigns in Europe and the Pacific.
Cultural Can't-Misses
Jazz Music: New Orleans is known as the birthplace of jazz music, and visitors should not miss the opportunity to hear live jazz performances throughout the city. For example, popular venues include Preservation Hall and the Spotted Cat Music Club.
Mardi Gras: The city's annual Mardi Gras celebration is a must-see for visitors and popular tourist destination. The festivities include parades, music, and plenty of delicious food.
Cajun Cuisine: New Orleans is known for its unique cuisine, which blends French, Spanish, and African influences. Above all, visitors should not miss the opportunity to try classic dishes like gumbo, jambalaya, and crawfish étouffée.
Area Attractions
Audubon Park: Located in the Uptown neighborhood, Audubon Park is a popular destination for picnics, jogging, and outdoor recreation. The park is also home to the Audubon Zoo and the Audubon Aquarium of the Americas.
City Park: One of the largest urban parks in the country, City Park is home to a variety of attractions, including the New Orleans Museum of Art and the Botanical Gardens.
Streetcar Rides: Visitors should not miss the opportunity to take a ride on one of the city's iconic streetcars. The St. Charles Avenue streetcar is the oldest continuously operating streetcar line in the world.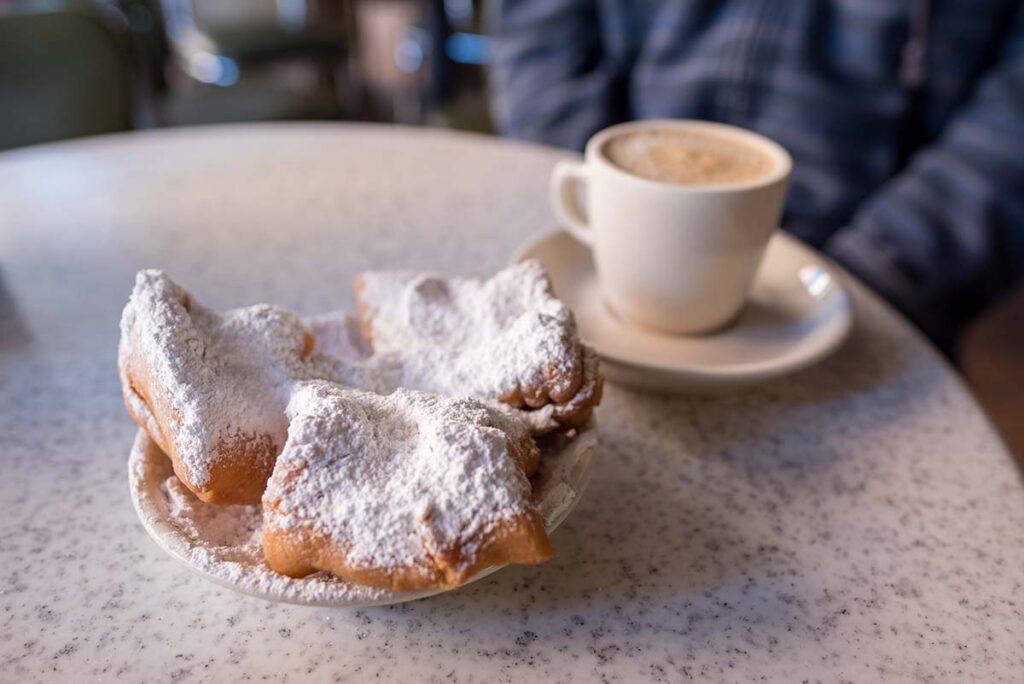 Food Suggestions
Café du Monde: A New Orleans institution and popular tourist destination, Café du Monde is famous for its beignets and café au lait. Visitors should not miss the opportunity to try this iconic dessert.
Commander's Palace: Located in the Garden District, Commander's Palace is a must-visit for foodies. The restaurant serves up classic New Orleans cuisine with a modern twist.
Central Grocery: The home of the original muffuletta sandwich, Central Grocery is a popular spot for lunch or a quick bite. The sandwich is made with Italian meats and cheeses, and, to summarize, is a must-try for visitors.
Conclusion
When visiting New Orleans, respecting the city's unique culture and history is important. Visitors should also be aware of safety concerns, particularly in the French Quarter and other tourist areas. Remember, hurricane season, which runs from June through November, is also an essential consideration. If you're planning a cruise that departs from New Orleans, be sure to check out our Unlocking Cruise Ship Secrets article
In short, New Orleans is a city with a rich cultural heritage and a fascinating history. From its iconic jazz music to its delicious cuisine, there is something for everyone in this vibrant city. Whether you're exploring the historic French Quarter, visiting a local museum, or simply taking a ride on a streetcar, there's no shortage of things to see and do in New Orleans.