The romance of train travel is undeniable. However, train stations themselves, with their grand architecture and fascinating histories, can be equally captivating. In this article, we'll take you on a voyage through the world's most beautiful train stations, proving that these transport hubs can be as captivating as the journeys they facilitate.
Grand Central Terminal, New York, USA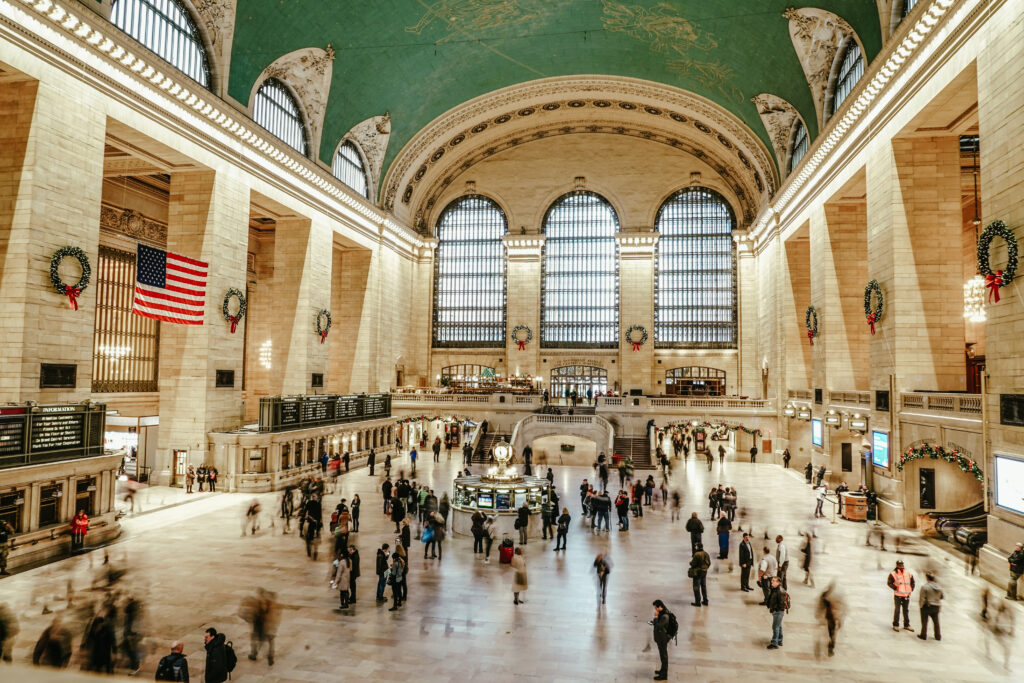 In the heart of Manhattan stands the magnificent Grand Central Terminal. This iconic monument opened in 1913 and quickly became integral to New York City's urban fabric. Its Beaux-Arts architectural style gives it an aura of classic grandeur, while the astronomical ceiling mural adds a touch of mystique. This celestial artwork indeed brings the heavens closer to the bustling city below, offering a sight to behold.
An exciting feature of the station is the four-faced opal clock at the Information Booth, estimated to be worth millions, which has become a favorite meeting spot and a symbol of the station's relationship with time. Grand Central Terminal is more than just a transit point. With more than 60 shops, 35 places to eat, and a bustling market, it's a thriving microcosm of city life. Indeed, stepping into Grand Central Terminal is like stepping into a slice of New York City history, yet still experiencing the city's vibrant present.
St. Pancras International, London, UK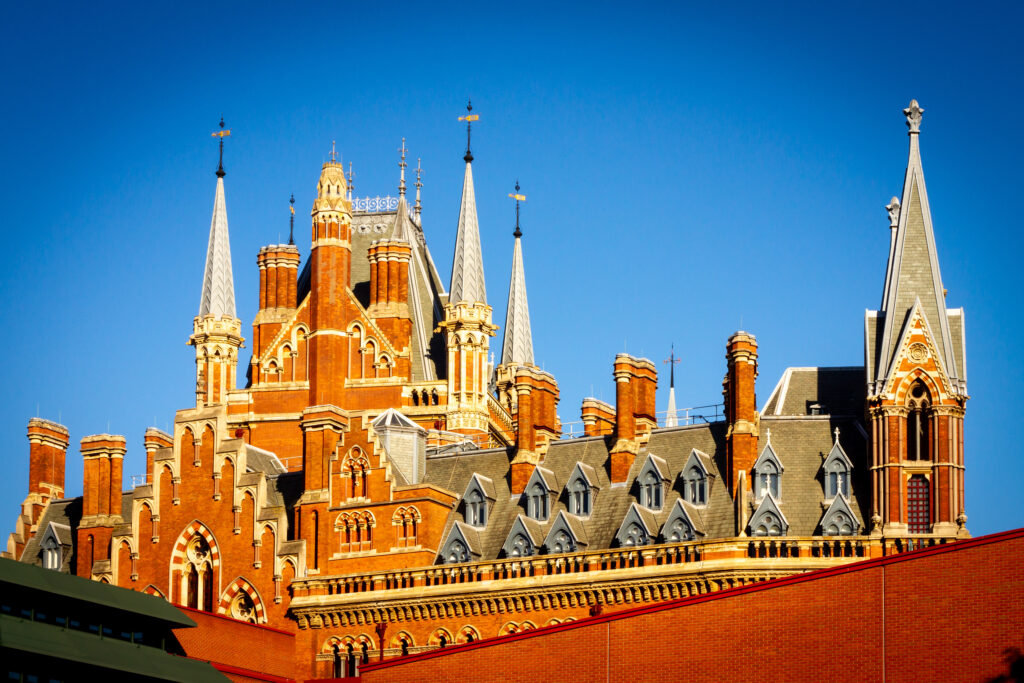 London's St. Pancras International Station is a testament to the city's architectural prowess and historical richness. Opened in 1868, it's a stunning blend of Victorian architecture and contemporary design. The red-brick Gothic façade houses an interior that is an engineering marvel. With its sky-touching arching glass-and-steel roof, the Barlow Shed was the world's most extensive single-span roof at its construction.
The station is a primary gateway, connecting London to other European cities via the Eurostar. However, it's not just about functionality. Filled with shops, restaurants, and a champagne bar, St. Pancras is a lively hub of activity that even hosts occasional live music. Adding to its cultural significance is 'The Meeting Place,' a nine-meter-tall bronze statue by artist Paul Day, signifying the station's role in connecting people.
Antwerp Central, Antwerp, Belgium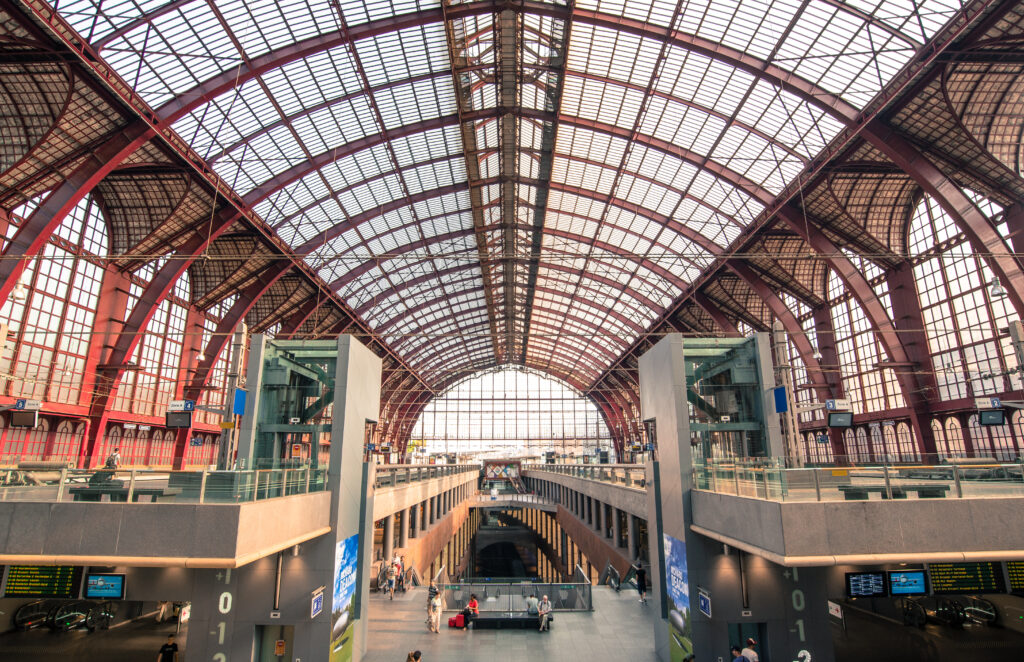 Often referred to as the 'Railway Cathedral,' Antwerp Central is a visual delight. This Belgian marvel opened in 1905, showcasing a magnificent blend of architectural styles – Neo-Renaissance, Art Nouveau, and eclectic. The grand dome over the waiting hall is the station's centerpiece. Surrounded by iron and glass vaults, it rivals the magnificence of a cathedral.
With a unique tiered design, the station has four levels and 14 tracks. This offers the convenience of both local and international rail services. The beauty of Antwerp Central Station doesn't end with its architectural brilliance. The station is located in a district renowned for its diamond trade. This enhances the station's prestige, making it a true jewel in the heart of Antwerp. As you traverse the station's grand halls, you can't help but feel a sense of awe at the splendid craftsmanship that went into creating this transportation hub.
Atocha Station, Madrid, Spain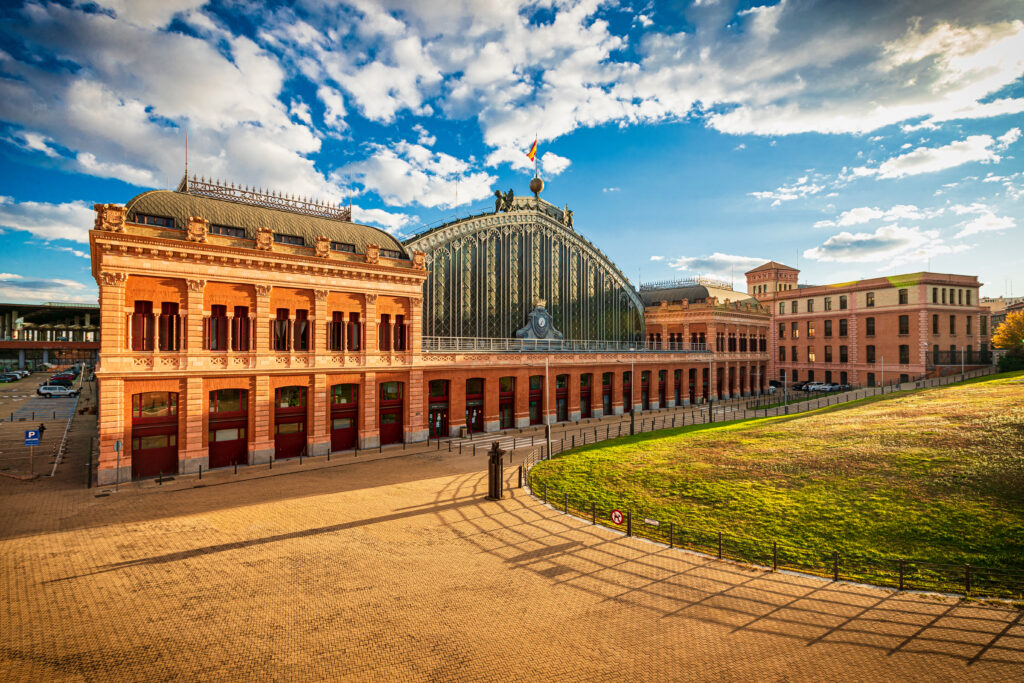 Atocha Station in Madrid is more than just a train station; it blends history, modernity, and nature. Opened in 1851, the station went through significant transformations. The original building, a beautiful example of wrought-iron architecture filled with glass, now serves as a tropical garden. This provides travelers with a tranquil oasis amidst their journey.
The new terminal, designed by architect Rafael Moneo, complements the old building with its modern, sleek design. It boasts a brick and glass structure, housing high-speed train services. But what sets Atocha Station apart is the 4,000 square meters indoor botanical garden, home to over 7,000 plants from around 260 species, turtles, and a pond. This verdant paradise offers a soothing atmosphere that belies the station's bustling activity. Whether you're catching a train or have some time to spare, a stroll through this garden is a must when visiting Atocha Station.
Sirkeci Station, Istanbul, Turkey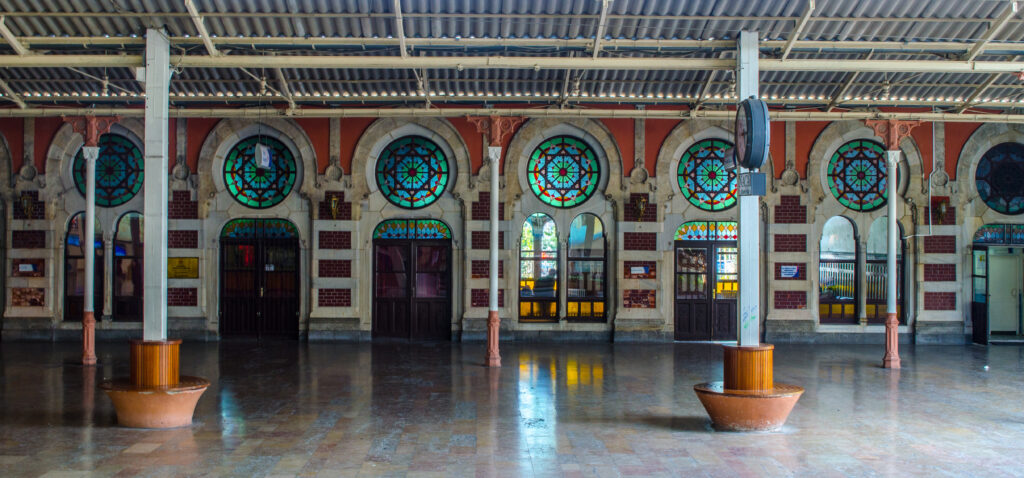 With a history that whispers tales of a bygone era, Sirkeci Station in Istanbul is a journey back in time. As the historic terminus of the famous Orient Express, the station has witnessed many stories of intrigue and romance. Opened in 1890, Sirkeci Station was designed by German architect August Jasmund, who gave it an ornate Orientalist style that echoes Istanbul's unique position straddling Europe and Asia.
Adorned with bricks imported from Marseille, decorative motifs, and an elegant clock tower, the station adds to its nostalgic allure. Inside, the station houses a railway museum that offers an intriguing insight into Turkey's railway history, complete with old steam engines, photographs, and other historical artifacts. Standing on the platform, it's easy to imagine the days when the luxurious Orient Express would pull in, filled with travelers from across the continent.
São Bento Railway Station, Porto, Portugal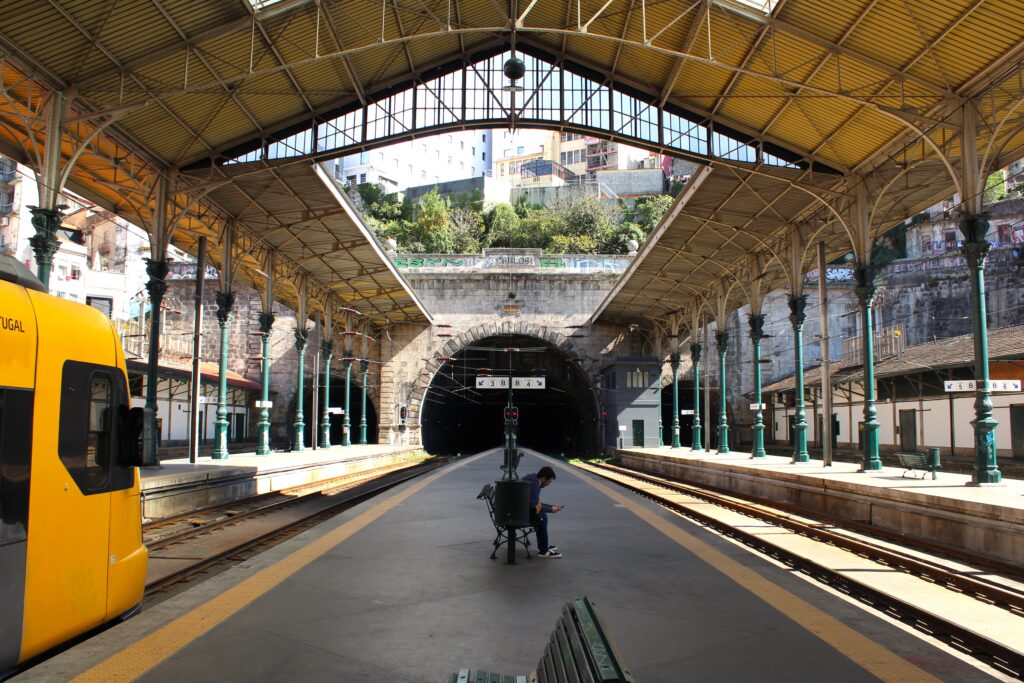 Few can match Porto's São Bento Railway Station when it comes to breathtaking interior designs. Opened in 1916, it's a grand monument of transportation and a significant cultural spot. This isn't just a train station. Stepping inside feels like entering an art gallery, thanks to the mesmerizing blue and white ceramic tile panels.
Created by artist Jorge Colaço, these tiles depict various scenes from Portugal's history, regional life, and transportation evolution, making the station a visual history lesson. The azulejos, numbering over 20,000, took 11 years to complete. As the sun streams through the station's large windows, it illuminates these tiles, creating a radiant spectacle that enthralls visitors and commuters alike.
Chhatrapati Shivaji Maharaj Terminus, Mumbai, India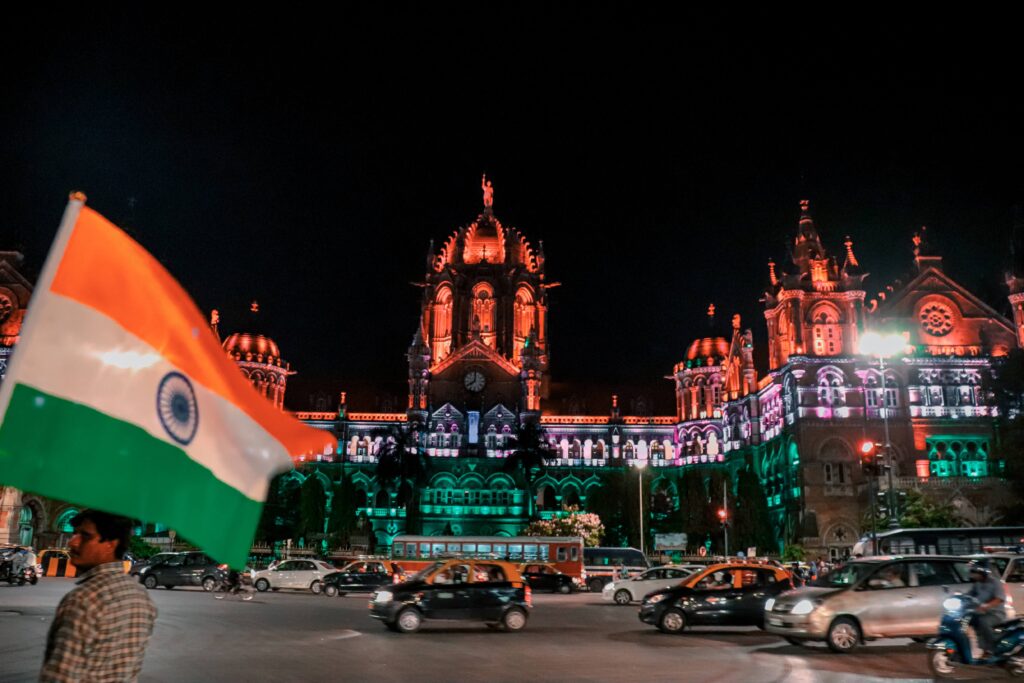 Mumbai's Chhatrapati Shivaji Maharaj Terminus, formerly Victoria Terminus, is a spectacular architectural blend of Victorian Gothic and Indian influences. Designed by British architect Frederick William Stevens, this was opened in 1888 and quickly became an emblem of the city.
The station's design is a marvel, with intricate stonework, domes, turrets, spires, and statues of animals and birds adorning the structure. Its central dome features a colossal statue of Progress, symbolizing the then-colonial power's aspiration. Beyond its stunning architecture, the station is a bustling hub, handling over three million commuters daily. Despite Mumbai's rapid modernization, the station retains its historical grandeur, serving as a testament to its colonial past.
Kanazawa Station, Kanazawa, Japan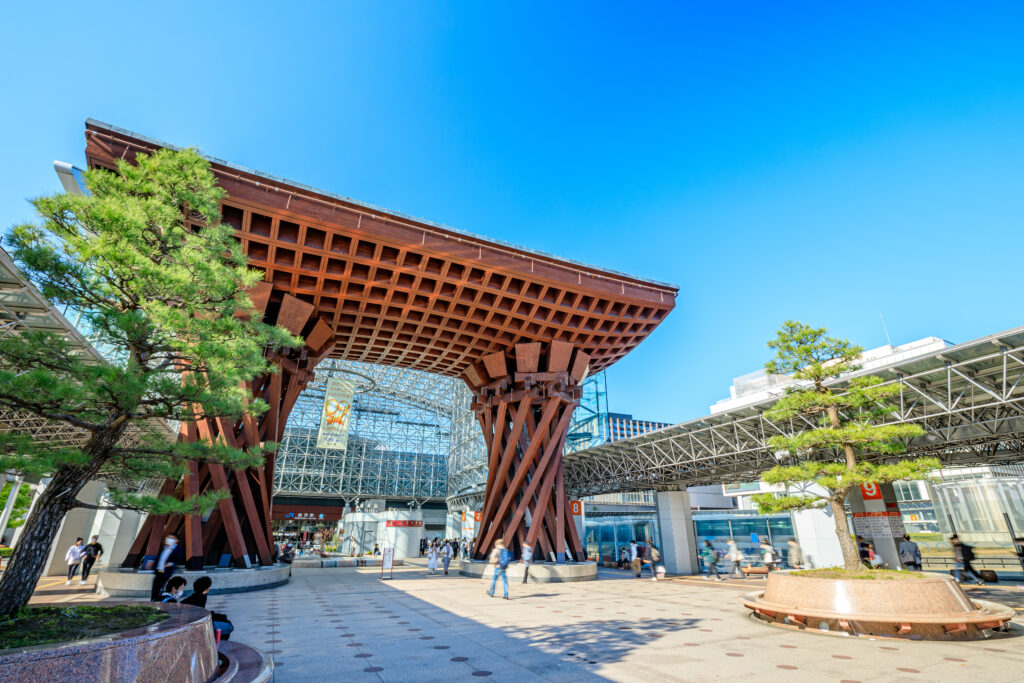 Kanazawa Station is a fascinating fusion of tradition and modernity, reflecting the ethos of Kanazawa City itself. Renovated in 2005, the station's entrance is marked by the Tsuzumi Gate, whose design is inspired by a traditional Japanese hand drum, and the Motenashi Dome. This sizeable glass-and-steel structure resembles a giant umbrella.
These elements make Kanazawa Station one of Japan's most visually striking train stations. But it's not just about aesthetics. The station is designed with a commitment to sustainability, with the Motenashi Dome providing natural ventilation and reducing heat in the summer.
The station's unique design continues to the interior, with a shopping mall and a "characteristic street" featuring traditional Kanazawa crafts and regional food. As night falls, the station's enchanting illumination creates a captivating sight, making it a vibrant symbol of Kanazawa's blend of old and new.
As we traverse the globe and explore these magnificent train stations, it's clear that they are more than just transit hubs. They are architectural masterpieces and historical treasures that capture the spirit of their respective cities. Whether you're an avid traveler, a history enthusiast, or an architecture lover, these stations will surely leave a lasting impression.